Hosni Mubarak Is a Free Man
I was in Tahrir Square the day the strongman fell. Knowing what we know now, the former dictator seems positively gracious and big-hearted.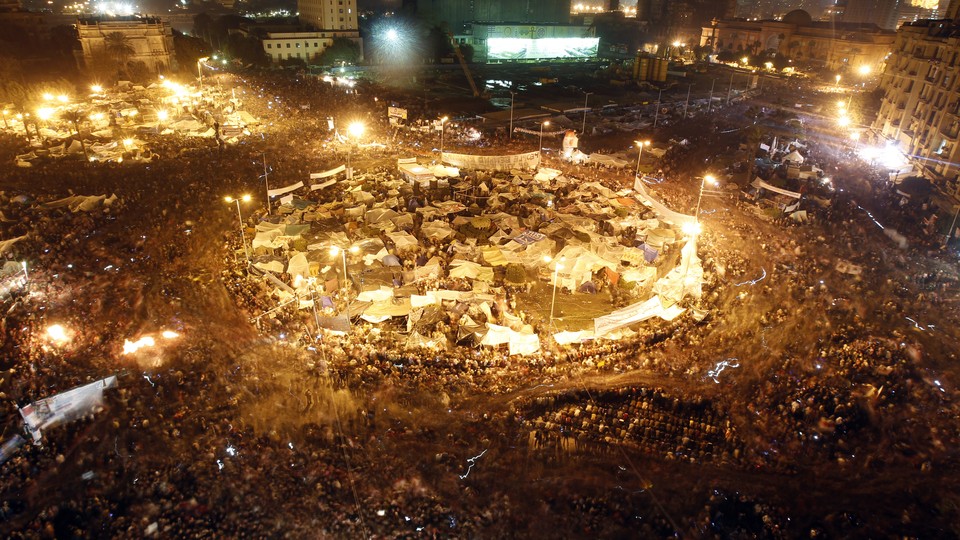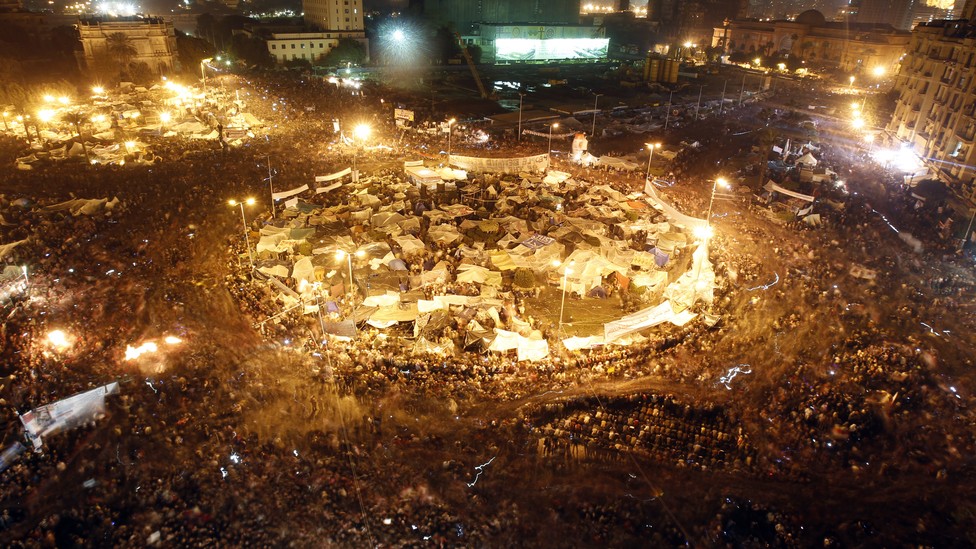 I was in Tahrir Square on February 11, 2011, the day longtime strongman Hosni Mubarak fell. It was—and this isn't hyperbole—one of those once-in-a-lifetime moments. You read about revolution, but it's another thing to experience it: that tantalizing sense that everything might actually change. Later that night, I buzzed through Cairo in a cab, surrounded by crowds, watching from my window as Egyptians danced in the streets. I overheard a woman telling her friend "I've never seen Egyptians so happy in my life," with that hard-won mixture of irony and cynicism, this time tempered with genuine joy. I had never seen them so happy either.
But this wasn't a promise of things to come. It was, really, an aberration. And that's why it is difficult to write about the fact that Mubarak, finally, is a free man, evading a series of charges, including conspiring to kill hundreds of protesters. When I think back more than six years ago to that day in Tahrir Square, it all seems a bit blurry. Had I imagined those Egyptians dancing in the streets? I wonder what each of them, today, is doing and thinking.
It's fitting that Hosni Mubarak would be released. In retrospect, knowing what we know now, the former dictator seems positively gracious and big-hearted. His repression was pedestrian, seemingly devoid of passion. He didn't ever, it seemed to me, long for blood. But that might be a reflection of my considerably lowered expectations. Today, Egypt's current president Abdel Fattah el-Sisi is many of the things Mubarak never was: ambitious, zealous, unforgiving, coupled with that sense of grandeur and destiny that the most brutal autocrats always seem to possess. Why should Sisi, the man responsible for "the worst mass killing" in modern Egyptian history, be president, while the former president wastes away his last years in prison? There would be something cruel about that.