When Populists Meet Proportional Representation
The parliamentary government that allowed Geert Wilders's rise may also be the one that suppressed his victory.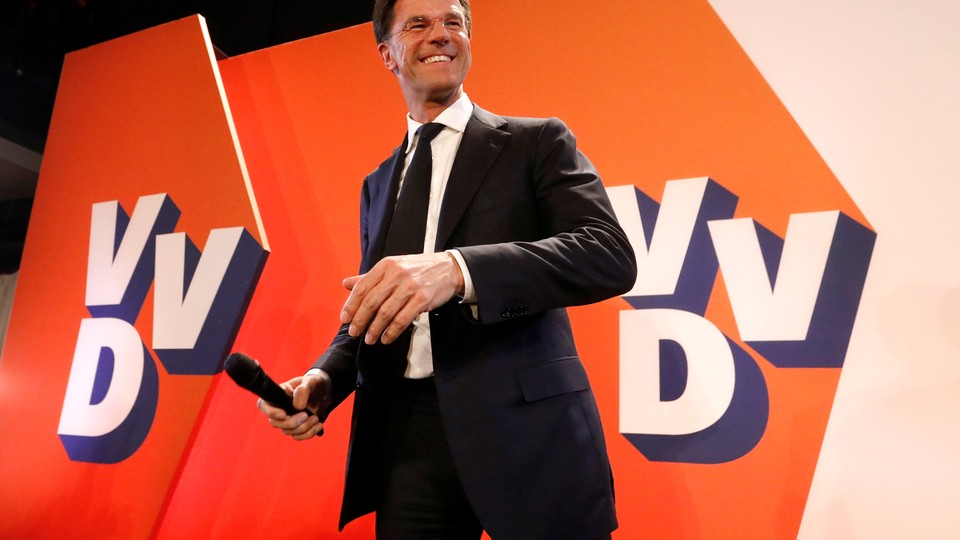 The European establishment is relieved after Dutch voters turned out en masse Wednesday to hand Prime Minister Mark Rutte's People's Party for Freedom and Democracy (VVD) a decisive victory over its far-right challenger, Geert Wilders's Dutch Freedom Party (PVV), which fared worse than expected.
"The Netherlands, after Brexit, after the American elections, said 'whoa!' to the wrong kind of populism," Rutte told supporters Wednesday night after the VVD claimed its third consecutive election victory.
Indeed, Rutte's party made a strong showing in a race most pollsters projected would be tight. The VVD emerged as the single-biggest party with 33 seats in the 150-seat parliament (down from the 41 seats it claimed in 2012), followed by the PVV, which claimed 20 (up from 15 in 2012). The remaining seats were split among nearly a dozen other parties, with the centrist Christian Democrats (CDA) and the liberal progressive D66 Party tying for third with 19 seats each, and the Green-Left earning 14 (nearly quadrupling the number of seats it had). The Labour Party (PvdA), the VVD's coalition partner, had a poor showing, slumping from 38 seats to nine.
Though Wilders's underperformance was heralded by many as Europe's rejection of extremism and a sign of populism's defeat, Andrej Zaslove, an assistant professor of political science at the Radboud University Nijmegen, told me this doesn't tell the full story.
"The PVV got more seats than last time, and now they're the second-largest party," Zaslove said. "The VVD was a winning party because they won the most seats, even though they lost seats."
While the PVV didn't perform as expected, its second-place finish with approximately 13 percent of the total vote was a marked improvement from the 10 percent it won in 2012. "We were the third-largest party in the Netherlands. Now we're the second," Wilders tweeted Wednesday night. "Next time, we will be No. 1!"
The nature of the results is due, in part, to the nature of Dutch politics itself. The Dutch proportional system boasts a low entry threshold for smaller parties trying to enter parliament—just as the PVV did when Wilders established it in 2004. This is in contrast to countries like France, where a candidate must win a majority of votes to be declared winner, which makes it more difficult for marginal parties to enter parliament. And as Politico's Pierre Briançon notes, the French system makes it so that "the president is elected by popular vote — which makes them the nation's true political leader. On the other hand, the prime minister selected by the president must be supported by a majority in parliament."
Cas Mudde, a professor at the University of Georgia and the co-author of Populism: A Very Short Introduction, put it this way to me in an email:
For a long time, received wisdom was that majority systems [where a candidate must win a majority of votes to be declared winner] prevented populist parties from gaining success, whereas proportional systems—particularly without a high threshold like the Netherlands—make it much easier for them to get in parliament and build from there. The problem is, of course, that while you normally only win a part of the cake in proportional systems, you win everything in majoritarian systems.
Still, though the Dutch system can make it easier for parties to enter the political system, it doesn't necessarily make it easier for them to govern. The Dutch system makes it so that no single party can win an absolute mandate (together, Rutte's VVD and Wilders's PVV make up 35 percent of parliament), which makes cooperation with other parties almost inevitable. In the case of the PVV, however, this system can prove to be particularly challenging. Despite Wilders having the second-largest party, most Dutch parties have ruled out working with him, making it unlikely the PVV will be included in the next governing coalition.
Wilders's absence from the government doesn't meant the PVV will disappear. Rather, it'll continue to exist as the largest opposition party in Dutch politics, pitting Wilders against the ruling coalition he has long derided. It's a role that Zaslove told me populist politicians play well, but one that could prove difficult to maintain.
"Populist parties work well in opposition—they're about attacking the establishment. But their voters at a certain point also want to see tangible results," Zaslove said. "Wilders is situated not badly now, but eventually he's going to have to show that he can do something. He can't only be in opposition."
Though some have speculated about what Wilders's performance could mean for his far-right counterparts like France's Marine Le Pen, who recent polls project could win the first round of the country's presidential election next month, Mudde told me the populists' continued presence in European politics is all but certain.
"Populist parties are established political parties in many European countries," Mudde said. "They didn't start with Trump, or even the economic crisis, and they won't disappear when these two disappear."