London Gets On With It
British Prime Minister Theresa May instructed citizens to "go about their day as normal" following Wednesday's terror attack.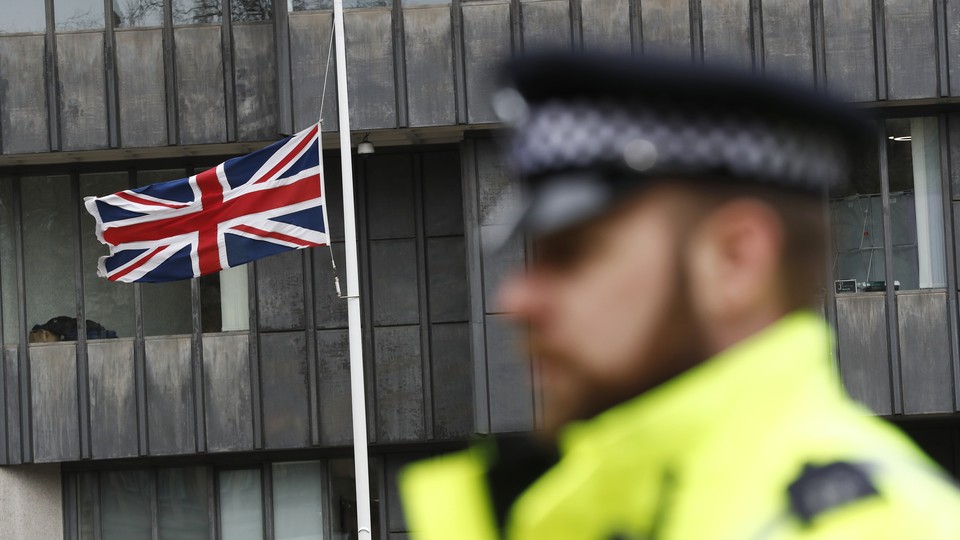 In the aftermath of the 2005 London bombings, which killed 52 commuters and injured hundreds of others, British Prime Minister Tony Blair delivered a statement from his office at 10 Downing Street in which he paid tribute to two very specific qualities of Londoners—their "stoicism and resilience," vowing that citizens would "hold true to the British way of life."
"London is stronger than any amount of terrorists," one Londoner wrote in an email to CNN days after the attack. "One act of cowardice wont prevent myself or any other Londoner leading a normal life. They can bomb us every day of every week but we will continue to work and live freely."
That political philosophy of stoicism and resilience reappeared on Wednesday, shortly after the largest-scale terror attack on the country since the 2005 bombings, when Parliament announced that the episode, which took place just outside its chambers, would not disrupt its schedule.
We can confirm that both the House of Commons and the House of Lords will sit tomorrow at their normal times.

— UK Parliament (@UKParliament) March 22, 2017
This declaration has echoes through the violent I.R.A. years, when attacks were commonplace. "Life must go on, as usual," were what British Prime Minister Margaret Thatcher said hours after she narrowly escaped death in a hotel bombing in 1984. One Labour politician's response to the 1974 bombing of  Westminster Hall went, "If they had blown up the House of Commons, it would not stop us from our work."
The tenor of these reactions also harks back to World War II and the posters that appeared in tube stations in London following its end, boasting that the "London Underground carried on" without stopping through the Blitz and the war. Ending a brief statement that condemning Wednesday's attack, Prime Minister Theresa May stressed this credo once again:
Tomorrow morning, parliament will meet as normal. We will come together as normal.

And Londoners — and others from around the world who have come here to visit this great city — will get up and go about their day as normal. They will board their trains, they will leave their hotels, they will walk these streets, they will live their lives.
One of the honored figures to emerge from Wednesday's attack was Tobias Ellwood, the Conservative lawmaker who, upon arriving at the courtyard outside Westminister and seeing injured police officer Keith Palmer on the ground, tried to administer first aid to revive the fatally wounded man.
Ellwood, whose brother was one of over 200 victims in the 2002 bombing in Bali, was praised by both Labour leader Jeremy Corbyn and by May in a speech to Parliament on Thursday.