Trump Is Driving Some American Jews to Reclaim Citizenship in Europe
Descendants of those who fled Germany decades ago consider heading back.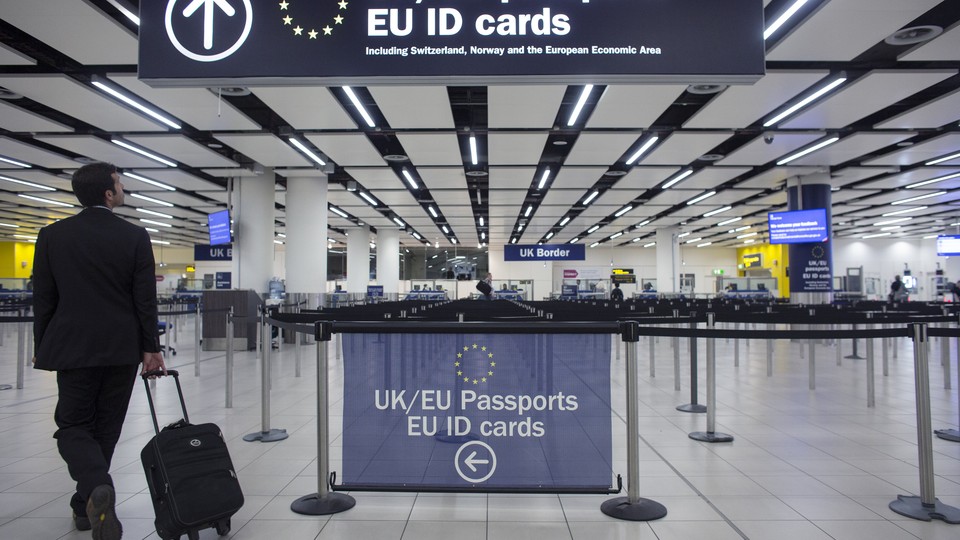 For years, Elliott Masie pondered the possibility of reclaiming citizenship in Germany, the country his father fled in 1936. But he never felt compelled to act. Then Donald Trump became president of the United States. Spurred by what he described as the disturbing rhetoric of Trump's campaign and the uncertainty sowed by the election, Masie decided to become a German citizen.
Germany, Spain, and Portugal each have their own legal provisions enabling the descendants of persecuted Jews who once lived in those countries to seek citizenship today. Since 1949, those who were stripped of citizenship for "political, racist, or religious reasons" have been eligible for reclaimed German citizenship along with their families. Spain and Portugal passed similar laws in 2015, allowing descendants of Jews expelled during the Inquisition (which took place over 500 years ago) to naturalize. And after last November's election, a small but growing number of eligible Americans—some of whom have been fearfully eyeing reports of mounting vandalism and harassment against Jews—have been exploring the option.
According to the German embassy in Washington, D.C., the number of Jews applying for reclaimed citizenship from the U.S. has been increasing since the fall of 2016: 70 in September, 92 in October, 124 in November, and 144 in December. By January of this year, the number had climbed to 159. (Americans more broadly also showed early indications of at least hypothetical interest in emigrating after the election—the most prominent example being reports that Canada's immigration website crashed in the hours after the results were announced. In the end, only 28 Americans actually applied for asylum, according to the Canadian Broadcasting Corporation.)
The month of the election also saw a spike in applications opened for Israeli citizenship—320 in November, up from 136 the previous month—according to the Jewish Agency for Israel. However, in December 2016, the number dipped to 194. Citizenship is granted to all Jews under Israel's Law of Return.
The uptick in applications may be due to various factors, and the number of applicants to Spain and Portugal—whose laws are quite new—are relatively low (according to Spain's Ministry of Justice, 238 American Jews or descendants of Jews have applied for Spanish citizenship since the law was first passed). Still, reclaimed citizenship is clearly an option that some Jews are interested in pursuing. And when asked about their motivation, several cite Trump.
"As anxiety about the election grew and grew, an increasing number of individuals have reached out to me," David Young, a lawyer who specializes in seeking restitution for the descendants of German Jewish refugees, told me in an email. He estimates that he began receiving three times as many phone calls as usual after the election. "It used to be maybe once a week, and now it is daily."
Sarina Roffé, who helps Sephardic Jewish families prepare some of the documents needed to file for Spanish and Portuguese citizenship via The Sephardic Heritage Project, tells a similar story. "People contacted me right after the election saying 'I don't want to live here,'" she said. "Even in my own family."
The United States isn't the only country in which Jews are looking to reclaim citizenship elsewhere because of their government's actions. The Guardian reported that among British Jews, applications for reclaimed German citizenship increased 20-fold after Brexit, while applications for Portuguese citizenship jumped 80-fold. Some of these applicants are motivated by a desire to maintain citizenship and the right to work in the European Union.
None of the Americans I spoke to had immediate plans to leave the country. Rather, they were seeking citizenship in Europe as a kind of "back-up plan," Young said. He also told me that his clientele has shifted: Instead of hearing predominantly from young people looking to study or work in Europe, he is being contacted by older people applying with their families.
Masie, a theater producer and consultant, said his decision was part strategy, part symbolism. He had a sense it would help his business overseas if he were to have a European passport. He also felt it would bring full circle the story of his father, who never thought poorly of Germany even after being removed from his government job and forced to leave the country, Masie said.
"I don't know if I'm ever going to move to Berlin, but it certainly is a statement of my discomfort," Masie told me. It's also a second echo of his family history, given that Masie's father moved to Spain for two years after Richard Nixon was reelected in 1972. "He thought, 'you never know.'"
For Tim Rivera, a funeral-home owner in New Mexico, the motivation was clear. "What motivated me to take action was the current political climate and the election of Donald Trump," he said.
Rivera, who is not Jewish but is descended from Spanish Jews who converted to escape the Inquisition, reads the narrative of that historical moment onto the current one. In Spain, he said, "people thought their lives were permanent in a place, and those that the foresight to figure out their options had choices, and I feel strongly that I'd like my daughter to have that."
"Muslims and Hispanics have been targeted verbally by people and I just am very fearful of that. I don't feel personally targeted," he added, "but I don't feel like it's something I would want to be part of if it were to get worse in the near future."
The fear of potential persecution is a powerful, if abstract, motivator. American Jews remain painfully aware that, since Trump's election, hundreds of headstones in Jewish cemeteries have been vandalized. This administration excluded any mention of Jews from its statement on International Holocaust Memorial Day, earning condemnation from the Anne Frank Center. When fielding questions about anti-Semitism in the first weeks of his administration, Trump responded to one question with a statement about the number of votes he received in the Electoral College, and to another by interrupting the journalist to express his "hate" of the question and deny that he himself was personally anti-Semitic. Although Trump later condemned the rise in anti-Semitism, it's hard to forget the tropes in which his campaign trafficked: There was the anti-Hillary Clinton meme Trump tweeted featuring a charge of corruption wrapped in a Star of David (he denied this was anti-Semitic), and then a closing ad juxtaposing the images of three Jews with mention of "special interests" and a "global power structure" that has "trillions of dollars at stake in this election."
But as Emma Green has written, whatever fears American Jews may have, the fears of other groups are often more immediate: "It wasn't Jews Trump promised to ban from entering the country … it was Muslims. It wasn't Jewish neighborhoods Trump described in apocalyptic terms in the presidential debates—it was black neighborhoods."
Roffé told me she always asks those who contact her why they want to apply for citizenship. When I asked for her thoughts on those who are applying because of Trump, she suggested that making provisions to leave the U.S.—rather than staying and advocating for change—was not the best course of action. "Really," she asked, "is this the way you want to deal with your country?"