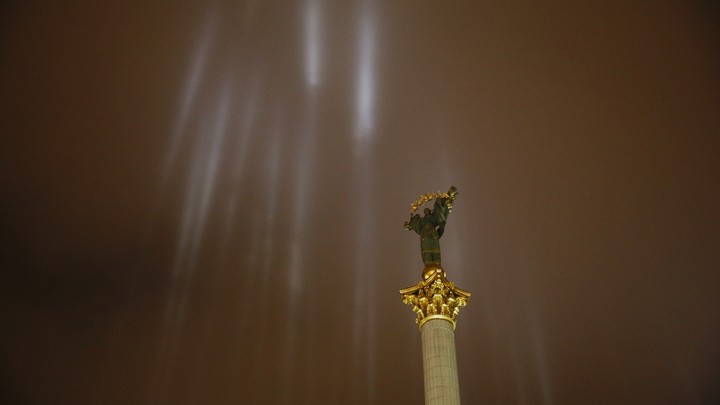 On Sunday, The New York Times reported that two associates of President Donald Trump, including Trump's personal lawyer, Michael Cohen, presented a sealed envelope to then-National Security Adviser Michael Flynn containing a secret peace plan to resolve the three-year conflict in Ukraine. The plan, according to the report, would have Russian forces pull out of eastern Ukraine, and have Ukraine conduct a referendum on whether Crimea would be leased to Russia for 50 or 100 years. It also outlined a way to lift sanctions on Russia.
The reported plan raised hackles in Kiev, and not just because it would, in one form or another, recognize Crimea as part of Russia. "It's nonsense," Ukrainian parliament (Rada) member and former investigative journalist Mustafa Nayyem told me on Monday. "I don't think anyone here in Ukraine would accept such a plan. It's the banal bargaining over territory, and the time for that has passed."
What really struck observers in Ukraine about the plan was its reported author, Andrii Artemenko, who according to the Times "sees himself as a Trump-style leader of a future Ukraine." "That's the thing," said Natalia Gumenyuk, the head of the Hromadske.tv, a prominent news outlet that gained stature as the television station of the Maidan protests. "None of us had heard much about him." What she had heard about him was that he was "marginal," "a really obscure member of parliament from a shady political party." She observed that "it's interesting that it's this kind of person who got in touch with someone over there," in the United States.
On Monday morning, Ukrainian Interior Minister Arsen Avakov concurred. "MP Artemenko, who proposed leasing Crimea to Russia, is a marginal figure without any authority," he wrote in a post on Facebook.
Both Avakov and Serhiy Leshchenko, a young member of the Rada and a former investigative journalist, suspect the plan originated not with Artemenko, who heads an obscure right-wing party, but among members of the Opposition Bloc, a parliamentary faction that formed in 2014 from remnants of the old party of the ousted pro-Kremlin President Viktor Yanukovych.
In any case, it would stand to reason that the Kremlin would try to get as much of what it wants in Ukraine as possible before the whole Trump-Putin romance falls apart. According to my U.S. sources, the Russians started putting sticks in the wheels of the Minsk ceasefire negotiations in October, when they saw Trump's election as increasingly likely, hoping that with Trump in the White House, they would get more favorable terms in Ukraine. It would seem now that the Kremlin is using a familiar tactic, using a previously unheard-of, third-tier person as a front for much more powerful figures—like pro-Russian MPs in Kiev.
"All these signals are coming either from the Russian Federation or from their allies here inside the country," Nayyem told me. "The fact that this proposal was put forward by an obscure Ukrainian politician speaks to the fact that this is an attempt to feel out the environment and try to understand whether [Ukrainian] society is ready for this. Fortunately, these attempts only unite the Ukrainian political class against any sort of trade negotiations when it comes to Ukrainian territory."
"The proposal and the way it's being unveiled reeks of Kremlin manipulation," said Lena Surzhko-Harned, an expert on Ukrainian politics at University of Pittsburgh. "Find a low-ranking financially interested goon, prop him up, give him instructions and let the games begin. While I wonder to what extent Trump understands the nuances of the Ukrainian conflict, I sure hope that his new security adviser ... understands broader implications of playing into the Kremlin's hands in Ukraine."
We want to hear what you think about this article. Submit a letter to the editor or write to letters@theatlantic.com.