How a Trump Tweet Upended My Country's Politics
The American president stirs up the Venezuelan opposition.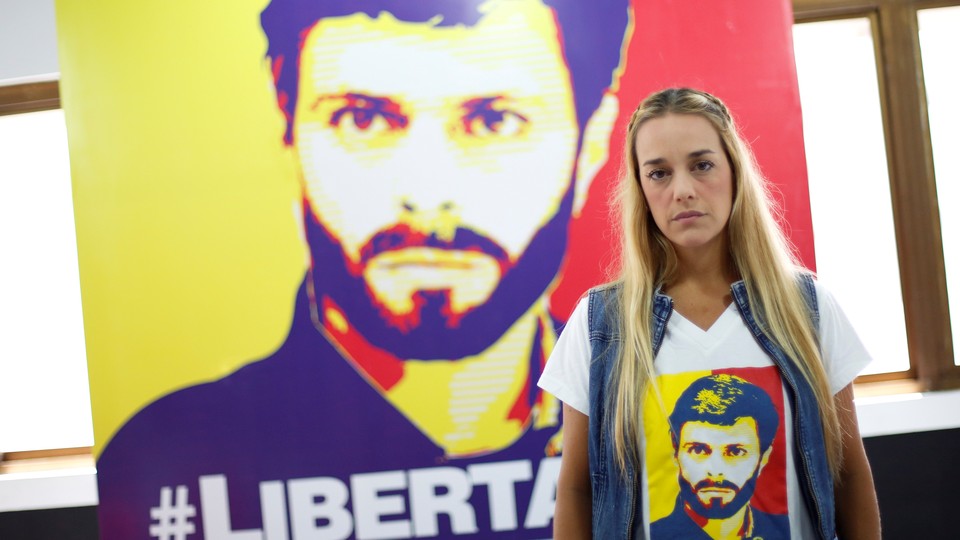 Since the inauguration of Donald Trump, Venezuelans have been scratching their heads, wondering how U.S. policy toward their country might be transformed under his administration. Up until this week, we had precious little to go on. Trump criticized the regime of Venezuelan President Nicolás Maduro during the campaign in South Florida, which many read as mere pandering for the Venezuelan American vote. His aides' Russian entanglements, meanwhile, caused suspicion about his true intentions: Secretary of State Rex Tillerson's intimate associate in Russia, Rosneft chairman Igor Sechin, is closely linked to Maduro, and has deep energy interests in Venezuela.
While many Venezuelans revile Trump, nothing would please us more than to see a foreign power call out our government for what it is—an outright dictatorship. But fear now runs deep. Everyone here knows that the government is criminal, and we also know reporting on it is a quick way to wind up in jail. So, for many, openly celebrating any form of sanction against Maduro is too risky.
Nevertheless, of late, Washington seems intent on scrambling Venezuela's political scene. On Monday, the U.S. Treasury Department, following a lengthy investigation, announced that it had identified Maduro's vice president, Tareck El-Aissami, as a drug kingpin, freezing his assets and barring U.S. entities from engaging in transactions with him. In Venezuela, El Aissami's drug links are old news, and yet the public greeted the sanctions with real anxiety. Seeing your bully called out should feel satisfying, but El-Aissami is as scary as they come. The morning after the announcement, Venezuelan media, both pro-government and opposition, gave the sanctions scant coverage, and the political sphere went silent. Even regular citizens feared reprisals.
Then, on Wednesday evening, Trump  tweeted a picture of the himself, Vice President Mike Pence, and Florida Senator Marco Rubio, on either side of a woman named Lilian Tintori. "Venezuela should allow Leopoldo López, a political prisoner & husband of @liliantintori (just met w/ @marcorubio) out of prison immediately," the accompanying message read. Here in Venezuela, jaws dropped.
To translate: Tintori, a professional athlete and former television personality, is the wife of López, Venezuela's highest-profile political prisoner. A handsome, charismatic, hardline critic of Venezuela's slide to dictatorship, and a staunch advocate of civic resistance, he's been shown in a slew of surveys to be Venezuela's most popular political leader. In jail since early 2014 for his role in organizing anti-government demonstrations, he's the standard-bearer for Venezuelans who think no accommodation is possible with the chavista regime. His obstinate approach has been maligned by the more risk-averse wing of the opposition. López makes people uncomfortable.
Tintori was thrust into the spotlight when her husband turned himself in to Venezuelan authorities in a highly choreographed political stunt. Her foray into the world of international human-rights activism had a rocky start: She's no politician, and her learning curve was steep. But López's imprisonment turned her into a single mother of two, and pictures of her trudging up the hill to her husband's military prison, two kids in tow, have earned her real admiration. Over the years, she's enjoyed the help of a formidable PR team, as well as handlers, and advisers. She's withstood the ridicule of her peers for everything from the clothes she wears to her diction, in a way men never have to. Through it all, she has scored diplomatic victories no one else in the Venezuelan opposition has.
Trump's tweet set off a deep political shockwave in the country. For Venezuelans accustomed to living in fear of their dictatorial government, the sight of the president of the United States siding publicly with the most fearless champion of Venezuelan democracy was powerful.
Of course, there are perils to his taking this position, too. Trump has become a toxic figure on the international stage. Some observers, like Phil Gunson of the International Crisis Group, are concerned that explicit backing from Trump could make it politically impossible for other leaders in the region to actively support his endorsement.
This is not a concern I share.
This most unlikely of endorsements was the shot of courage that timid leaders, both in Venezuela and the region, needed to speak their minds. For once, Trump is making good on his campaign promise: to call things by their names, to shed political correctness. (And no, I can't believe I'm writing this.) There's certainty in Trump's tweet, and certainty is in short supply in Caracas—just like toilet paper.
We know from recent readouts of calls between Trump and leaders in Colombia and Perú that the incoming president makes a point of asking regional presidents about Venezuela. Much will depend now on how skillfully the United States confronts Maduro. We know Obama's policy of containment did nothing to slow the death of Venezuela's democracy. But we also know the incoming U.S. administration comes at this problem with limited diplomatic credibility, and a sometimes alarming tendency to undermine its own policy goals via 4:00 a.m. tweets. We're past hoping for magical solutions here.
But for long-suffering Venezuelans, there's an undeniable rush from seeing a superpower call out Venezuela's dictatorship. Whether this more assertive U.S. stance will help us restore our democracy is very much an open question. Nobody sane would feel comfortable gambling on a positive outcome here. But, diplomatically, the game has changed in Venezuela. It's hard to suppress a smile.
Look, we know the score with Trump. It took extraordinary circumstances to turn a leader like him into the best news for Venezuela's democratic struggle in ages. A contradiction? For sure. Then again, I'm Venezuelan. What isn't?*
---
* The ending of this piece has been updated.