'Our Readiness for a Terrorist Attack Is Dangerously Low'
"I've never seen anything quite like" Trump's approach to national security, says a former counterterrorism adviser to three presidents.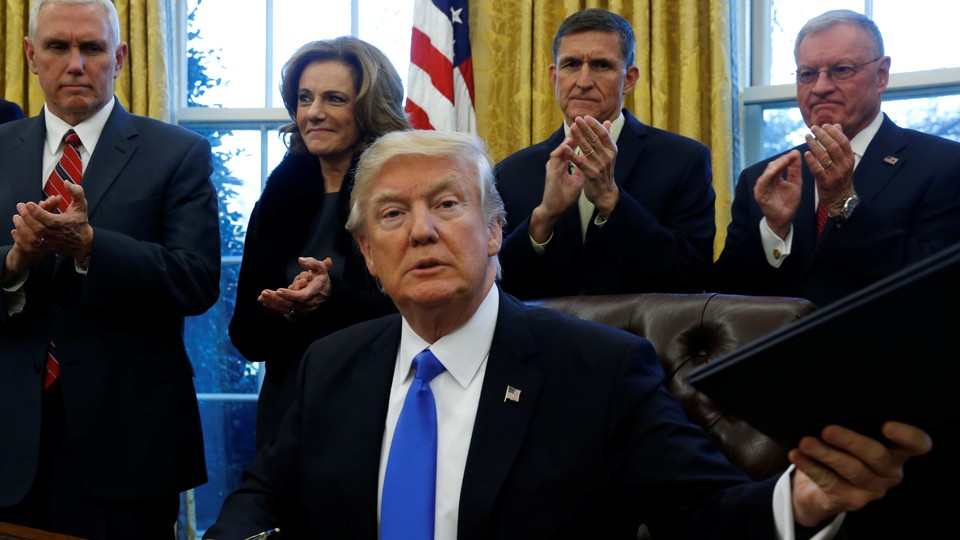 Updated on February 20 at 4:40 p.m. ET
President Donald Trump has made national security a centerpiece of his agenda, justifying policies ranging from a travel ban to close relations with Russia. But the United States is now more vulnerable to attack than it was before Trump took office, according to the man who served as George W. Bush's crisis manager on 9/11.
"In terms of a major terrorist attack in the United States or on U.S. facilities, I think we're significantly less ready than we were on January 19," said Richard Clarke, who served on the National Security Council in the George H.W. Bush, Bill Clinton, and George W. Bush administrations. "I think our readiness is extremely low and dangerously low. Certainly [government] agencies at a professional level will respond [to an attack], but having a coordinated interagency response is unlikely given the current cast of characters [in the administration] and their experience."
Clarke's conclusion is based in part on the upheaval on the National Security Council, an organization created in 1947 within the White House to coordinate national-security policymaking across the federal government (the council's purpose and structure have changed over time, with the staff ballooning from dozens of people under George H.W. Bush to hundreds under Barack Obama). In recent days, that upheaval has included the resignation of National-Security Adviser Michael Flynn and the dismissal of a senior official on the council for publicly criticizing the president. With a major review of America's strategy to fight ISIS coming due at the end of the month, the national-security adviser position lay vacant for a week, after the leading candidate to replace Flynn turned down the job. On Monday, Trump named H.R. McMaster, a prominent military strategist, as Flynn's successor.
"I've never seen anything quite like it," said Clarke, who spent 30 years in government, of the current turbulence at the National Security Council. George H.W. Bush replaced much of the staff from Ronald Reagan's council, Clarke noted, but the new people were in place within the first few days of Bush's administration. (Over the weekend, an anonymous Trump official told CNN that it was "dead wrong" to say the National Security Council was in chaos and ill-prepared for a crisis, noting that the council has been involved in the administration's designation of Venezuela's vice president as a drug kingpin and in arranging the president's string of phone calls and meetings with world leaders.)
Clarke's assessment is also based on the background of the council's leaders; Flynn's deputy, K.T. McFarland, was previously a Fox News analyst and last worked in government as a public-affairs official in the Reagan administration, over 30 years ago. Tom Bossert, Trump's homeland-security adviser, has experience responding to natural disasters, Clarke pointed out, and the military veterans (including McMaster) in contention for Flynn's position when we spoke on Sunday had a wealth of combat experience. But that's different than ensuring that a hulking government bureaucracy reacts swiftly and effectively to an incident like a terrorist attack. "I don't know that there's a single person [on Trump's National Security Council] who's ever had a senior position managing a national-security crisis out of Washington," Clarke said.
Before Vice President Dick Cheney and National-Security Adviser Condoleezza Rice asked Clarke—then the council's national coordinator for security and counterterrorism—to act as a crisis manager on September 11, Clarke had been involved in responding to dozens of national-security crises. And he'd participated in many "tabletop exercises"—simulations of emergencies of the kind that the Obama administration staged for several top Trump officials shortly before Inauguration Day.
"You have all the senior people who would actually have a role in a crisis and you get them all together" for a few hours, Clarke said, in describing the exercises. "You have news reports, intelligence reports. … [The participants] get false reporting, because in a real crisis a lot of the reporting you get is not true. And you don't have time to chase it down; information just bubbles up fast. The normal filters that verify things are taken off. ... People are calling them from other [parts of] the world, congressmen are calling them, U.S. ambassadors are asking for guidance, U.S. commanders overseas are asking for guidance. You get intelligence reports that things are about to happen. ... You try to divert their attention from the real thing they should be focusing on. You give them really hard policy choices that they probably haven't thought of before." The participants come away with a list of ways to improve on their performance.
As a result, on 9/11, "I knew what to do," Clarke told me. "I quickly had the heads of all the agencies up on TV screens [in the Situation Room]. And I knew from playing games of major terrorist incidents what were some of the things we had to do and who had the power to do them. So, for example, we immediately instituted the continuity-of-government system, which turned on alternative headquarters in case headquarters in Washington were blown up or disconnected. We immediately grounded all the aircraft in the air. We immediately closed all the ports and border crossings. We called up [Federal Emergency Management Agency] units to help with disaster cleanup and recovery. We locked down all the embassies around the world. We put all U.S. military forces on high alert. There's a whole checklist of things that we went through. And we had done those exact same things in the exercise."
The National Security Council, Clarke explained, is like an "orchestra conductor," harmonizing the work of agencies ranging from the FBI to FEMA to the Federal Aviation Administration. "There was a tendency in the [George W.] Bush administration to think of the [National Security Council] as a foreign-policy organization. It's not. That's the State Department," Clarke said. "There appears to be a tendency in this administration to think of [the council] as an extension of the military. And it's not. National security is a very broad spectrum of capabilities of civilian, military, and intelligence agencies."
Is such an elaborate interagency process really necessary? I asked. After all, if it comes in the wake of a terrorist attack, the immediate damage has already been done.
"You say the terrorist attack has already happened. Maybe it hasn't," Clarke responded. "Maybe you are getting information that a major terrorist attack is about to occur. That's when the decisions get really tough. Do you believe the information? How do you corroborate the information? What are you willing to do in light of that information? One of the exercises we played frequently was: credible intelligence reports that a nuclear bomb was being smuggled into an American city. Do you evacuate that city? Evacuating a major American city will create chaos and deaths. What if the reports are wrong? And if the terrorists see you evacuating the city, maybe they'll put the bomb off early."
"Then, when the terrorist attack does start, you never know whether it's the only one that's going to happen," Clarke continued. "They tend very often to come in pairs, or groups. When we started on 9/11, the Pentagon had not been hit. [Our] meeting was going on when the Pentagon was hit. I could see people on the TV screen in the Pentagon reacting as the building was shaking. First reports are always wrong: We were told that there were four other aircraft in the air. So we expected additional attacks, and we had to scramble fighter planes and evacuate buildings. We evacuated not only the White House. We evacuated all federal buildings, not only in Washington but around the country. We evacuated all the high-rise buildings we could on a voluntary basis around the country."
Clarke is concerned not just with the Trump administration's preparedness for a national-security incident—be it an act of terrorism or a provocation from a country like Iran or North Korea—but also with its approach thus far to national-security threats. In the first month of a typical administration, Clarke said, the National Security Council's Principals Committee—a kind of "board of directors"—would prioritize issues to develop policy on and then hand the list off to the council's Deputies Committee, which would organize working groups that consult with government agencies and produce policy proposals. Eventually, the president might approve those proposals as policy. As an example of how this process works, he cited a sarin-gas attack in Japan in 1995, which prompted President Clinton to ask Clarke and his colleagues for a study on the risk of terrorists using chemical and biological weapons in the United States. Within a few weeks, National Security Council staffers concluded that the U.S. was unprepared for that form of terrorism, and suggested a plan and a budget for a training program that was ultimately rolled out in 157 U.S. cities.
"I have never seen in anything that has happened in the last month any [such] analysis," Clarke said. (He noted that the standard National Security Council process has been bypassed before, as when Cheney and Bush's defense secretary, Donald Rumsfeld, hatched plans for the Iraq War. In his memoir, Clarke strongly criticized this decision, and claimed that the Bush White House ignored his warnings about al-Qaeda prior to 9/11.) Trump officials appear to "begin with an assumption that they know what the problems are, and very often it doesn't seem like the problems that they're trying to address on a priority basis actually exist. They just think they do. They think there are Mexicans pouring across the border when, in fact, the traffic is in the opposite direction. They think there's a problem with refugees from [the banned] seven countries coming into the United States and staging terrorist attacks when that's never happened."
"It's important to do the analysis, not in a completely value-free way, but in an open-minded way that ... gathers data and shows empirically what the problem is and then designs options to deal with real problems," Clarke said. What he's observed of the Trump administration over the last month is rather different than open-minded: a "blind stumbling into things" is how he described it.