Trump's Unnecessary Fight Over Israel
The polarizing politics over the president's ambassador pick could just as easily have been avoided.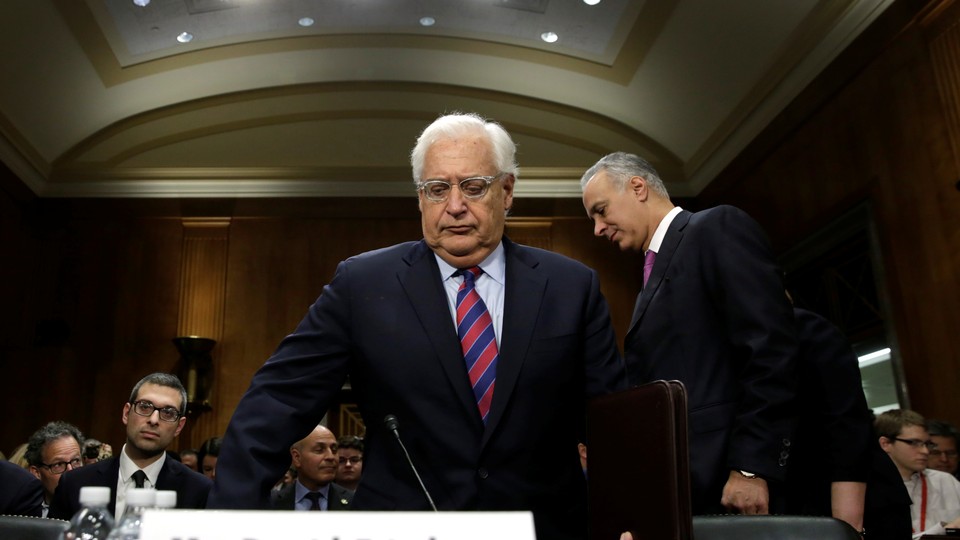 Thursday's confirmation hearing for David Friedman, President Trump's nominee to serve as the U.S. ambassador to Israel, started on an ominous note. Addressing those assembled, Senate Foreign Relations Committee chair Bob Corker warned that while in the past he had been successful in getting protesters "unarrested," a change in policy meant anyone removed for creating a disturbance would not be so lucky. To some laughter, Corker's Senate colleague Lindsey Graham, a former private-practice lawyer, chimed in with an offer of legal services.
But as Friedman started to answer the committee's questions, Corker's warnings went unheeded. Several protesters—a Palestinian man, a Code Pink activist, and three shofar-wielding Jewish demonstrators—caused a ruckus and were removed.
Though the special relationship between the U.S. and Israel has long tended to stir controversy in some quarters, the Senate, where consensus on and support for the Jewish state is overwhelmingly bipartisan, is not one of those places. And so, it was more than a little surreal for the protesters—who could not be saved from arrest—to have their objections about Friedman furthered by the Senate.
Like his boss, David Friedman is neither a conventional politician nor a diplomat. As some members of the Senate Foreign Relations Committee noted on Thursday, the bankruptcy lawyer is a rare nominee with no government experience to draw on for such a historically fraught post. He has also displayed a cavalier penchant for less-than-diplomatic language and policy utterances that fall outside of the mainstream. As my colleague David Graham noted in December, Friedman "has left behind a long trail of statements indicating his views, including equating liberal Americans Jews to 'kapos' who assisted Nazis in ghettos; labeling President Barack Obama an anti-Semite; and suggesting Israel should annex the West Bank." In a statement accompanying his nomination, Friedman struck a partisan note by positioning the controversial relocation of the U.S. Embassy in Israel from Tel Aviv to Jerusalem—a polarizing campaign pledge from which Trump has lately seemed to distance himself—as a foregone conclusion.
As a result, a confirmation process that normally has an air of cordial inevitability became a political spectacle as Friedman withstood a grilling that produced some tense moments. In announcing his intent to vote against Friedman, New Mexico Senator Tom Udall entered a letter from five previous U.S. ambassadors to Israel, which declared Friedman unfit for the post, into the Senate record. Udall concluded, "We need a steady hand in the Middle East, not a bomb-thrower in a position of power." Udall's sentiments were amplified by Senator Ben Cardin, a fellow Democrat, who, in an apparent effort to rouse his colleagues, reminded the committee of Friedman's past disparagement of Senator Chuck Schumer, whose tepid opposition to the Iran deal Friedman charged was "the worst appeasement of terrorism since Munich."
Throughout his testimony, Friedman tried to present himself as a person thoroughly remade in the image of a cookie-cutter diplomat.  He disavowed and apologized profusely for his previous statements and, against Trump's own remarks the day before, he clearly affirmed that a two-state solution, however unlikely, is the preferred outcome to the Israeli-Palestinian conflict. Friedman also changed course by speaking out against settlements and even offered from some surprisingly progressive remarks about the need to build a Palestinian middle class. But even this about-face spawned more skepticism. Senator Bob Menendez all but accused him of performing a "nomination conversion." Wondering aloud about why Friedman would even want the post, Corker added, "You're here today having to recant every single strongly held belief that you've expressed, almost."
By the end, it seemed clear that Friedman will safely get through the confirmation process. Nevertheless, that the vote appears destined to fall largely along partisan lines, despite the easy and bipartisan consensus about Israel, raises a question about why the president picked him in the first place. Peter Beinart offered this theory in The Atlantic last year: "The best explanation is that he's evaluating people based less on their actual policy background or knowledge than on whether they look like the kinds of people who would have the relevant background or knowledge." In other words, Friedman qualifies not because of his credentials, but because of his faith and his previous dealings with Trump. "He'll be Trump's voice," Lindsey Graham offered unenthusiastically on Thursday. "Trump won the election."