How Anti-Trumpism Is Hijacking the Anti-Brexit Movement
When one cause distracts from another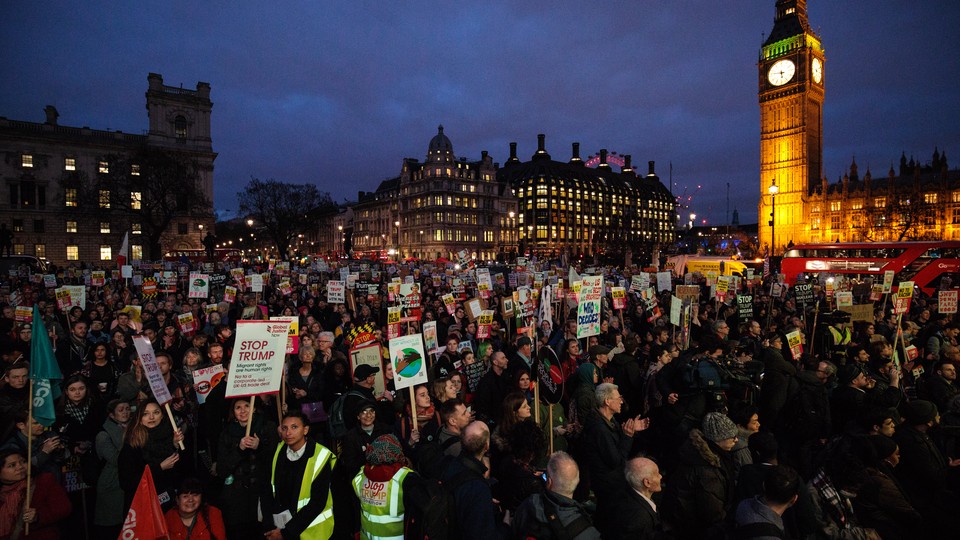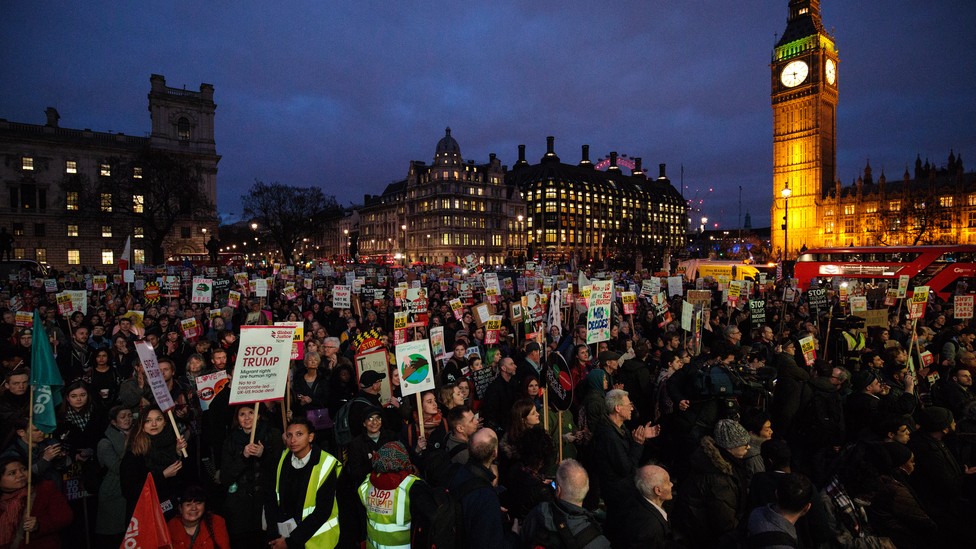 On Monday afternoon, roughly 100 protesters swathed in European Union flags and carrying signs bearing slogans like "I am not a bargaining chip," "EU Worker Making Britain Great Again," and "Brexit and Trump: Sound the Alarm," gathered quietly on Parliament Square, opposite the British Houses of Parliament. Silently, they linked arms and formed a circle on the grassy lawn, holding up their placards for photographers, who had ample space to maneuver. The demonstration, part of a national day of action to support the rights of EU citizens, migrants, and asylum-seekers in a post-Brexit United Kingdom, had been in the works for months. In the immediate aftermath of the referendum vote in June, thousands marched in support of the same causes. Yet on Monday, the demonstrators dispersed after posing for photographs for about an hour, many filtering into parliament to lobby their representatives—a run-of-the-mill protest, by most measures.
A few hours later, however, the scene had undergone a dramatic change: A concert stage topped with a banner reading, "Defend Migrants, Stop Trump," and a jumbotron had been erected, and the square was teeming with placard-carrying demonstrators—16,000 people had registered for the event on Facebook. "Trump and Brexit's got to go," they chanted, as if the two were one and the same. Bianca Jagger took the stage to excoriate British Prime Minister Theresa May's efforts to build a relationship with Trump, likening it to appeasement: "Have we forgotten what happened to Chamberlain?" Jagger asked the crowd.
It was the first major event sponsored by the Stop Trump Coalition, an organization founded by a group of over 100 politicians, activists, and NGOs to protest Trump's policies and his upcoming state visit to Britain. Save for the myriad signs, however, it would have resembled a rock concert, with a markedly younger, more raucous crowd. Across the street in Westminster Hall, members of parliament debated a petition advanced by Graham Guest, a lawyer from Leeds, to cancel or downgrade the promised state visit—an honor previously afforded to only two U.S. presidents, George W. Bush and Barack Obama. So far, the petition has garnered 1.8 million signatures online. Guest said his primary concern in launching the petition was to protect the "poor old Queen" from having to shake Trump's hand.
Noise from the quickly filling square carried into the chamber, where Paul Flynn, a member of parliament with a history of making controversial comments, bashed Trump for what he called his "protozoan" intellect. One couldn't escape the feeling that London activists who have held three major demonstrations against Trump in the past two months alone, hate the U.S. president far more than they care about the future of the EU.
Since the 2016 U.S. presidential election, left-leaning Londoners have been asking themselves whether Trump or Brexit is worse. May is expected to trigger Article 50, which will begin Britain's withdrawal from the EU, as early as the first week of March. The long road to Brexit, marked by murky legal proceedings, negotiations, and carefully worded government assurances, has obscured its potential ramifications, including a $58.4-billion economic contraction and a 3-percent drop in GDP by 2020, according to the Organization for Economic Cooperation and Development. The economy is already showing signs of a labor shortage as EU workers consider leaving their jobs in Britain. Despite that, Brexit is almost certainly permanent: There is no legal precedent for the withdrawal of Article 50, though some lawmakers contend it can be done.
Trump, by contrast, could be gone in four years (and, of course, isn't even a British politician). "From the point of view of the U.K., Brexit is a very, very big deal," Jonathan Portes, a professor of economics at King's College London, said. Trump, he said, is "a particular man who's happened to be elected president, and who knows what the consequences will be." But the immediacy of Trump's words and actions, particularly the swift enactment of an executive order barring citizens from seven predominantly Muslim countries from entering the United States, offers a hyperbolic version of similar policies May's government is pursuing in Britain.
May is set on her vision for making Britain a "fully independent, sovereign country," as she has put it, by securing a "hard" Brexit—a departure from both the EU single market and freedom of movement laws—and a dramatic decrease in immigration. Protests seem unlikely to change her agenda. And despite the obvious fact that Brits have no power to oust Trump, or even to stop his state visit, the American president's virulence makes him far easier to oppose. In Trump, Liberal Brits have found a cipher through which to vent frustrations with their own government—but by training their efforts on him, movements like the Stop Trump Coalition may have picked the wrong target.
In the first months of their respective administrations, Trump and May indicated that the rights of millions of legal residents—green-card holders, immigrants, and asylum-seekers in the United States; EU citizens, refugees, and migrant workers in the U.K.—could be curtailed. Both leaders are pursuing policies that would make it far easier to deport immigrants in their respective countries. Meanwhile, just one month after the Brexit referendum, reported hate crimes in the U.K. were up 41 percent from the previous year, though incidents have been trending upwards since 2013.
"We had the highest increase in hate crimes after the Brexit vote—it's not just worrying Muslims, but also European nationals, French nationals, German nationals," said Rushanara Ali, a Bengali MP representing Bethnal Green and Bow, in East London. In the U.K., European nationals currently enjoy the right to  live, work, and receive free healthcare. While May has promised to secure the rights of Europeans to remain in the U.K. "as soon as possible," the process through which Europeans will be able to claim those rights after Brexit is finalized remains opaque. She has also vowed to slash immigration to Britain by two-thirds, in part by severely restricting the number of student visas. An investigation by The Independent found that there has been a five-fold increase in immigration-related detentions of EU citizens since the Conservative Party came into power in 2010. While there are no official statistics on how many undocumented immigrants currently reside in the U.K., complications from the Brexit vote will lead thousands to apply for residency and passports, regardless of their existing status, as Rob Whiteman, former head of the U.K. Border Agency, has argued.
"There are going to be increasing numbers of undocumented EU citizens in the U.K. after Brexit," Michael Collins, coordinator of Right to Remain, an advocacy group for asylum-seekers and migrants, said. "Even people who should be entitled to certain protections won't be able to access them. Many have been living such precarious lives, they don't have rental checks, they don't have a paper trail to prove they're resident here—it's going to greatly increase the amount of undocumented people living in the U.K. … People are starting to find it more difficult to move into flats if they have Polish surnames. Everybody who could possibly be perceived as a migrant is going to be suffer."
Indeed: Last week, a British Muslim teacher traveling to New York with a student group was pulled off a plane in Iceland, detained, and informed he'd been denied entry to America. The incident contradicted American assurances to the British government that the travel ban, officially suspended by a federal court, would not impact any British citizens. 10,000 people marched against the ban outside 10 Downing Street after it was announced, and May has been heavily criticized for being slow to condemn it.
As May rushes to meet her self-imposed March deadline for triggering Article 50, some fear that more U.K. residents may find themselves stranded at airports, their right to reside in the country hanging the balance. In January, the British Supreme Court ruled that both houses of parliament must vote to initiate Article 50 before May can begin the process of leaving the EU. The House of Commons voted in favor of doing so earlier this month, rejecting an amendment that would have protected the rights of the approximately 3.3 million EU citizens living in Britain. This week, the House of Lords is debating a similar amendment, and is also expected to vote to proceed with Article 50. In the meantime, the rights of EU citizens to live, work, and travel in and out of a post-Brexit U.K. remain in limbo.
Roger Casale, a former member of parliament who now leads the New Europeans, an advocacy group for EU citizens living in Britain, pointed out that in light of the government's reneged commitment to resettle as many as 3,000 unaccompanied child refugees in January 2016, its assurances to European U.K. residents are hardly comforting. "A promise is not a guarantee at all, particularly when it's made by the government," he said. "Trump shows how important it is to have your rights enshrined in law, because otherwise a government can come to power and say, 'I don't like you, you're a Muslim,' or whatever it is, and take your rights away. ... No one wants to be in the situation of people in airports in the U.S."
The parallels between Britain and America appear to have prompted some introspection among British politicians seeking to articulate the country's role in the Trump age, particularly as May looks to cement a bilateral trade deal with the United States. "What exactly are the shared values that this house, this country would hope to have?" asked Alex Salmond, former Scottish first minister, during the House of Commons debate Monday night.
Trump, seasoned salesman that he is, may have unwittingly provided the British left with the vocabulary to reject May's more isolationist policies. "Donald Trump wants to put America first, Theresa May wants to put Britain first," Caroline Lucas, an MP from Brighton, told protesters on Monday night.
"We want to use this opportunity to push back against the Trump-like policies of our own government," Zoe Gardner, a leading organizer of the Stop Trump Coalition, told me. "We've built a wall in Calais, we've stopped our program to resettle lone child refugees in the U.K. ... Just because Theresa May is more of a statesperson, because she knows how to play the game—she thinks it's going to slide by."
But the shift in messaging risks stoking virulent political rhetoric without ensuring any policy change. Trump may be a convenient proxy through which to discuss the ugly repercussions of Brexit, but proxies tend to distract from the real problems at hand.
"There are many reasons why Trump has elicited this kind of response in a way that Brexit hasn't … but his degree of rhetoric has brought a lot home for people," said Marienna Pope-Wiedeman, a social justice advocate involved in the Right to Remain NGO and the Stop Trump Coalition. "They realize how close we are to the precipice."