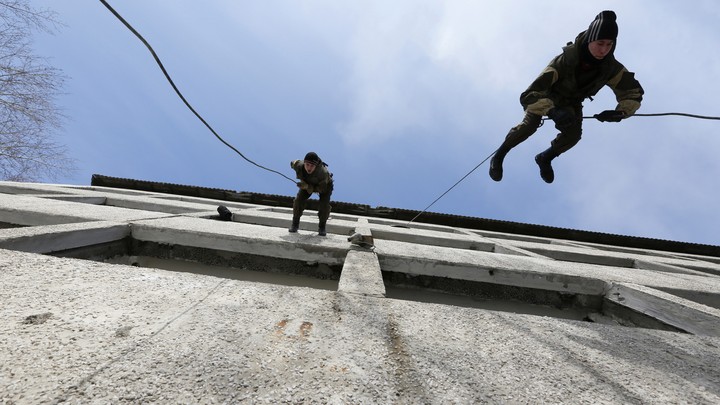 My Trip to the DMZ
Christoph Niemann | The New York Times Magazine
"The 60-minute bus ride felt a bit like a school trip. A stern guide lectured us about the Korean War: How the conflict came to an end in 1953 with an armistice establishing a permanent border called the Military Demarcation Line (M.D.L.), from which both armies retreated two kilometers, creating the DMZ. It is largely uninhabited, save for two settlements: Daeseong-dong (or 'Freedom Village') is on the southern side. Many of its residents work as rice farmers, and the tour guide claimed that their crop is considered a delicacy in Korea, because the DMZ is such a pristine environment. It is an accidental nature preserve, home to a wide range of rare plants and animals—even tigers, supposedly. On the North Korean side, there is Gijeong-dong, or 'Peace Village.' To the South, it is known as Propaganda Village. Though there are buildings, we're told nobody actually lives in them. The tour guide said that every day, a few people visit to fire up gigantic speakers, directed toward the South, piping in invitations to defect to the North. The two sides feud constantly through the villages; in the 1980s, when the South erected a roughly 300-foot flagpole, the North responded by building one about 200 feet taller."
* * *
The Russian Military Is Building a Mini-Reichstag at its Amusement Park so That Kids Have 'a Real Building to Storm'
Andrew Roth | The Washington Post
"Why will Russian children be storming a replica of the building that houses the current German parliament?
The capture of the building is one of the best-remembered episodes of World War II here, a symbolic prize during the 1945 Battle of Berlin that marked the defeat of Nazi Germany, just a few years after the Soviet Union seemed on the brink of collapse. Historians have noted the whitewashing of atrocities that took place during the Soviet advance into Germany. But in Russia, the memory of the war is sacrosanct, and Victory Day is marked by massive military parades and a new march called the Immortal Regiment, where Russians carry portraits of relatives who fought and died in the war. Russian President Vladimir Putin takes part in both."
* * *
Europe's Child-Refugee Crisis
Lauren Collins | The New Yorker
"Among the 1.3 million people who sought asylum in Europe in 2015 were nearly a hundred thousand unaccompanied children. Most were from Afghanistan and Syria. Thirteen per cent were younger than fourteen years old. The data for 2016 are incomplete, but the situation is comparable. Experts estimate that for every child who claims asylum one enters Europe without seeking legal protection. (The number of unaccompanied minors attempting to enter the United States, most of them from Central America, has also increased dramatically in recent years. President Trump's executive order on immigration, in addition to barring refugees, targets asylum seekers, many of whom are unaccompanied children.) At an age at which most kids need supervision to complete their homework, these children cross continents alone."
* * *
Life Inches Back to Normal in East Mosul, But Worries Remain
Alice Fordham | NPR
"Last month, Iraqi security forces, with support from a U.S.-led coalition, forced ISIS out of the eastern half of the city. Unlike in other Iraqi cities retaken from the extremists, most of the infrastructure remained in place and intact. So did the civilians.
'I felt as if I had been reborn into this life,' said al-Kufa school principal Saed Ali Judei, of coming back to work. His is one of 70 of about 400 schools in east Mosul that have re-opened under government control, with help from UNICEF.
The riotous noise of children's laughter in the schoolyard is matched by a bustle in the streets: Markets are open and busy, men are mending roads damaged in fighting, traffic is surprisingly dense."
* * *
Killer, Kleptocrat, Genius, Spy: The Many Myths of Vladimir Putin
Keith Gessen | The Guardian
"Putin's recent ubiquity has brought great prominence to the practice of Putinology. This enterprise—the production of commentary and analysis about Putin and his motivations, based on necessarily partial, incomplete and sometimes entirely false information—has existed as a distinct intellectual industry for over a decade. It kicked into high gear after the Russian invasion of Crimea in 2014, but in the past few months, as allegations of Russian meddling in the election of President Donald Trump have come to dominate the news, Putinology has outdone itself. At no time in history have more people with less knowledge, and greater outrage, opined on the subject of Russia's president. You might say that the reports of Trump's golden showers in a Moscow hotel room have consecrated a golden age—for Putinology."
* * *
The Fighting Azov Dolphins
Alexey Furman and Robert Langellier | Roads & Kingdoms
"The Dolphins are an anomaly for many reasons. Formed in 2012 by a group of friends in a bleak neighborhood called the Pentagon, they lost both of their coaches to the war diaspora—one to Kiev, one to rebel-controlled Donetsk. Some of its players are active soldiers on the front line, some are high school students, some have had to flee the war. Dmitry, only 21 but with an imperial charisma, captains the team along with Andrey Kulivets, the defensive captain. They watch YouTube videos of football drills and do their best to mime them."
We want to hear what you think about this article. Submit a letter to the editor or write to letters@theatlantic.com.