Bucharest Protests and a Sinking City: The Week in Global-Affairs Writing
The highlights from seven days of reading about the world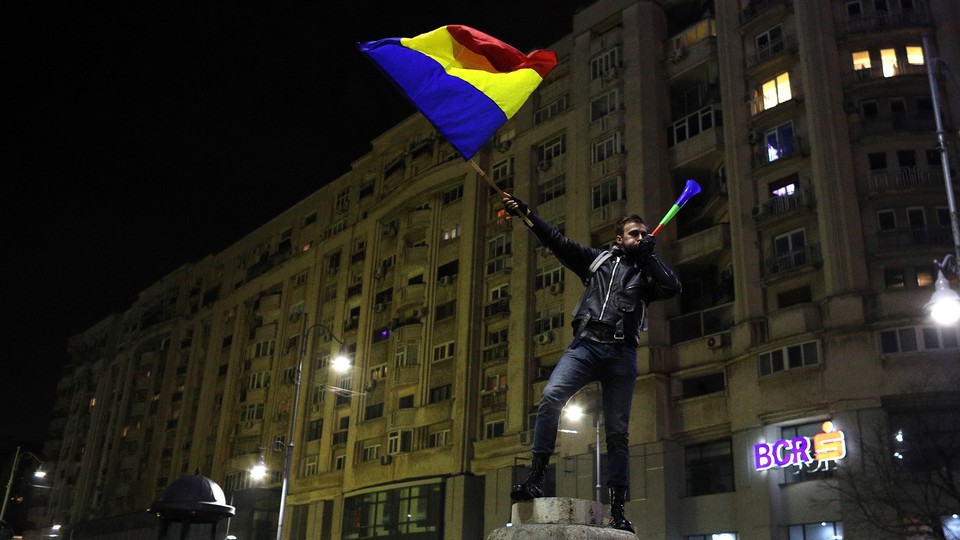 Below Deck
Lizzie Presser | California Sunday
"When Filipino cruise workers arrive in U.S. ports with U.S. crew member visas, American laws almost never govern their conditions on board. Nearly all cruise ships are registered outside the United States, often in Panama or the Bahamas. This practice is known as flying a 'flag of convenience,' and it began in the 1920s when American ship owners reflagged their ships in Panama to skirt Prohibition. When others learned they could operate under foreign regulations, the trend caught on, and now the most common countries for cruise ships' flags are also known for their loose labor codes. The cruise industry has argued, for example, that Panamanian law doesn't require overtime wages and that Bahamian minimum wage doesn't apply to seafarers."
* * *
Young Romanians Take On Corruption
Walter Mayr | Der Spiegel
"The protests surrounding Victory Palace, from which Prime Minister Sorin Grindeanu governs the country, are only superficially against the decree that was rushed through. The legislation called for eliminating penalties for abuse of office and corruption as long as the damage didn't exceed the equivalent of 45,000 euros—which is six-and-a-half times the average gross annual salary in Romania.
In reality, the demonstrators stand for the dreams of millions of their fellow citizens to finally, 27 years after Ceausescu's demise, be freed from exploitation at the hands of the old regime's successors. 'Our break with communism was incomplete,' says Burduja. 'Romania was the only country in Eastern Europe to vote the communist's successor party into power following the fall of the Iron Curtain.'"
* * *
The Strange Case of the Russian Diplomat Who Got His Head Smashed in on Election Day
Ali Watkins | Buzzfeed
"English-language news reports said Krivov, identified then only as a 63-year-old Russian national and Manhattan resident, was a security officer. But a November report from Sputnik, the English-language Russian media outlet, says he was a consular duty commander.
That position is no ordinary security guard. According to other public Russian-language descriptions of the duty commander position, Krivov would have been in charge of, among other things, 'prevention of sabotage' and suppression of 'attempts of secret intrusion' into the consulate.
In other words, it was Krivov's job to make sure US intelligence agencies didn't have ears in the building."
* * *
The Blackwater of Jihad
Rao Komar, Christian Borys, and Eric Woods | Foreign Policy
"Malhama Tactical isn't an enormous military conglomerate like the infamous Blackwater (now named Academi). It consists of 10 well-trained fighters from Uzbekistan and the restive Muslim-majority republics of the Russian Caucasus. But size isn't everything in military consulting, especially in the era of social media. Malhama promotes its battles across online platforms, and the relentless marketing has paid off: The outfit's fighting prowess and training programs are renowned among jihadis in Syria and their admirers elsewhere. It helps that until now the group has specialized its services, focusing on overthrowing Bashar al-Assad's regime and replacing it with a strict Islamic government.
The group's leader is a 24-year-old from Uzbekistan who goes by the name Abu Rofiq (an Arabic pseudonym that means father of Rofiq). Little is known about him other than that he cycles through personal social media accounts rapidly, using fake names and false information to throw off surveillance efforts. In virtually every video and photo posted online, he wears a scarf or balaclava to cover his face from the nose down, leaving visible only his narrow dark eyes and long, somewhat tangled, pitch-black hair. He speaks fluent Russian, but with a slight Uzbek accent."
* * *
The Little-Known Passport That Protected 450,000 Refugees
Cara Giaimo | Atlas Obscura
"The current refugee crisis is the largest the world has ever seen—but it's far from unprecedented. Back in the 1920s, civil war in Russia and genocide in the Ottoman Empire left millions of families stateless, seeking asylum in countries already stretched thin by the ravages of war. Charged with preventing catastrophe, an idealistic explorer named Fridtjof Nansen changed hundreds of thousands of lives with a piece of paper: the Nansen Passport. Although it stopped short of granting citizenship, the Nansen Passport allowed its holders to cross borders to find work, and protected them from deportation. Some experts are calling for a similar solution today."
* * *
Mexico City, Parched and Sinking, Faces a Water Crisis
Michael Kimmelman | The New York Times
"When the Grand Canal was completed, at the end of the 1800s, it was Mexico City's Brooklyn Bridge, a major feat of engineering and a symbol of civic pride: 29 miles long, with the ability to move tens of thousands of gallons of wastewater per second. It promised to solve the flooding and sewage problems that had plagued the city for centuries.
Only it didn't, pretty much from the start. The canal was based on gravity. And Mexico City, a mile and a half above sea level, was sinking, collapsing in on itself.
It still is, faster and faster, and the canal is just one victim of what has become a vicious cycle. Always short of water, Mexico City keeps drilling deeper for more, weakening the ancient clay lake beds on which the Aztecs first built much of the city, causing it to crumble even further."