The Meaning of Cyberwar and Deporting FBI Informants: The Week in Global-Affairs Writing
The highlights from seven days of reading about the world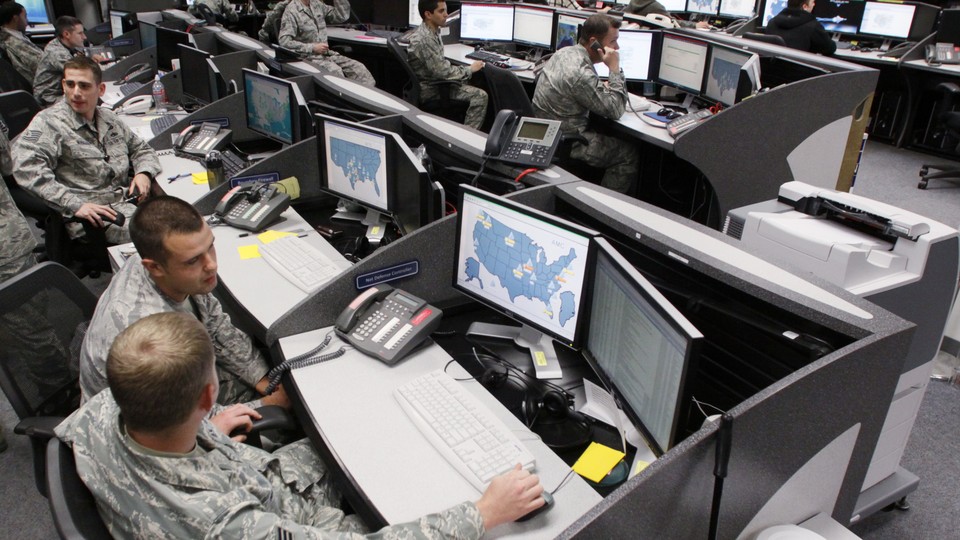 When Does a Cyberattack Mean War? Experts Say There's No Clear Line
Byard Duncan | Reveal
"In 1996, the U.S. and Russia began meeting in secret to establish a set of common protocols for their respective operations in cyberspace. Since then, they've managed to agree, via the United Nations, that international law applies in the digital realm – and that countries must take responsibility for the actions of hackers operating within their borders. As recently as 2015, the two parties also agreed that no state should use digital tools to target each other's critical infrastructure during peacetime.
But the common ground essentially ends there. While Russia historically has pushed for treaties that limit the use of digital weapons, the U.S. for years has claimed that cooperation among international police is a better technique for regulating cyberspace."
* * *
How France's Nationalist Party Is Winning Gay Support
J. Lester Feder and Pierre Buet | Buzzfeed
"This strategy hasn't been easy for Le Pen to pull off, however. If she pushes too hard, she risks a revolt from a strong social conservative faction within her party's traditional base. So she mentions LGBT people rarely and formally supports repeal of the 2013 marriage equality law. But she has welcomed a number of gay men—and all of them are men—into her inner circle, including her chief lieutenant, National Front Vice President Florian Philippot. The National Front now has more high-ranking gay figures than any major party in France, including the Socialists, the center-left party that passed a marriage equality law in 2013."
* * *
Gang Rape of Two Teens Leads to an Unusual Step—A Trial
Maanvi Singh | NPR
"Traditionally, many Somali communities settle rape cases though a system of justice called heer. Clan elders would generally arbitrate such cases. As a settlement, the perpetrators often compensated the victim's family with camels or other livestock.
The government is still figuring out how to implement its new Sexual Offenses Act, says Puntland's minister of women and family affairs Anisa Mumin, who recently visited the victims' families. She says both law enforcement officers as well as judges must be trained to handle sexual violence cases with sensitivity. And the government hasn't even begun setting up forensic labs to collect and analyze DNA evidence in rape cases."
* * *
When Informants Are No Longer Useful, the FBI Can Help Deport Them
Trevor  Aaronson | The Intercept
"But the FBI had a problem: It needed a recruiting strategy for Muslims. While agents could, and did, use criminal offenses by Muslims as leverage, as they had done against the Mafiosi, the bureau chose to widen its net in Muslim communities by looking past those with known links to criminal enterprises to individuals who simply wanted to remain in the United States. Many of these people have been targeted not because of anything they have done, but merely because the bureau sees them as potential sources of intelligence on other members of their communities.
If they have immigration problems, then that becomes a key pressure point. Potential Muslim recruits are offered a variation on the bureau's line to mobsters: Hey, would you rather work for us or be deported?"
* * *
What Effect Did the Record Influx of Refugees Have on Jobs and Crime in Germany? Not Much
Aamna Mohdin | Quartz
"U.S. President Donald Trump kicked off his candidacy in June of 2015 with an polarizing speech attacking Mexican immigrants, insisting they were wrecking havoc in the US. He promised to build a wall to keep out immigrants 'bringing drugs' and 'bringing crime.' And he used Germany as an example of what can go wrong with an open-door policy on refugees, describing chancellor Angela Merkel's approach as a 'disaster' and insisting crime rose to levels 'that no one thought they would ever see' in Germany.
Now, the first comprehensive study to look at economic and social effects of the one million refugees fleeing to Germany is out, and it flatly contradicts Trump's assertion: The refugee influx to Germany in 2014 and 2015 wasn't followed by a 'crime epidemic,' co-researcher Martin Ungerer, from the Centre for European Economic Research, says."
* * *
Trump's Grand Strategic Train Wreck
Colin Kahl and Hal Brands | Foreign Policy
"Believe it or not, President Donald Trump has a grand strategy. According to some analysts, Trump's endless streams of erratic and apparently improvisational ideas don't add up to anything consistent or purposeful enough to call a grand strategy. We see it otherwise. Beneath all the rants, tweets, and noise there is actually a discernible pattern of thought — a Trumpian view of the world that goes back decades. Trump has put forward a clear vision to guide his administration's foreign policy — albeit a dark and highly troubling one, riddled with tensions and vexing dilemmas.
Grand strategy is the conceptual architecture that lends structure and form to foreign policy. A leader who is 'doing grand strategy' is not handling global events on an ad hoc or case-by-case basis. A grand strategy, rather, represents a more purposeful and deeply held set of concepts about a country's goals and orientation in international affairs."