The Long Arm of Marine Le Pen
Quebec is flirting with French-style secularism—and courting its risks.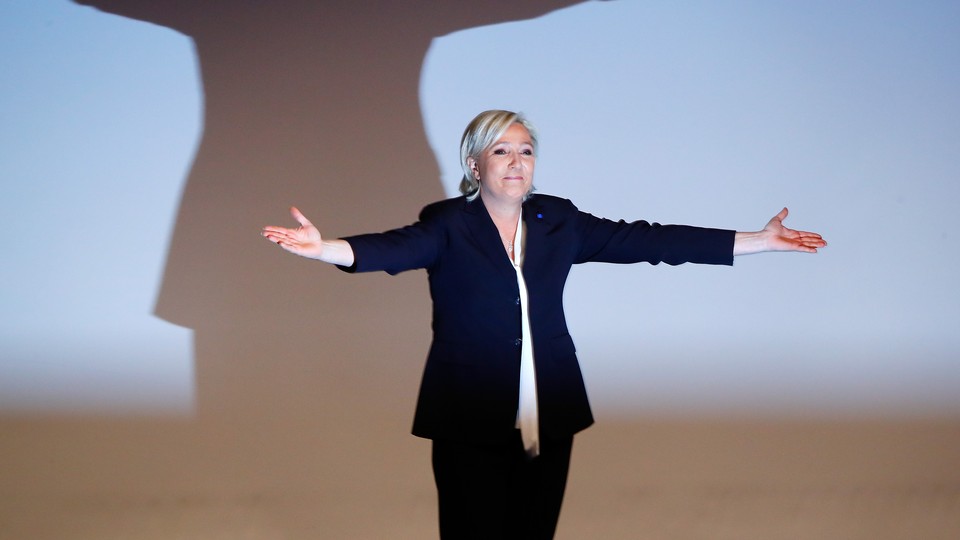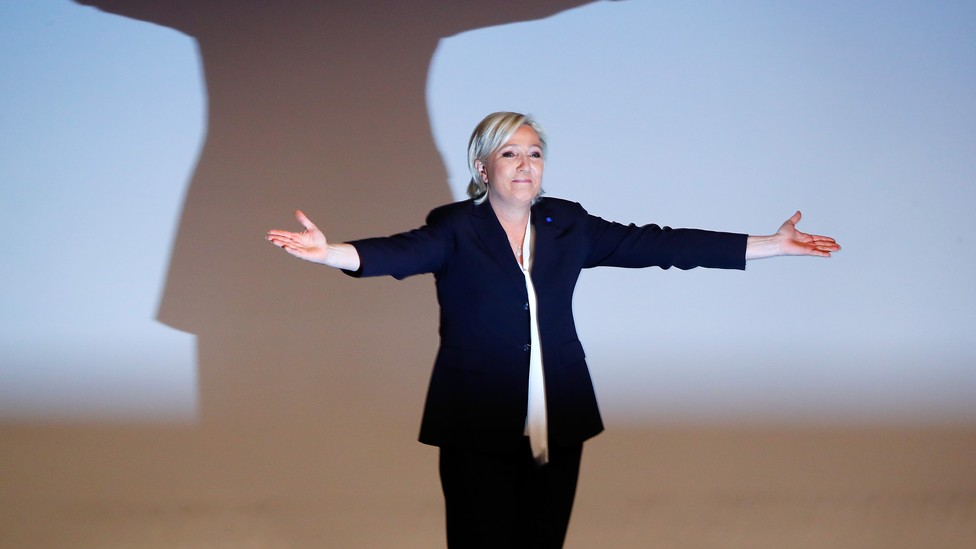 The Quebec mosque shooting, in which six Muslims were killed on January 29, occurred in the context of a bitter debate over religion that has roiled the Canadian province for years. That debate reemerged one week after the attack, when some politicians in the provincial legislature renewed their push for a law that would bar public servants from wearing religious symbols like the hijab. Critics, however, say the discourse around such legislation fuels the Islamophobia that found extreme expression in the mosque shooting.
"It's important to be open to welcoming newcomers, but we must limit the wearing of religious symbols so we can better live together," said François Legault, the leader of the Coalition Avenir Québec party.
This statement followed another declaration on similar issues an ocean away, this one by the leader of France's far-right National Front party, Marine Le Pen, who said in a February 3 interview that Jews should give up wearing the kippah in public.
"I mainly think the struggle against radical Islam should be a joint struggle and everyone should say, 'There, we are sacrificing something,'" Le Pen said. "Maybe they will do with just wearing a hat, but it would be a step in the effort to stamp out radical Islam in France."
The resemblance between the two statements is no accident: Quebec has inherited France's concept of laïcité, or secularism, though with different characteristics.
In France, bans on religious symbols enjoy widespread support, and legislation to that effect has been on the books for more than a decade: In 2004, Muslim headscarves and other symbols were banned from public schools, and in 2010, full-face veils were banned from all public spaces. Le Pen espouses an extreme version of laïcité, one that contends that "sacrificing" religious particularism is essential to creating a universalist, neutral, cohesive society. This articulation, once the province of the far-right, is now the dominant interpretation in France, shared by figures on the center and the left, including former prime minister Manuel Valls.
In Quebec, proposed bans draw a mixed response—more negative in cosmopolitan areas like Montreal, more positive in rural areas (where a majority views immigration as a threat to "the heritage of Quebec society")—and attempts to enshrine them in law have so far been unsuccessful. After all, Quebec is part of Canada, the first country in the world to make an official policy out of multiculturalism, an ideology that says particularistic identities are something to preserve, not stamp out. Still, Quebec's flirtation with French-style laïcité has intensified in recent years, reaching a zenith in 2013 with the release of the "Charter of Values," which sought to ban conspicuous religious symbols for public servants. The proposal died when the Quebec Liberal Party came to power in 2014, but the debate over such legislation has lately been revived.
The parallel between Quebec and France became clearer in the wake of the Quebec mosque shooting. After various outlets noted that the suspect, Alexandre Bissonnette, "liked" Le Pen on Facebook, The Globe and Mail reported:
His online profile and school friendships revealed little interest in extremist politics until last March, when France's far-right National Front Leader Marine Le Pen visited Quebec City, inspiring Mr. Bissonnette to vocal extreme online activism, according to people who clashed with him starting around this time.

Before Ms. Le Pen's visit, Mr. Bissonnette's friends say he showed little interest in politics, despite studying the subject at Laval University.
This does not establish a causal link between Le Pen's words and Bissonnette's alleged actions. But the correlation appears against the backdrop of Quebec's heated laïcité debate, which is often explicitly or implicitly anti-Islam (though experts say this represents a deviation from the concept's original intent).
If Quebec is adopting France's hardline version of laïcité, it's worth asking: Does laïcité actually work? Does it, as Le Pen argues, cause religious minorities to assimilate into the mainstream, making them less susceptible to the allure of "radical Islam"?
"In France, it clearly backfires," said Jeffrey Reitz, a sociology professor at the University of Toronto whose comparative research examines Muslim immigration in France and Canada. "Many young Muslim women feel an underlying resentment. They have to take off the headscarf when they get to school, but they put it back on immediately when they leave, feeling that it's an important way to defend their identity. Some of them do this despite their parents encouraging them to get rid of the scarf and get a job. This is a case of 'reactive ethnicity'—when you have a policy to ban a practice, so people continue it in protest."
Reitz, whose research examines employment as one measure of assimilation, said the survey data show that for Muslim women born in France, the employment rate is 10-15 percent lower than for other French women. By contrast, "multiculturalism actually works well as an assimilationist tool," Reitz said. In relatively multicultural Quebec, the employment rate for second-generation Muslim women is the same as for Anglo-Canadian women. In other words, by this measure, the female Muslim population assimilates to the mainstream standard.
"Laïcité is being perceived in Quebec as the magical solution to every identity problem," said Valérie Amiraux, a sociology professor at the University of Montreal. "But forcing people to turn into someone they are not can't work"—and there is no evidence from France to suggest that it does work. What surveys of attitudes toward Muslims do show, Amiraux noted, is a strong correlation between highly publicized legislation banning Muslim symbols in public spaces—such as France's 2004 headscarf law—and an increase in Islamophobia.
Laïcité remains popular in France, however. And Le Pen has capitalized on her country's longstanding secularist tradition to campaign as its defender against outside threats. Recent polls show her on track to lead the first round of voting in the upcoming presidential election (though she is expected to lose in the second round in May). Even some French Jews have been turning out in support of her National Front party, despite its notorious anti-Semitic past.
Sarah Hammerschlag, a scholar at the University of Chicago who focuses on the position of Judaism in France's post-World War II intellectual scene, said the trend is likely to continue this spring. "There are probably a lot of Jews who are going to vote for Le Pen," she predicted, "because the threat of Muslim anti-Semitism is seen to be the largest and most dangerous threat for Jewish communities in France. That threat makes her promises seem tantalizing."
Paradoxically, that perceived threat may be driving Jews into the arms of a historically anti-Semitic party whose leader is now asking the Jews themselves to give up their own religious attachments. And the history of French Jews shows that this type of assimilationist effort doesn't always work in expected ways.
"In a sense, this is a retelling of an old story," Hammerschlag said. "When French Jews were emancipated in 1791, it was the strongly held conviction of those who were in favor of their emancipation that Judaism would disappear as a result. Ironically, Judaism never disappeared. Instead, one year after emancipation, you find Jews singing La Marseillaise in synagogue—in Hebrew!"
Muslims in Quebec are now navigating their questions of religious and national identity, in a context informed by France's history of grappling with similar ones. France's failures in this regard may ultimately be more instructive than its successes.