'Have We Opened the Gates of Hell With Our Images?'
Reporting on the Philippines' drug war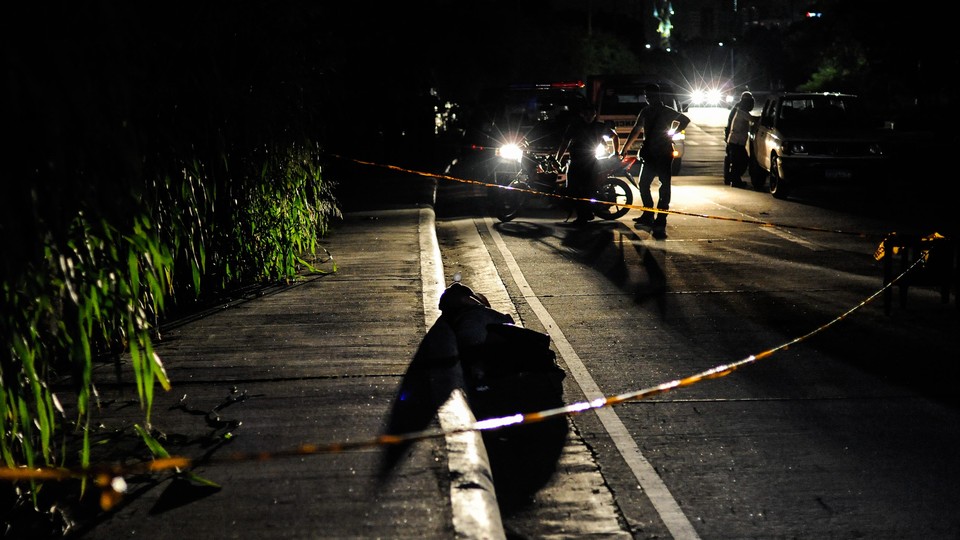 Since the middle of last year, a group of Filipino reporters, photographers, and cameramen have been at the frontline of Philippine President Rodrigo Duterte's war on drugs. They are a different type of war correspondent, and the drug war, a different type of war.
The correspondents work what they call the "night shift," the unholy hours between 10 p.m. and 5 a.m., when the dead bodies are found. They wait at Manila's main police station and rush from there to the site of the most recent kill. They keep count of the corpses, talk to witnesses and families, interview the police, attend wakes and funerals. A lot of what the world learned about the carnage, especially in the early months, is due largely to the night shift reporters.
Most of the over 7,000 victims of Duterte's drug war are poor, targeted by officials who assumed they are street-level drug dealers, known as pushers, or merely addicted to shabu, the local name for crystal meth. Many were shot in police operations, caught in the crossfire, or mistaken for someone else. Many more were slain by vigilantes or death squads—masked gunmen riding on motorcycles who shoot their victims in the head or chest, usually at close range. Some of these killers have been linked to the police or are policemen themselves.
The victims' bodies are found on sidewalks or bridges, their heads wrapped in packing tape, their hands bound with rope. Some are left lying on the streets, bathed in blood, or splayed on the shaky wooden floors of shacks in shantytowns along the river, the shoreline of Manila Bay, or further inland, in the densely packed warrens inhabited by the city's poorest and neediest.
Over the course of three weeks in December and January, I interviewed several night shift reporters, in press vans or the press room at the Manila Police District office. In our conversations, they wondered whether they were doing enough. Duterte has compared drug addicts to animals worthy of slaughter, so the reporters try to humanize them in their work, they told me. But readers don't seem to care. Those on the night shift have been attacked viciously on social media, accused by the president's supporters of being paid hacks and of making up stories and faking photographs. Most Filipinos, they said, have chosen to avert their gaze from the slaughter.
"I think I've aged, my soul has gotten old," photojournalist Dondi Tawatao said. "But I feel I am stronger now because I've seen the worst. ... What else could happen that I haven't yet seen?"
What follows is the testimony of  the night shift reporters.
I. July 2016
On July 1, Duterte's first day in office, his newly appointed police chief ordered all police units to conduct "massive and simultaneous" anti-drug operations throughout the country. Nearly 600 suspected drug users and dealers were killed in Duterte's first month as president.
Dondi Tawatao, a photographer for Getty Images, began working the night shift in June, before Duterte was sworn in. He noted a certain "showmanship" in the killings: cardboard signs with smiley faces or Batman figures placed next to the corpses, the rags stuffed inside the victims' mouths, or the pieces of wire wound around their necks, as if they had been strangled to death.
Dondi Tawatao: Things picked up the first week of July. By the second week, we were going to many raids, "buy-bust" operations. The police would always tell us the alleged drug dealer was dealing with undercover policemen and he shot it out. We were getting maybe three deaths a night … and then mid-July it intensified. It became 12 a night, sometimes more.
I did a tally every night: the "legitimate" ones, which we call the buy-bust, the drug raids [by the police]. And then you have the deaths that's under investigation, the ones done supposedly by the death squads, these are the persons whose hands and feet were bound, [their] heads wrapped in packing tape. I don't have my personal list now. When I hit 2,000, I stopped counting.
Raffy Lerma, a photographer for the Philippine Daily Inquirer, went on the night shift in the second week of July.
Raffy Lerma: It was July 12 or something. I can't remember the exact date. It was my second night [on the night shift] and I remember this as something that had a real impact on me. There was another extrajudicial killing, a body wrapped in packaging tape. When the police were cutting the tape, unfortunately, I was using my zoom lens and was focusing on his face. When the tape was removed, I saw the expression on his face. He was staring at me, his mouth was open. I was terrified. Really terrified because it was like I felt his last moments. How he died, like he was gasping for air, the feeling you get when you're being buried alive, that at first you lose all light, then all air. I felt that, so for a time, I didn't take any more photos like that, or if it's an extrajudicial killing, I don't focus my camera on the faces.
Eloisa Lopez, a freelance photographer and feature writer, joined Lerma on the night shift in the third week of July because she wanted to test her mettle as a photojournalist. Then 20 years old, she was the youngest among the night shift reporters and had never been to a crime scene.
Eloisa Lopez: The first crime scene that we went to was in Tugatog cemetery in Malabon [a densely populated town just north of Manila]. When we got there, the police were there already. We were shooting really close to the crime scene, and then suddenly one body flinched. It was Dondi who said, I think, "She's moving! She's moving!" I think at first I didn't believe him, and then we all saw her moving. There were five bodies. All of them were shot by masked men, riding in tandem [on motorcycles]. And then after an hour, we heard this screeching noise from another woman who was apparently still alive. When she was brought out, her face was painted red by her own blood and later on we heard that she also died.
Actually that night, I was okay. It was the days that followed that I felt it come back to me and then I started to feel really weird, and then I read later news reports and it seemed that they were innocent. [After that night], I would see flashing images of the dead bodies. Mostly their faces, the blood. Actually, I couldn't even sleep with the lights off. It's like the darkness reminded me of the crime scene. Anything that reminded me of a crime scene, I had to just take it out of my sight, anything at all. Mostly it was just flashing images, they'd suddenly appear. I could see them in my head. I could hear them.
Raffy told me, "Loi, you're not actually afraid. You're guilty, but you shouldn't be." It was actually just my conscience that was bothering me, like, why am I seeing this and then why am I not doing anything about it?
Tawatao: Sometimes I wish my photo stories weren't like this, but it is what it is. And the story needs telling. People have to see what is happening. My approach when [shooting] the drug war was very straightforward: The world has to see what goes on in Manila when it's night time, what really goes on when people sleep. In July, people weren't paying much notice. And then the other journalists started coming and the photos exploded outside, and that's when people took notice of our images. Have we opened the gates of hell with our images?
On July 23, the night shift reporters were tipped off about a killing and rushed to Pasay, the southern part of Manila, where they found Jennelyn Olayres holding the lifeless body of her partner, Michael Siaron, a pedicab driver who had just been shot by unknown gunmen. Lerma's photo of the scene was displayed on the front page of his paper and soon went viral.
Lerma: I keep going back to that day because even from afar, I could see it already. This was a picture. This was a very strong picture. ... It was the way she was holding Michael Siaron. … She was cradling him. The first time I had seen anything like it out in the open. In other crime scenes, there is always a crowd. But they were secluded, separated from the crowd because they were inside, in the middle of a police cordon. Actually it looked staged because there were lots of television lights and they were in the center. But what is imprinted in my mind is Olayres screaming for help. I felt like we were vultures. She was screaming, "Help us, we need to bring him to the hospital," and we were there just clicking and clicking.
As photojournalists, we are always looking for those strong pictures. We know those photos that would really make impact. And we have to take—and it's sad, it's sad to say—we have to take advantage of it. But, we just have to do our jobs and our job is to share these pictures and convey their message. At one point, I stopped, I asked the police, "Why aren't you helping them?" The policeman said, "There's nothing we can do, he's dead. Let's just wait for the [Scene of the Crime Operatives, the police unit that gathers forensic evidence and brings the bodies to the morgue]."
When we were done, some of the photographers were with us in the car back to the [Manila Police District office]. All of us felt so heavy. One photographer even said, "I don't want to do this anymore. No more. I don't want to shoot anymore." We talked among ourselves. But still, when we saw the photos, we thought, shit, this is strong.
We went to the wake four days after. The first time, they refused to let us in. But I saw a newspaper with my photo on the front page, so I took it and I introduced myself to the father, "Sir, I was the one who took that photo." And the father of Michael Siaron said, "We've been waiting for you for some time." When I heard that, I felt lighter. He introduced me to Jennylyn Olayres. I told her I was sorry, sorry that we behaved like that that night. Please understand what our work is. She didn't say anything but she held my hand, I guess she nodded, and she cried, I think she got it. She saw the public reaction to the photo. I felt my heart was lighter.
II. August 2016
The killings increased in August, despite criticism from the United Nations and a high-profile probe by the Philippine Senate. More journalists started working the night shift, and coverage of the killings became routine. By the end of August, the police said the drug war had claimed more than 2,500 victims.
Patricia Evangelista, a multimedia reporter with Rappler, joined the night shift in late August. She has written about conflict and disaster, including typhoon Haiyan in 2014, which claimed over 7,000 lives. As a rookie journalist, she reported on two activists who had been abducted, tortured, and killed by soldiers.
Patricia Evangelista: The worst cases are when the person is shot in the same area as their home, or in their neighborhood, or even if it's a [body] dump, if they recognize the face, then that's when you brace yourself, because the wife will walk in, the mother will walk in. And it's weeping and wailing and screaming. And you know that you're witness to the worst moment of a person's life and you don't know if you're a voyeur. And you don't know if you're doing the right thing by asking questions.
There's a pattern to it already. The first kind: the mother will walk in and there will be some tears and she'll go, "Ya. That's my son." "That's my boy." "That's my grandson." "That's my brother." And they'll walk away, and then if they talk to us, they'll say, "Ya, he was an addict, but he's a nice boy, he was recovering." All of those things, but they're not angry. They've seen it coming. And it's Jerome's fault, or Jonathan's fault, or Jason's fault. Lots of J's, actually, in the field.
But the second kind: It's when they don't believe it. They're there. They see the face. And they're stomping their feet and screaming as loud as they can, as though if they screamed hard enough, it won't be true. There are the ones who are angry that there are cameras, that's when we pull back. The worst of it is, the next day, or two days after, some tabloid will show the photo of the person ripped apart like a pig and say, "This is an addict or a [drug dealer]." That's the last moment of a person's life and that's who he is. And that's the image that's left to them. So, when we walk in, maybe three days after, they scream at us at the funeral home or they push us away. "How dare you?" And they have every right, I mean, who can determine which media is what media? And we condoned it. We allowed it to happen. So, the night beat ends around five in the morning. ... We go to breakfast somewhere. And then we talk about things that have nothing to do with what we saw. Then we go home.
Lopez: I think the whole month of August I stopped checking Facebook because [the killings] were always in the news. I couldn't look at it. I was out for three weeks. Just to rest my head from the brutal images. … I came back to the night shift and I must say that I was better. The nightmares were gone.
Lerma: It was one body after the other, but after Michael Siaron, I took time to get to know the families [of the victims]. ... From there, I could build a picture of what this person was like. ... [Siaron's family] were very poor and I'm sorry to say, they lived like rats. They were living in a shanty in the middle of a creek filled with garbage. If he were an addict, did he deserve to die just like that? ... The reason I go to wakes, why I go to funerals is so that I [can] feel it, really feel it. … Sometimes I just go to a [crime] scene and it's just a dead body for me. I know it's taking its toll on me. … You feel a bit numb. ... But we always have to challenge ourselves not be numb. Because these are human beings. Every day, people are killed, a family loses a father, a son, a husband.
III. September 2016
By September, Duterte had ramped up his anti-drug offensive, boasting he had a three-inch folder of people linked to the drug trade, including public officials. In a press conference on September 30, he said he would be "happy to slaughter" millions of drug addicts, and likened himself to Hitler. By then 3,500 people had been killed in the drug war.
Alyx Ayn Arumpac, a filmmaker, grew up on the southern Philippine island of Mindanao, where political clans have their own private armies and Islamic and communist insurgents are still waging war. She was in Europe when the drug war started, and returned to Manila in September and started filming while on the night shift. On one of her first nights back, she saw two vagrants on the street who may have been drug addicts. It's not so much the sight of corpses that unnerves her, she said, but the heart-rending wails of the grieving mothers of the drug war's dead.
Alyx Ayn Arumpac: I was around the hotel, in the Manila area. I was walking around and I saw two old men eating on the sidewalk. ... I passed by, the men started looking at me and I was thinking, "Ay naku, they're going to say something vulgar to me." But what they said was, "Uy, have you eaten?" They offered me food! And again, and again, I think about these men. These are the men that are being killed. And that's the memory that just makes me, you know, drives me forward because drug addicts are not all killers. Some of them use drugs because they are hungry. We all see it as a criminal problem, not as a social problem.
[The worst is] when the mothers are crying. It's not the images, but how they cry. It's howling. Just howling. ... I would not look at the footage for months, then a couple of months later I look at it, and it's like reliving it again.
This young boy, when his father died, he did not even say anything. He was just looking—not at the body because the body was taken away, but where his father used to be. There was blood where his father was shot. He was just looking very quietly. Like maybe he didn't believe it yet, because there was no body. And when they told his other brother, and the brother couldn't believe it as well, and in the same way that the howling of the women really haunts me, these kids, their silence. ... It was the first time actually that I really wanted to cry.
Evangelista: I try to rebuild the person. I take the corpse and reimagine the man. To go from the beginning to the end of a single case takes a while because the police are slow, they don't want to talk to you. They'll say it's an internal investigation, that sort of thing. So, my approach is always narrative. I don't know if I'm preaching to the converted, but I'm guessing someone who says a drug addict should be killed will not say that after a five-year-old got caught in the crossfire.
I really don't know [what impact my stories make]. The people who stand where we do are glad enough that it's being covered. Then again, we're hypocrites, or "presstitutes" or "liberal intellectual elites"—whatever they choose to call us. So, I don't know if it has an impact. ... To a lot of people, [drug users], as Duterte said, are the dregs of society. They're painted in such a horrible fashion that there is no reason to care. We get hit with [questions like], "Why are you writing about these people? What about the other people who were raped, who were murdered by people who allegedly were into drugs?" The question I get asked even by relatives who know what I'm doing is, "Ya, but are you sure they're not guilty?"
It used to be that the monsters were the communists. Now the monsters are drug users.
IV. October 2016
The body count rose to over 4,700 by the end of October even as Duterte warned that there would be 20,000 to 30,000 more casualties if the drug trade continued.
On October 21, Eloisa Lopez returned to the first crime scene she covered in July.
Lopez: I was already feeling nervous because that place in itself is already traumatic for me. Raffy told me, "Seven-year-old." 
"What seven-year-old?"
 He said, "A seven-year-old was raped and killed." And then I literally said, "What the fuck." And then someone showed me a photo of the girl who was lying naked and bloodied, and it was really bad.
We followed the parents [of the girl] to the police station [where the rapist was detained; he was a drug addict]. And I had to leave, actually, because I became emotional. Later on we talked about it, when things were calmer. Raffy said, "You have to realize this is exactly what they want for us to feel toward these drug users, that we would be so angry at them, we want them killed ... but not all of them are like him. Not all of them are rapists. And even if they are, they still deserve a legal process."
My words that night were, "Evil won tonight." Every night we shoot these dead bodies, alleged drug addicts, drug pushers. We try our best to humanize them, as much as possible portray what they were like as a father, a brother, a son, make them human so people would sympathize with them. ... But that night I felt this man deserved to be killed.
On October 25, a teenage girl and her boyfriend were killed by a gunman riding a motorcycle in an alley in an eastern suburb of Manila. Reporters found the dead girl lying on the pavement, her Barbie doll beside her.
Arumpac: I film differently. I don't film like television. So, I try to linger, I take longer shots. I wait for reactions. And sometimes how it plays out in front of my frame. ... It's really shocking. Like once, there were lovers. ... The girl is dead. She looks like a doll. She is dead, and there is literally a Barbie doll beside her ... and then you go to the other side, and there's her [dead] boyfriend. ... She was, I think, collateral damage. It wasn't probably even drug related, but they left a placard that said, "Tulak ka. Tangina mo," or "You're an animal, a pusher..."
The photojournalists, they capture one frame, one shocking frame, but if you see how I see things, how on the side someone is howling, the mother's crying, the mother's freaking out—and in one frame there's a body and then there's another body and the investigator puts up a Barbie doll. ... And then suddenly they take the body away, and then the journalists run after the body and then the mother's still crying and all of this is on video. And then you realize that maybe when people see it like this, then [they would] start questioning.
V. November 2016
On November 5, police killed a mayor and suspected drug lord in his jail cell, raising renewed concern about abuses in the drug war. Duterte lashed out against Western critics who threatened to indict him in the International Criminal Court. The casualties exceeded 5,000 by the end of November.
Tawatao: At first, I didn't really notice it, because you're working, you're functioning on adrenaline. You really don't think about what those images might do to you. It was only later [around] November that I felt ill. Sometimes I'd be short-tempered, impatient. And then at one point, all my dreams were about crime scenes. I was about to check myself into a hospital because I was having coughing fits.
Under the circumstances I would say that I handled it well. I know it's hard but I think the important part is not to get desensitized, and not to treat it as an everyday, every night sort of occurrence. Maybe that's how I cope with it. And lots of cigarettes.
I make it a point to look right into the victim's face just to humanize him, [to imagine] what life must have been like for him before. I want to know him as a person, not as a subject, not as a dead body on the street, but someone who lived. Someone who laughed, someone who died. Sometimes it's good not to dwell, sometimes it's okay to dig deeper. You cannot cover everything—you have to choose or you'll be overwhelmed. Like there were nights when we did nothing but run. There would be 16 dead [and] we [could] only manage to get to five crime scenes because when you get to the fifth crime scene you're already very tired.
Evangelista: There was a woman who, every night for I think a decade, worked the night shift, I think at some call center. Every day for a decade her husband picked her up at seven in the morning. One morning he wasn't there. And she was angry. So, she was standing in front of the building at seven in the morning and she gets a phone call. "Don't look for him. They got him." It was a neighbor calling, telling her that her husband was gone. He was abducted in front of their building by six men on motorcycles. Two days later, we found the body on the Del Pan bridge. It was one of those rare times that someone who was wrapped up and stabbed with an ice pick, was identified by a family member. He had been left just a five-minute walk from their house. It's rare. They wanted to make an example of him. They wanted him identified. So the wife walks in screaming. She saw his feet and she knew it was him, and that was it. The families break, just like that.
So, it's not images for me. It's the arc of the story. And I'm a Daddy's girl. So, every single one of my stories is about some father. Either the father who lost someone, or the father who was killed. Like, in Commonwealth Village, Jerico and Angel, 21-year-old and 16-year-old. The father did not live [there] anymore, so on the night they died, he said, "That's my fault." And I go, "Were they after you?" He goes, "No. I wasn't there. I was supposed to be there." I go, "What were you supposed to do?"
"I don't know. But if I was there, he wouldn't have died. I would have protected him. I would've stood in the way of that bullet." That was it. There was no drama. He wasn't screaming, he was just, "I should have been there." And all of them are like that: "I should have been there."
VI. December 2016
During the Christmas holiday masses, the Catholic clergy called for restraint and compassion, and priests spoke out against the killings. Duterte said he would not stop until the last drug dealer was dead. The drug war marked its sixth month with over 6,000 dead.
Evangelista: I have previous experience of journalists being competitive, and hiding sources. ... But the night beat is a strange place. People look out for each other. When you're running, someone looks behind you to check if the last guy got out. We share sources, we share [police] spot reports.
We didn't have a lot of cars on Christmas Eve because everyone was on break. So everyone piled onto someone else's car, that was fine. I think it's because we needed some sort of tribe. Somebody saw what you saw. And you can talk about it. Of course nobody admits it's hard. That, nobody really talks about. ... It's a very good thing [because] I can't talk about what I do to my friends.
Lopez: When I'm with my friends, I want to tell them about my work. And sometimes, I feel like they don't know what to say. And I can't blame them. I know that most middle class people are not affected because [the killings are] not happening in their communities. That's why this is actually a class war, a war against the poor. When I ask the families if they want to pursue the investigation of the killings, they say, what's the point? We're poor. The poor have no rights, how can the poor fight back?
I found a new family in the night beat. We're there for each other and it almost doesn't matter who we're working for sometimes. I've become comfortable with this family and I feel like I don't need to find comfort from my other friends.
Arumpac: Recently I've been having like mini breakdowns. I would call a friend overseas and I'm wondering, why am I always crying? But then I have to realize as well, actually that this is bigger than me. This is not about me.
Lerma: I must admit the first two months were rough. I had emotional stuff going through my head. I'd suddenly remember some scenes and I become emotional. But I found ways to deal with it ... maybe talk about it with our own circle [in the night shift]. People might not like what we are doing, documenting this, but it's proof of what's happening. And maybe 10, 15 years from now, they will appreciate what we are doing. Maybe. And we can learn from this and this doesn't happen anymore. It's a dark history. It's already 6,000 people dead. And each day that goes by more people are getting killed.
Tawatao: We lost something here in the drug war. I am still grappling with what it was we lost. It's like the police made murder okay, and we have to live with it because this is what the people wanted.
On January 30, Duterte suspended the anti-drug campaign because of the outcry over a South Korean businessman abducted by rogue officers on trumped-up drug charges and then strangled to death in the main police headquarters. The number of killings has dropped dramatically since then, but in Manila's shantytowns, the fear remains and dead bodies still turn up.
Duterte has said that the drug war will continue until his term ends in 2022 and has talked about bringing in the army to fight it. At the start of 2017, victims were coming together and finding their voice, with encouragement and protection from the Catholic Church.
The journalists on the night shift await what will come next. For them, working the night shift has been a life-changing experience. "I hope I'm a better reporter. I hope I'm a better writer," said Evangelista. "I didn't have much faith in people before. I guess I have less of it now. It's okay for people not to care because we all have lives and my job is to care. ... But it's different when people say this is good. That's what's screwed up about all of this. They say this is good."
"I hope many years from now that people will look at this era and say it will not happen again."