Ranked: World Leaders Who Are Out of Office, but Not Out of Power
Some terms are more limited than others.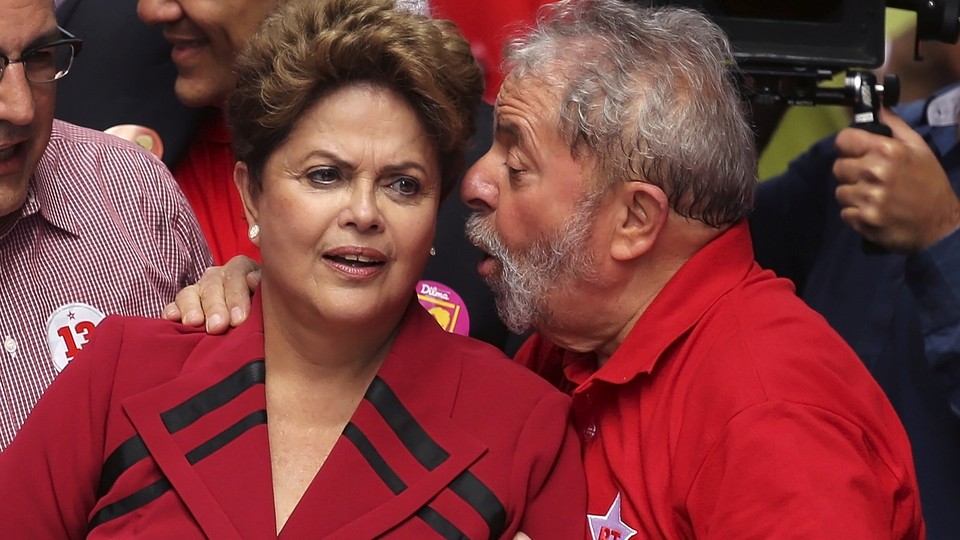 Less than two weeks into the Trump presidency, Barack Obama took a break from vacationing to object to Trump's executive order on immigration. We seem to be headed for a much more conflictual relationship between past and present presidents than the U.S. is used to. But, barred from seeking the presidency again, Obama does not pose a serious threat to Trump, who will be much more worried about disunity within his own party. In other parts of the world, however, former leaders carry much more sway, having found ways to insert themselves back into the system in new ways. Here are several ex-leaders who have managed to exercise power over their state's current leadership.
5. Alvaro Uribe. Colombian politics have become defined by a rift between two former allies turned rivals: current President Juan Manuel Santos and Uribe, Santos's immediate predecessor as president. The two disagree sharply about how to manage Colombia's long-running conflict with the FARC and other violent groups, with Uribe strongly opposed to the reconciliation embodied in the peace deal Santos negotiated with the FARC. Colombia's decision to reject the peace plan in a referendum last year—Santos went on to conclude a modified deal—gave Uribe a significant boost. He is personally barred from seeking office again by term limits, but he holds a seat in the Senate and has launched a new party, which will pose a challenge to Santos's allies in elections in 2018.
4. Mahathir Mohamad. At 91, and with more than two decades as prime minister under his belt, one could forgive Malaysia's former leader for enjoying a quiet retirement. Instead, last year, he quit the party he led for decades to launch a campaign against the current prime minister, Najib Razak. Mahathir's complaint centers on a corruption scandal involving 1MDB, a sovereign wealth fund, and the allegations that Najib has inappropriately enriched himself. Najib's alliance-building and careful control of the levers of democracy—voting districts are reportedly heavily gerrymandered—are likely to keep him in power in upcoming elections. But in Mahathir he has found a tough adversary.
3. Matteo Renzi. Italians cannot swing a dead cat without hitting a former prime minister. The latest laureate of that illustrious award, "most recent former prime minister of Italy," is Renzi, who stepped down late last year after losing a referendum on the country's election laws. But while he may no longer be the country's official leader, he retains control of his party and is hoping to lead it back to victory. (An electoral win would be his first, ironically; Renzi became prime minister after the previous one resigned.) But the path back to power requires navigating between yet another former prime minister, Silvio Berlusconi, who is reportedly scheming a return to power, and the anti-establishment Five Star Movement, who would prefer to throw all the bums out. One way or the other, Renzi may not keep his laurels for long. He either becomes prime minister again, or someone else shuffles into the top slot.
2. Nouri al-Maliki. If you cannot be king, the next best thing to be is kingmaker. The former strongman prime minister of Iraq was forced to relinquish the top job in 2014 in favor of a less sectarian candidate, Haider al-Abadi. But much of Iraq's political power still runs through Maliki, who has the post of vice president, despite efforts by Abadi to strip him of the title. He also carries significant sway over the Shiite militias known as the Popular Mobilization Units, which have played a controversial role in the effort to recapture Mosul from ISIS. He has refused to rule out a formal attempt as prime minister, but even if he stays behind the scenes, he will continue to wield significant sway over Iraq's political leadership.
1. Luiz Inácio Lula da Silva. Lula, as Brazil's former president is known, deserves an award for the most ignominious collapse of a political legacy. After leading Brazil through eight years of growing prosperity and international prestige, Lula handed the reins of power to his favored successor, Dilma Rousseff, only to see her impeached in the wake of a corruption scandal that is still shaking Brazil's government. Despite facing multiple graft charges himself, Lula seems undaunted, declaring last year, "Only Jesus Christ beats me here in Brazil." Jesus might get to find out who's tougher. After taking a break from the presidency, Lula is eligible to run again in 2018.
---
This article has been adapted from Matt Peterson's weekly newsletter for Eurasia Group, Signal.