Ranked: After 'America First,' Other Nations That Want to Be First, Too
There can only be one. Or can there?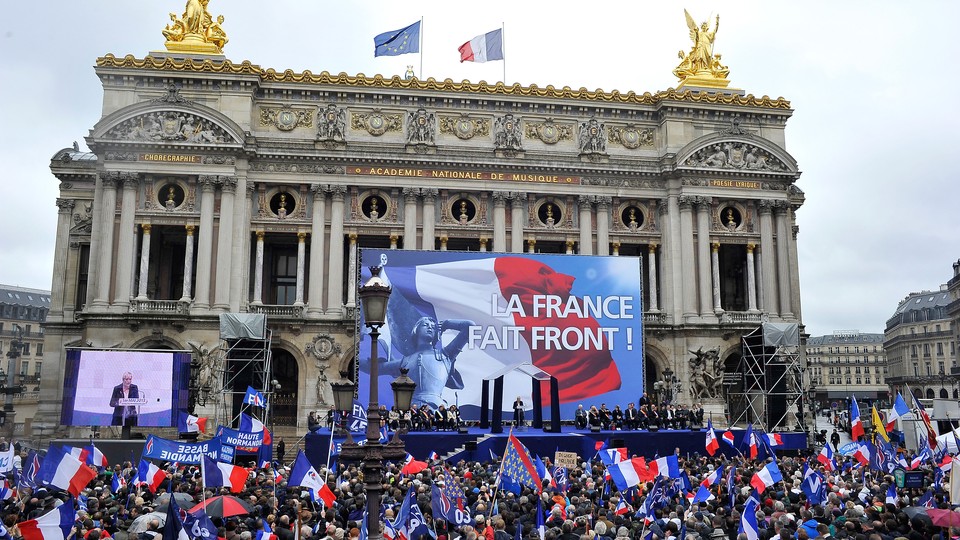 Whatever world leaders think about Trump's pledge to put "America First," there's one thing they can't deny: It's a political winner. No surprise then that others will adopt and adapt the idea. This form of imitation may not qualify as flattery, but all politicians understand that nothing succeeds like success. Here are a few of the movements to put "[YOUR NATION HERE] First."
5. Mexico First. Mexico's leaders have been unwilling to say in public what they have said in private. In January, CNN anonymously quoted a senior Mexican diplomat: "We say Mexico first." Shortly thereafter, President Enrique Pena Nieto cancelled a planned meeting with Trump, launched a new "Made in Mexico" economic campaign, and discussed a closer trade relationship with Brazil and Argentina. A social media campaign has sprung up around the slogan #MexicoPrimero, but the trouble with a true "Mexico First" campaign, as Pena Nieto knows well, is that Mexico is at America's mercy economically. For Trump, Mexico will always be second. Or maybe ninth.
4. Hungary First. Prime Minister Viktor Orban has been an early and enthusiastic supporter of Trump, seeing a U.S. turn inward as a kind of liberation. In a speech after Trump's inauguration, Orban said, "We have received permission from, if you like, the highest position in the world so we can now also put ourselves in first place." Putting Hungary first may include joining Trump in shifting the West's relationship with Russia. Orban received a high-profile visit from Vladimir Putin last week.
3. Australia First. Canberra is seeing a race to the podium in the wake of Trump's election, with both government and opposition promising to put Australia first, while a defector from the government has promised to bring Trump-style anti-establishment politics to the country. Opposition leader Bill Shorten has defined "Australia First" in terms of immigration, proposing to give greater priority to Australian labor over migrating workers. Treasurer Scott Morrison sees it as a trade strategy that would try to keep multilateral free-deals alive after Trump withdrew from the 12-member Trans-Pacific Partnership agreement. This week, the Australian government declared it would seek a "TPP minus one" deal with the other members. The problem for Australia, though, is that without the massive U.S. economy in the deal, 12 minus one might equal zero.
2. France First. Marine Le Pen's campaign for the French presidency offers the closest ideological analogue to Trump's positions. In a speech on Sunday formally launching her campaign, she pledged to "put France first." Her party, the National Front, is "about the local, not the global," she said. Her opposition to "financial globalization and Islamist globalization" won her admiring an admiring headline from the conservative publication Breitbart. The question is whether France will put Le Pen first. Polls show her likely to lose the second round of elections in May.
1. India First. If any country has defined its foreign policy purely on its own terms, instead of in reaction to Washington, it is India. Modi has made "India First" a mantra since his 2013-2014 campaign for prime minister, long before Trump resurrected an old anti-Semitic nationalist line. In contrast, Modi initially defined "India First" as a nation-centered secularism, a position intended to defend him from criticism that he was complicit in sectarian rioting in his home state of Gujarat. "Country is above all religions and ideologies," he said at the time. But as the Trump era has unfolded, it has taken on a more global tinge: "India first ... is about protecting India's strategic interest," Modi said in August. So far, at least, that strategic interest hasn't involved conflict with Washington. In 2017, maybe India and America can both be first.
---
This article has been adapted from Matt Peterson's weekly newsletter for Eurasia Group, Signal.