'Before, Putin Was Unpredictable; Now It's Trump'
Moscow grapples with a strange week in Washington.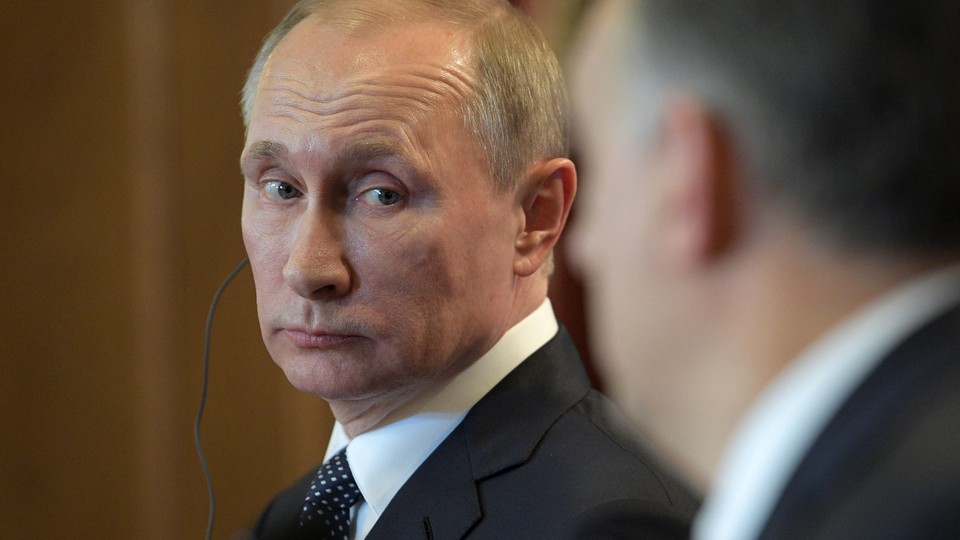 Well, that didn't last long. As President Donald Trump wrapped up his fourth week in office, the romance between him and Russian president Vladimir Putin seemed to have cooled suddenly. The week began with the resignation of National Security Adviser Michael Flynn amid revelations that he lied about his phone calls to the Russian ambassador. Then came reports that members of the Trump team had been in repeated contact with Russian intelligence agents. It ended with Vice Admiral Bob Harward declining to replace Flynn, and Trump giving a press conference in which he said his administration is "running like a fine-tuned machine;" toyed aloud with the idea of firing on a Russian spy ship in international waters off the East Coast; and dismissed allegations of collusion between his aides and the Russian government by saying, "Russia is fake news." It was a performance that raised eyebrows in Moscow, with one Kremlin-friendly paper saying Friday that "you need to be drunk to understand the U.S. president's true position."
There was a time when it was Washington that was constantly surprised by an erratic and audacious Moscow doing things like unexpectedly seizing Crimea or sending its forces into Syria. Now, it is the other way around. After a month in the White House, Trump has forced Moscow into the role of the reacting party. "Before Putin was unpredictable, now it's Trump," said Masha Lipman, an independent Russian political analyst.
All week, Moscow has been in response mode, swatting at volleys coming out of the Trump administration. When Flynn tendered his resignation, Dmitry Peskov, Putin's spokesman, dismissed it as a "domestic issue," nothing more than an HR matter. The next day, though, The New York Times published a story that said members of Trump's presidential campaign had had "repeated contacts" with Russian intelligence agents, which Russians dismissed as nonsense. "We have heard a huge amount of unproven accusations against Trump and Putin and Russian intelligence, and it's all a green dog," Sergei Markov told me when I asked him about it. Markov, a Western liberal turned Putinist hawk, served for several years in the lower house of the Russian parliament, and is now a member of the Public Chamber of the Russian Federation and runs his own think tank. "I don't know what that means either, but aesthetically, I feel it's a green dog," he explained. "It's a nonsensical thing. There's no proof."
But before those allegations could be properly digested, they were sandwiched between two inflammatory White House statements on an issue sacred to the Russians: Crimea. "President Trump has made it very clear that he expects the Russian government to de-escalate violence in Ukraine and return Crimea," White House press secretary Sean Spicer said on Tuesday. "At the same time, he fully expects to and wants to be able to get along with Russia." If Moscow could ignore U.N. ambassador Nikki Haley's hardline speech on Ukraine earlier this month as that of a lower-level official whose post neither Trump nor Putin take seriously, it's hard to ignore a message coming from the White House, and the Russians felt compelled to respond. "We don't need to bring this topic up at all," said the speaker of the Duma, Vyacheslav Volodin, from the floor of the parliament. "Some press secretary somewhere said something. … Listen, focus on fulfilling your campaign promises. Everything was said during the campaign: fixing relations with Russia, with China, fighting terrorism. If you fulfill your campaign promises, everything will be fine."
But by the following morning, it wasn't some press secretary somewhere saying something, it was the President of the United States, tweeting "Crimea was TAKEN by Russia during the Obama Administration. Was Obama too soft on Russia?"
Now the Kremlin itself was forced to respond. "In regards to returning Crimea, this topic will not be discussed, for it cannot be discussed," said Peskov. "Russia does not discuss questions regarding its territory with its international partners." He added, "We are still counting on establishing a line of communication and that we'll have the opportunity for a business-like discussion, and to get our point of view across to our American partners in a calm and constructive manner."
By Wednesday, Trump had definitively disappeared from Russia's televised evening news—tightly controlled by Putin's administration—and, on Thursday, Bloomberg reported that the Kremlin had ordered state media to ease up on the flattering coverage of Trump. (This was in part because of the statements coming out of Washington, and in part because the Kremlin fell victim to its own success. During the U.S. presidential campaign, Kremlin-controlled TV was firing on all cylinders for Trump. "The Russian media's whole election campaign coverage was done as a pro-Trump exercise," says Igor Yurgens, a political observer who advised Dmitry Medvedev during his single presidential term. "Trump was new interesting, energetic; Clinton is old and boring and hates Russia." By last week, though, Trump had become the most cited person in the Russian press, bumping Putin down to second for the first time since his return to the presidency in 2012, which Putin clearly did not like.)
And in case Trump himself wasn't irritant enough to the Russians, on Thursday, Defense Secretary James Mattis said that he wants to negotiate with Russia "from a position of strength" and that the U.S. "must at the same time defend ourselves if Russia chooses to act contrary to international law." This forced the Russian Defense Minister Sergei Shoigu to respond, saying, "We are ready to restore cooperation with the Pentagon. But attempts to build a dialogue from a position of strength with respect to Russia are hopeless." ("It's easy to get into a fight from a position of strength, but hard to come to an agreement," tweeted Alexey Pushkov, the hawkish head of the foreign-affairs committee in the Federation Council, the upper chamber of the Russian parliament.)
It was hard not to sense a certain disillusionment in Moscow.  "The possibility of restarting Russian-US relations is far from crossed out, but nevertheless such a statement, like a cold shower, cools our … inflated expectations with regard to Trump and his team," lamented Leonid Slutsky, who works on foreign relations in the Duma.
The romance with Putin was always going to end, because it always has, both for George W. Bush and Barack Obama, who both wanted a good working relationship with the Russian president. It took a couple of years for Presidents 43 and 44, rather than the month it took for 45, but in both cases the end was always written into the DNA of the beginning. The person Putin is and the country he wants Russia to be will inevitably run up against the country America perceives itself to be and the previously bipartisan consensus on what America has decided are its interests abroad. In the case of Trump, there is also the added obstacle of his personality quirks: his addiction to flattery and his parchment-thin skin. How will he maintain a relationship with a man who has a knack for doing things like bringing a dog to meetings with German Chancellor Angela Merkel because he discovered she is afraid of dogs?
But luckily, we haven't gotten there yet. Right now, the split with Russia is over the issues, and there is still hope in both official and liberal Moscow that a path to cooperation, however narrow, can be hacked through the ice. "Moscow is not disillusioned with Trump because it was never illusioned," Markov told me earlier this week. "We looked at it soberly. We are cautiously optimistic because we think there's a chance for better relations and we're going to work on those chances becoming a reality." But for that to happen, Russians are having to explain away certain things, and the logical gymnastics have taken on a new degree of difficulty. When Trump tweeted about Russia taking Crimea, for instance, the Russian journalist Oleg Kashin told me that "moderate commentators are already beginning to explain the verb 'take' as neutral and not offensive, that it doesn't imply annexation."
"We're absolutely not surprised and had no doubt that America won't recognize Crimea as part of Russia," Markov said. "We just want one thing: Forget the Crimea thing, just treat it the same way you treated the Baltics in the Soviet era." (During the Soviet era, the United States didn't recognize Moscow's annexation of the three Baltic Soviet republics—Estonia, Latvia, and Lithuania—at the end of World War II, but that didn't prevent Washington from doing business with the Soviets on other matters, like nuclear disarmament talks.)
Russians, unwilling to let go of the dream of a Russophilic American president, are finding one explanation for the roadblocks, and it's the same explanation that Trump has: the American press and political establishment. "U.S. Establishment Forming Bipartisan Bloc Against Trump Getting Along with Putin," reads a headline in Sputnik, the English-language Kremlin propaganda site. Pushkov, the hawk in the Federation Council, went on a Twitter rampage on the same topic. "It seems Trump didn't expect such resistance to his plans," he wrote. "There's a high probability that Trump won't drain the swamp, but that it will suck him in. And that will end his revolution before it's begun," he observed in another Tweet. (Pushkov was even charitable on the subject of Trump flirting with the idea of shooting at the Russian spy ship. "Trump insists that he doesn't want to sink the Russian ship, but wants to improve relations," he wrote. "But will alone isn't enough. The resistance is horrendous.")
Trump's tweet on Crimea, Markov said, "was just to make nice with the Republicans in Congress, to get them on board for his executive order on immigration. Right now, he's a half-president because his executive orders are being blocked by political opponents in court. His main goal right now is to become a full president. So he met with [Ukrainian president Petro] Poroshenko. We don't like it, but he's doing it for internal purposes and we and we try to be understanding."
Even liberal Russian voices blame the changing rhetoric on Trump falling hostage to American domestic politics. "The more Trump is weakened, the stronger the voices of the extreme anti-Russian contingents on both sides of the political spectrum become," said Lipman. "Now it really looks like the Cold War."
But it's not all mental backflips. Some of the justifications and hope, Lipman pointed out, simply grows out of the fact that Russians are seeing this chaos from a very different vantage point. A lot of the tumult around Trump's statements or revelations about contacts with Russia carries a heavy psychological load for Americans who oppose Trump, because each small explosion brings with it a hope that this will be the one that finally topples him. "It's a very emotional, distraught approach. It's a daily catastrophe," said Lipman, who is teaching in the Midwest for a semester and observing the American reaction up close. "And so any news that discredits him is followed with great attention and interest and hope. None of this exists in Russia and so they read it with more of a cool head, because they don't have these emotions, even the ones who don't really like Trump."
The point is, the Russians have been more insulated from what some Americans see as surprising. After all, Trump was this unpredictable, this mercurial, this inflammatory throughout the entirety of the presidential campaign. Why would he suddenly change? And Putin, whether you consider him a killer or not, is hardly the idealistic, hopeful type who didn't see exactly the kind of person Trump was. "I don't think Putin is sitting there surprised, thinking, I thought he'd help me," Lipman says, or that "he'd constantly advance Russia's interests just because he paid him a compliment. … I don't think this was such a big surprise. I don't think there will be a serious easing of Russia's challenges and I think the people in the Kremlin know that." And as for the conservative Russians who were popping champagne for Trump's inauguration, Lipman pointed out, correctly, that they don't matter, and never have. "They can be happy, they can celebrate, but it doesn't have an impact on anything. There's one decision maker."
And on Friday, Peskov, spokesman for Russia's sole decision maker, made clear that the Kremlin is unruffled. Putin is waiting for his first bilateral with Trump, Peskov said, and he wishes people would calm down a bit. "It hasn't already been a month," he said, "but it's only been a month."