An Assassination by Weapon of Mass Destruction
The murder of Kim Jong Nam, the half brother of North Korean dictator Kim Jong Un, involved the use of VX nerve agent, one of the deadliest chemical substances on earth.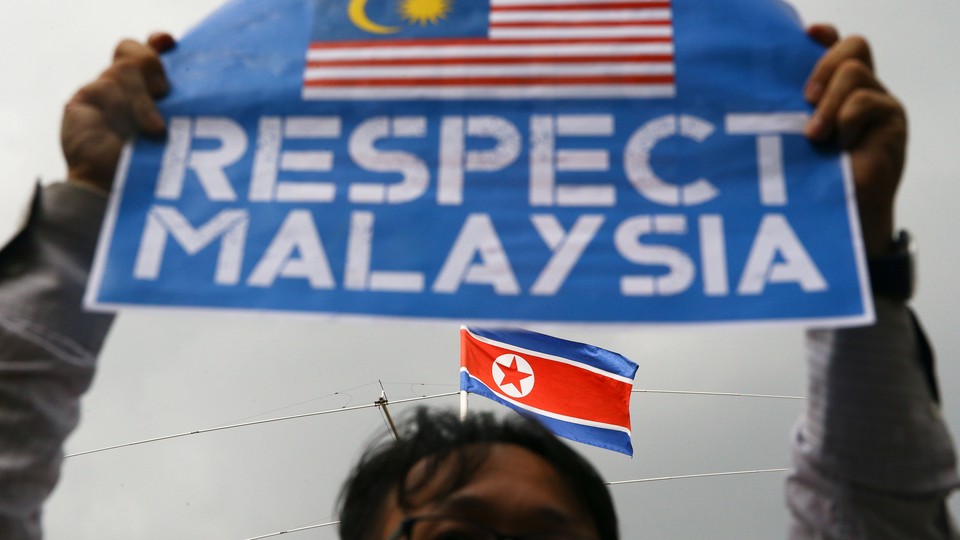 If the assassination of Kim Jong Nam, the exiled half brother of North Korean dictator Kim Jong Un, sounded like something out of a movie, it's because it was. Kim died shortly after being attacked with poison by two women assailants in the Kuala Lumpur International Airport last week. On Friday, Malaysian officials announced that toxicologists had found on Kim's face traces of VX nerve agent, a deadly substance perhaps best known from the 1990s action blockbuster The Rock.
Malaysia's claim was strongest indication yet that the attack, which many suspect was ordered by North Korea, was state-sponsored. According to experts, VX nerve agent can only be produced in a sophisticated laboratory. "You don't make VX in a kitchen lab," one senior Rand Corporation researcher told The Wall Street Journal. The substance, which is lethal in tiny doses, is classified as a weapon of mass destruction and was banned by 1993 United Nations Chemical Weapons Convention. North Korea, the AP notes, is one of four countries that never signed the treaty and "has spent decades developing a complex chemical weapons program that has long worried the international community."
As Suki Kim wrote in The Atlantic, the assassination of Kim Jong Nam undermines a key mythology within North Korea about the supposed invincibility of the royal bloodline. However, outside of North Korea, the new report about Kim's death potentially punctures several other majorly consequential international laws and conventions, including the ordered use of a weapon of mass destruction by one nation in the main airport of another. (Ironically, Malaysia is of one of the few countries that maintains diplomatic relations with the isolated regime in Pyongyang.)
More broadly, a VX attack would represent one of the very few alleged uses of the nerve agent since it was developed in the 1950s. "Although there is no conclusive evidence, some experts and an Iraqi defector say that Saddam Hussein used VX against Iranian forces in the 1980-88 Iran-Iraq War, and then again in a 1988 chemical attack on Iraqi Kurds in the town of Halabja," according to the Council on Foreign Relations. "That massacre reportedly killed 5,000 people and created serious health problems for thousands more." North Korea continues to deny any involvement in the attack, most recently claiming that Kim died of a heart attack.