Why Netanyahu Might Miss Obama
The Israeli premier's former American counterpart served as a useful foil and a predictable check on the Israeli right.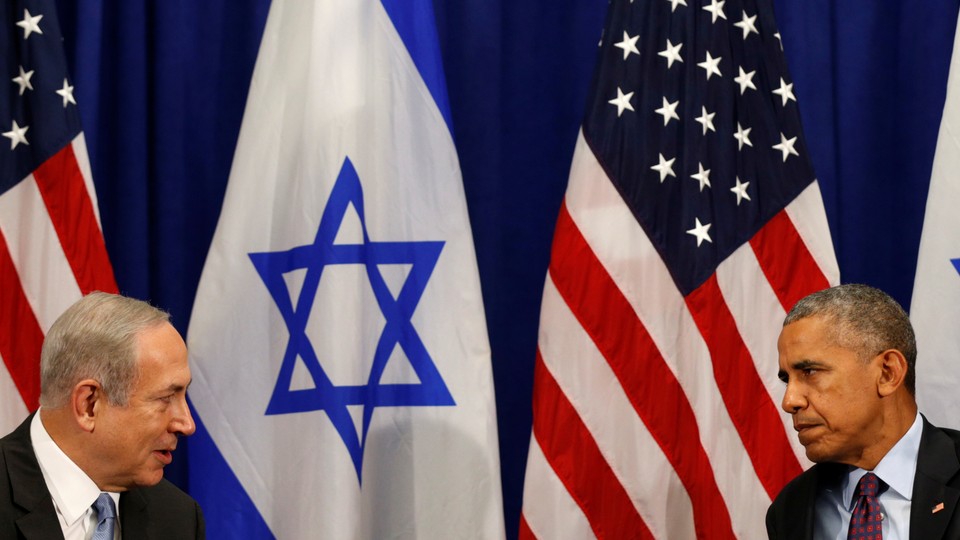 One of the many monumental aspects of Wednesday's summit between Donald Trump and Benjamin Netanyahu in Washington, D.C., is that, for the first time in about a decade, accounts of a meeting between an American president and an Israeli prime minister aren't likely to be characterized as "frosty," "tense," or "chilly." The two Ivy League-educated, thrice-married heads of state are generally thought to be ideological kin and personally friendly, with Netanyahu's standing with Trump already anchored in part by his relationship with the family of Jared Kushner, the president's son-in-law and a senior White House adviser.
This budding bromance notwithstanding, Netanyahu may soon find himself longing for Trump's predecessor, assuming he doesn't already. The Obama administration, despite some rhetorical acts of perceived hostility, not only offered record pledges of U.S. military aid to Israel, but also served as an exceedingly useful political foil for Netanyahu. Bibi, as the leader of the most right-leaning government in Israeli history, had been able to use the admonishments of his more moderate counterparts in Washington to frustrate his domestic rivals. He's also used them to constrain the maximalist ambitions of members of his coalition. Many of them want to see settlements in the West Bank expand or become annexed, as well as the end of the two-state prerogative that Netanyahu grudgingly adopted back in 2009 as a means to solve the Israeli-Palestinian conflict.
Trump's unexpected win in November has not only loosed the forces on Bibi's right, but set up an expectation that the fantasies of the Israeli right will finally be realized. "Trump's victory is an opportunity for Israel to immediately retract the notion of a Palestinian state in the center of the country, which would hurt our security and just cause," Naftali Bennett, the Israeli education minister, head of the pro-settlement Jewish Home party, and Bibi's most formidable political challenger, said in the hours after the American election. "This is the position of the president-elect, as written in his platform, and it should be our policy, plain and simple."
Imagine the glee of Bennett and his many ilk when, after the campaign ended, Trump doubled down on his promise to move the U.S. embassy to Jerusalem, appointed his pro-settlement real-estate lawyer as the American ambassador to Israel, and initially said next-to-nothing when the Israeli government approved thousands of housing units in West Bank settlements in the days following Trump's inauguration and suggested that it might build the first new settlement since the 1990s.
Ahead of his confab with Netanyahu, Trump finally started to walk back some of his earlier statements. Late last week, Trump told Israel Hayom, the Israeli daily owned by Republican mega-donor Sheldon Adelson, that settlements are not a "good thing for peace." On Monday, it was reported that the president had changed his mind after initially planning to move the U.S. embassy "at 12:01 on January 20th." It's unclear if the move will go forward.
In spite of these moderating, late-in-coming revisions, Trump's early moves and bombastic pronouncements have shifted the onus of tamping down triumphant expectations for radical and controversial change in Israel onto Netanyahu. "Even after eight years of complex navigation in the tenure of [former U.S. President Barack] Obama, we still need to continue to act wisely with the Trump administration," Netanyahu told members of his party on Sunday, reportedly in response to calls for him to abandon the two-state solution during his meeting with Trump. "While it is a more comfortable administration [to work with], there will still be restrictions." Then, during a four-hour Cabinet meeting on Sunday, Netanyahu was said to have warned other ministers against any confrontation with Trump and sought to reiterate that unchecked settlement building in the West Bank would not be allowed under Trump.
As my colleague Jeffrey Goldberg has noted, Benjamin Netanyahu, as a politician, has two guiding lodestars whose alignments frequently intersect. The first is political survival at all costs. Back in November, Netanyahu's current term as prime minister became the longest-ever in the country's history. Over the past eight years or so, he's had coalition partners from the center-left, center, center-right, and right. He's approved a 10-month settlement freeze and approved several settlement expansions. Israel has engaged in two wars with Hamas in Gaza and, at the goading of the Obama administration, held two sets of failed direct talks with the Palestinian Authority. All of which hint at Netanyahu's second governing principle—the cautious maintenance of the status quo at all costs. The ongoing graft investigations currently facing Netanyahu could imperil his prospects for political survival, and being forced to mediate the demands of a more erratic American president and his unruly coalition at home will almost certainly affect Bibi's ability to keep things as they are.
Indeed, while Bibi prepared to leave for Washington, D.C., a collection of high-profile, right-wing ministers and activists were holding a conference in Jerusalem, the themes of which were Israel's annexation of West Bank settlements and proposed alternatives to Palestinian statehood. And, on Monday, as Netanyahu boarded the plane, he told the assembled journalists that he and Trump "see eye-to-eye" on the various crises of the region, a claim that seems destined to change in countless ways once Trump's foreign policy is properly set into motion. One easy example: Netanyahu, who has enjoyed (or is believed to have enjoyed) the capacity to strike at various strategic targets within Syria, including the Damascus airport and weapons convoys bound for Hezbollah, may find his reach limited should Trump shore up a stronger alliance with Russia, which supports the Assad regime in the country's civil war and aligns itself with Iran. Netanyahu might not have liked Trump's predecessor much, but he always knew where Obama stood, how he might fret, and when he might look the other way.