Ohio, Where Muslim and Christian Refugees Form 'Impossible' Friendships
"Here all kinds of Arabs can interact more openly."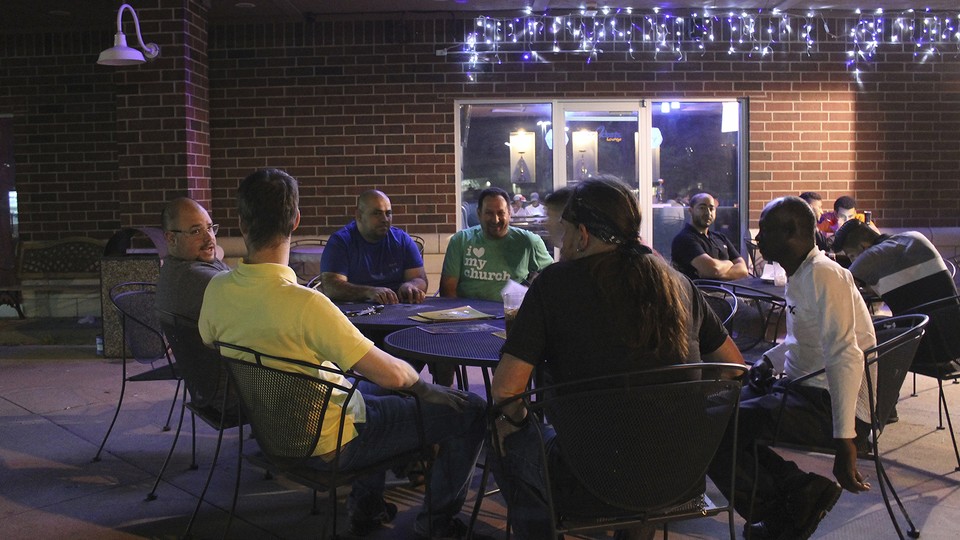 Stepping out of an apartment complex into a warm Ohio night, Nashwaan Saddoon got into an old minivan and drove through Toledo to a hookah joint called Rocket Lounge. Sitting beside him was his friend, Amjad Arafeh. The two men had met only five months earlier, but they lived in the same building and already they were very close, despite their different backgrounds. Saddoon, an Iraqi Christian refugee, had been kidnapped and held hostage by Islamic State militants a few years before. Arafeh, a Syrian Muslim refugee, had escaped shelling and bombing in Damascus.
When the minivan pulled up to Rocket Lounge, Saddoon and Arafeh joined the group of Arabs and Midwesterners assembled outside for their monthly Sawa gathering. Sawa, which means "together" in Arabic, is a community initiative designed to introduce refugees to Americans and to each other.
At this particular gathering, someone needed a letter from the Lucas County Department of Jobs and Family Services translated from English into Arabic. He passed the paper around to get advice from the other men, including a refugee from Sudan, a Syrian American who had arrived four years earlier, a Toledo resident named Jake, and a case manager from a local refugee assistance organization.
Amid the serious business, men cracked jokes and took jabs at one another. Some seemed eager to have a guys' night out, while others, in their silence, were harder to gauge. Saddoon and Arafeh sat side by side, chatting and laughing.
The friendship is part of a new chapter for Saddoon, who has experienced a lifetime of persecution at the hands of Muslims. In the United States, the two men have come to rely on one another for advice as they navigate the challenges of resettlement. Saddoon now counts several Muslims among his closest confidantes.
"Muslims here are different than in the Middle East," Saddoon said. "I have so many Muslim friends in Toledo—from Syria, Sudan, Jordan. Relations among us are different here."
For Saddoon and his friends, life in America is changing the way Arab Muslims and Christians treat one another. In the Middle East, faith is often a matter of life and death, as the violence of ISIS has proven across Syria and Iraq. In Toledo, faith remains a matter of survival for Christian and Muslim refugees—but in positive ways. Away from the pressures of civil war and strife, refugees in these two religious groups are building communities that support one another as they draw from their respective traditions.
In many ways, Toledo is a typical Rust Belt story. The city's population has declined by an astounding 27 percent since the 1970s, as factories closed and the post-World War II economic opportunities dried up. But the number of Arab immigrants has increased. They began arriving in the 1880s and kept coming throughout the 20th century, seeking economic opportunity or freedom from strife and political oppression. Today, the Arab footprint in local commerce, government, and civic life is unmistakable.
Arab newcomers escaping the terrors of ISIS and civil war find comfort in such familiarity, but old suspicions persist. "Sometimes people question your loyalty, and wonder if someone is a member of the Mokhabarat," Saddoon said, referring to the notorious domestic spy agencies in Arab countries. Other times, they whisper about who among them opposes the Iraqi and Syrian regimes.
Still, Saddoon appreciates the benefits of mixing with other refugees. "Here all kinds of Arabs can interact more openly," he said. "My friendships with Muslims in Toledo would be impossible in Iraq."
Originally from Mosul, Saddoon said he was accustomed to suffering at the hands of his Muslim neighbors. When he was seven years old, Muslim boys showed up on his doorstep, threw a fishing net over him, dragged him outside, and hit him while demanding that he convert to Islam. Christian-Muslim relations in Saddoon's community worsened after the United States toppled Saddam Hussein in 2003. Saddoon's neighbors suspected him of supporting the occupation because he, like the Americans, was Christian. The Muslim owners of his local bakery refused to sell him bread.
It wasn't long before members of the Islamic State of Iraq (ISI), the group founded by Abu Musab al-Zarqawi, came for Saddoon. Accusing him of working as an interpreter for the Americans, Zarqawi's men snatched Saddoon from his home, assaulted his wife, and held him captive for several months. When he was finally released, he moved his family to the Kurdistan region of Iraq, hoping for greater safety. Instead, ISI militants kidnapped his teenaged daughter, Wassan. When Saddoon was finally able to secure her release, the family fled to Jordan.
Saddoon's story is just one example of ISI's brutal treatment of religious minorities. When the group was rebranded as the Islamic State in Iraq and al-Sham (ISIS) in 2013, that brutality became a hallmark of the new organization. Over a decade of civil war, the group had learned that terror works: Since 2003, the Christian population of Iraq has dwindled from an estimated 1.5 million to between 200,000 and 500,000 today.
As minorities in Iraq, Christians were also minorities among the refugees that fled the country. In Jordan, Saddoon still felt the sting of this status, as Christians faced additional discrimination in the refugee camps. Given longstanding Muslim-Christian tensions in the Middle East, bias and resentment are not easily erased. It was only over time, as Saddoon observed refugees helping one another, that such sentiments began to fade for him. Motivated to help other refugees who shared his plight, he began participating in social-welfare activities. When he was granted asylum to the United States last January, Saddoon saw going to the U.S. as "a chance to finish what I started in Jordan."
Once in Toledo, Saddoon met Shane Lakatos, who operates Social Services for the Arab Community (SSFAC), a grassroots organization serving refugees and immigrants. Lakatos believes that one way to resolve religious conflicts among refugees is to provide opportunities for them to build community and help one another survive in a new land.
"There are a lot of scars that people have when they come here—crossing the salt water doesn't heal what happened—and sometimes members of the community only help their own," Lakatos said. "But Saddoon loves people who come from a background that hurt him, and that is what we are trying to produce more of. We see it among Christians, Shias, Sunnis—they are coming together to help each other."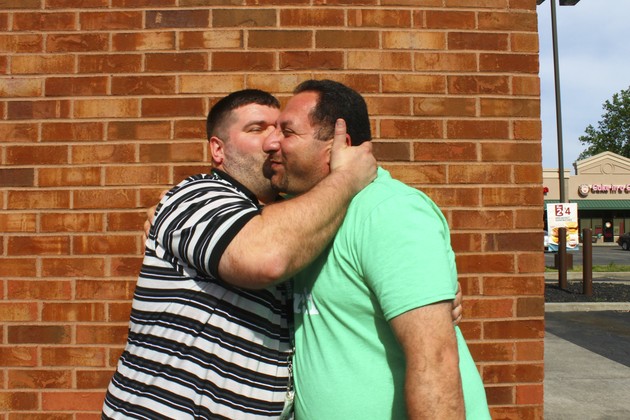 Lakatos, whose Christian faith guides his work, serves a predominantly Muslim population and partners with local mosques and churches to foster an interfaith mindset toward social welfare.
One recent arrival is Abu Muhammad, a Muslim refugee from Syria. Confined to a wheelchair, he required a ground-floor apartment, but none were available in the building where SSFAC helps many refugees settle. When Saddoon discovered this, he moved his wife and three children to an apartment on a higher floor so Abu Muhammad could occupy his ground-floor apartment.
Abu Muhammad now attends Sawa with Saddoon, who taught him how to drive a car. Abu Muhammad uses this skill to take Saddoon and other refugees to meetings and to help them run errands.
"Abu Muhammad is like a brother to me," Saddoon said. "He is more than a brother, in fact." Saddoon hopes that Donald Trump won't change those circumstances with an immigration ban. "Muslims help in so many ways," he said. "It's sad that Trump wants to shut the door. There is no difference between us here."
Arafeh has a contrasting view of the political climate in the United States. "I'm not worried about Trump. The oppression back home is very severe and there is nothing comparable to that here that can happen," he declared. "I've met very good people here. I'm not afraid of anything."