Can Mexico Block Trump's New Deportation Rules?
The administration's plan to force undocumented immigrants out of the U.S. largely hinges on America's increasingly tense relationship with its southern neighbor.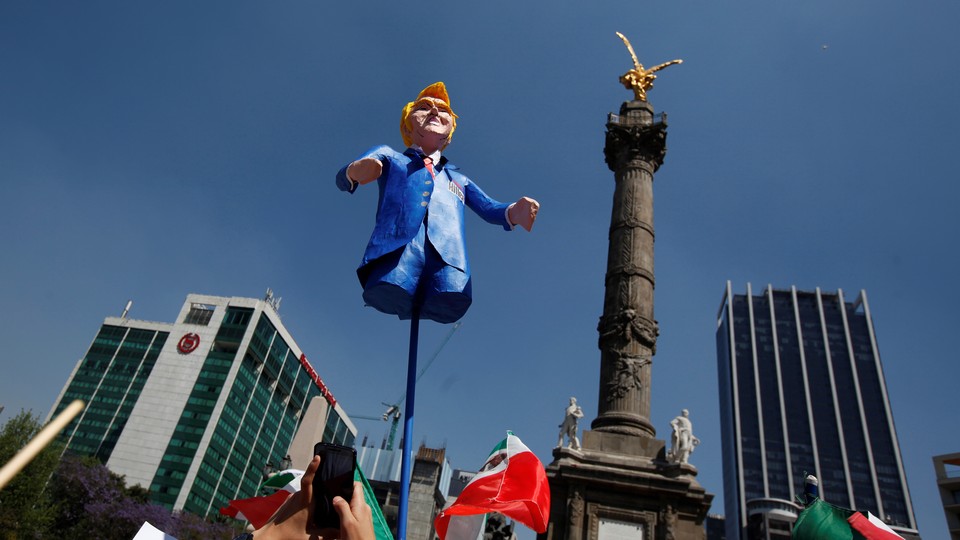 One lesser-known feature of new U.S. immigration policies announced earlier this week—which will make the majority of undocumented immigrants targets for deportation—is the requirement of a willing partner for some of the measures to be implemented. According to Department of Homeland Security memos, any person caught illegally crossing the border from Mexico will be returned to Mexico, regardless of his or her nationality, while deportation processes and asylum claims are worked out by American courts.
This provision would effectively make America's southern neighbor responsible for the lives of non-Mexican nationals seeking life or refuge in the United States. "If present immigration trends continue, that could mean the United States would push hundreds of thousands of Guatemalans, Hondurans, Salvadorans, Brazilians, Ecuadorans, even Haitians into Mexico," Ginger Thompson and Marcelo Rochabrun explained at ProPublica. "Currently, such people are detained in the U.S. and allowed to request asylum."
The revised rules caught the Mexican government off-guard, particularly since they were announced one day before Secretary of State Rex Tillerson and Homeland Security Secretary John Kelly were due to arrive in Mexico for bilateral talks on Wednesday. Officials in Mexico City were not pleased with the development. "I want to say clearly and emphatically that the government of Mexico and the Mexican people do not have to accept provisions that one government unilaterally wants to impose on the other," Mexican Foreign Minister Luis Videgaray told reporters on Wednesday. Roberto Campa, who heads a human rights department within Mexico's Interior Ministry, called the new provisions "hostile" and "unacceptable."
This diplomatic drama between the U.S. and its third-largest trading partner was the latest episode in a month that has featured the first steps toward the realization of President Trump's controversial campaign pledge to build a wall on America's southern border, followed by the demand that Mexico pay for the wall as well as the canceling of the early talks between the American and Mexican presidents, something of a tradition in the bilateral relationship.
But the fact that America's new deportation policies hinge on Mexican cooperation raises a crucial question: Will Mexico resist them? One answer is that it may not have a choice. "I would find it very hard in this current political environment in Mexico and public-opinion environment in Mexico for the Mexican government to accede to doing something to which it has had no part in crafting or being consulted on," Arturo Sarukhan, who served as Mexico's ambassador to the U.S. from 2007 until 2013, said in a phone call on Wednesday. Victor Clark, director of Tijuana's Binational Center for Human Rights, told The Guardian that Mexico could simply refuse to accept non-Mexican deportees. "They come through one by one, and when the Mexican immigration agent sees a person who isn't Mexican, he tells the Ice agent: 'I can't accept this person, he's not Mexican,' and they return him to the United States."
In recent weeks, Trump's statements and policies have inspired protests and a surge in nationalism in Mexico along with calls President Enrique Peña Nieto, whose approval ratings are at a record low, to take a harder line. "Something amazing that Trump has accomplished, is a sort of 'rally-around-the-flag' phenomenon in Mexico," one political scientist at the Instituto Tecnológico Autónomo de México told the BBC this week.
Surukhan suggested that Mexico has leverage with the United States, given the range of issues on which the two countries cooperate. "This could also bring to the table other issues," Sarukhan said, "whether it's what we're already doing to deter Central American migration to Mexico on its way to the U.S., whether it's a lot of what we do on intelligence and security cooperation, whether directly related to illicit drugs or potential terrorist organizations trying to take advantage of the North American region to conduct their operations."
He added that this approach would represent a break in over 20 years of tradition in the U.S.-Mexico relationship, in which issues tended to be approached discretely rather than all at once. "What the Mexican government's now rightly done and understandably done is to say 'Well, if the Trump administration wants to discuss the wall, NAFTA, and immigration, we're going to put every single issue on the bilateral agenda on the table,' because that's more or less how Mexico levels the playing field and obtains greater leverage in negotiating other issues."
With a national election slated for 2018, it seems likely that the Mexican politicians will increasingly adopt protectionist positions and use inflammatory rhetoric that may sound familiar to American voters. "They will promise to expel armed U.S. law-enforcement personnel from Mexico, to legalize drugs, to allow Central American migrants to reach the U.S. border, to stop sharing water with drought-ravaged border states," Jorge Guajardo, Mexico's former ambassador to China, predicted in The Atlantic last month.
In the meantime, as American and Mexican officials begin discussions on the bilateral relationship, the Trump administration's new deportation rules have heightened an already considerable sense of despair on both sides of the border. On Tuesday, moments after being deported from the United States, a Mexican man reportedly leapt to his death from a bridge near Tijuana-San Diego border crossing. For Mexico, which is already struggling with a weak peso and violence, a greater influx of foreign nationals coming from the United States introduces new specters like refugee camps along its northern border.