The Muslims Who Aren't Celebrating Mahershala Ali's Oscar Win
Why Pakistan's envoy to the UN deleted a celebratory tweet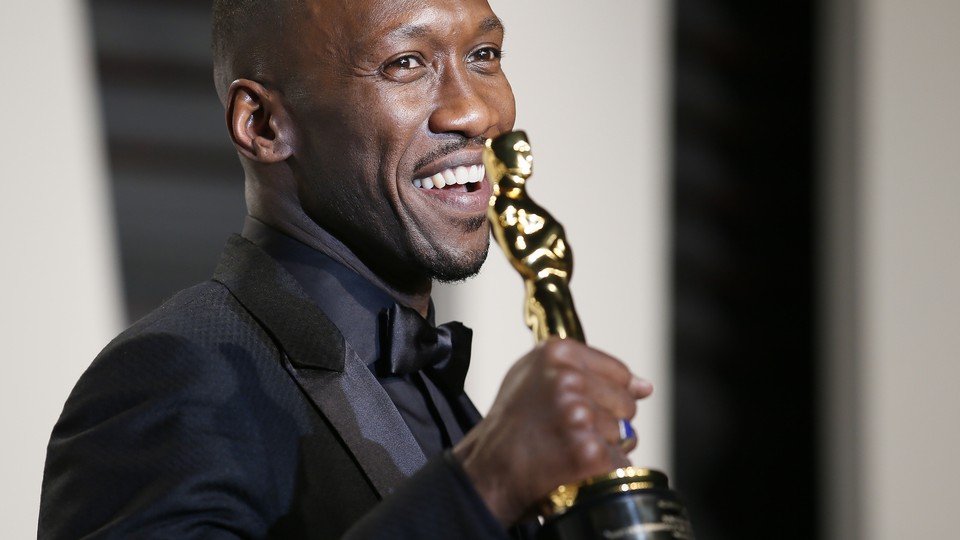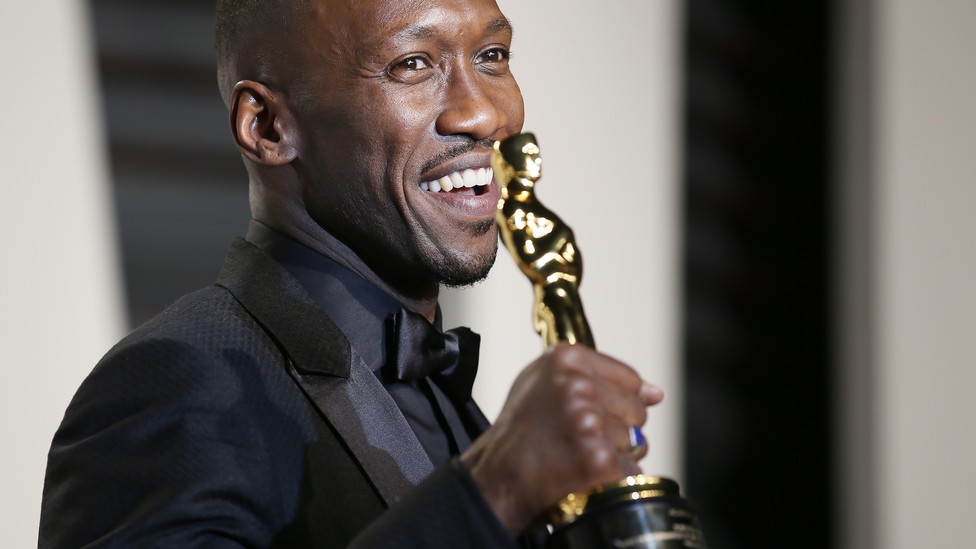 Mahershala Ali made history on Sunday night by becoming the first Muslim actor to win an Academy Award. But as the internet exploded with the significance of the moment—a black Muslim accepting an Oscar for his supporting role in Moonlight, a film about gay men—one tweet disappeared.
"That's a first," wrote Pakistan's envoy to the United Nations, Maleeha Lodhi, in reply to a tweet noting Ali's win as a Muslim. Lodhi's tweet was then deleted (though it lives on as a screenshot). The reason? According to Pakistani law, Ali isn't a Muslim.
Ali follows the Ahmadiyya sect of Islam, which is outlawed in Pakistan. In that country, adherents of the Ahmadiyya faith—Ahmadis—cannot practice it without facing legal prosecution or the wrath of a vigilante mob. Although Ali's faith and win are now making headlines, Ahmadis usually appear in the news in Pakistan when they become the victims of mass killings. Even then, the word "Muslim" doesn't appear. Ali's win was described as the first by an "Ahmadi" actor.
In 1974, Pakistan amended its constitution to declare Ahmadis non-Muslims, turning the sect into a religious minority. The difference, broadly speaking, between Ahmadis and Sunni Muslims is that while Sunni Muslims believe in a promised messiah, Ahmadis believe the messiah already appeared in India in the form of the sect's founder, Mirza Ghulam Ahmad. Pakistani clerics construe this as a denial that Muhammad was the last messenger of God, a basic tenet of Islamic faith. In 1984, the Ahmadiyya faith was criminalized and its practices equated with blasphemy.
According to Pakistani law, Ahmadis cannot call themselves Muslims or practice Islam. They can't recite the declaration of faith or the call for prayer. They can't build mosques that look like conventional mosques—or even call them "mosques." If they use any Islamic words (including something as basic as inscribing a Qur'anic verse on a wedding invitation) they can be prosecuted.
The legislation effectively ensured that Ahmadis were treated as heretics and pariahs in Pakistan.
In 2010, militants besieged two Ahmadi mosques in the city of Lahore, killing over 90 people. Mobs routinely attack Ahmadi neighborhoods and mosques, often stoked by falsified blasphemy allegations. Calling someone an "Ahmadi" is the easiest way to discredit a person. In recent years, rumors of "being Ahmadi"—framed as a xenophobic allegation—have circulated about everyone from an officer in the running to head the army who was rumored to have Ahmadi relatives to a federal cabinet member who was asked point-blank about his faith on a talk show. Praising an Ahmadi is virtually unheard of.
It's safe to assume that had Ali been a Sunni Muslim, Pakistanis would have been falling over themselves to praise him. Pakistanis are quick to seize on the achievements of any Muslim and herald it as their own, or to celebrate conversions to Islam.
But Ahmadis don't fit the bill.
And Lodhi isn't the first prominent Pakistani to backtrack on congratulating someone after discovering they're Ahmadi. In 2014, the politician Imran Khan, whose Tehreek-e-Insaf party is an opposition party in Pakistan, declared that were he in power, he would pick people like the Princeton professor and economist Atif Mian for his cabinet. What Khan apparently didn't know was that Mian is Ahmadi. A few days later, Khan declared that he had no idea about Mian's faith and went on to repudiate Ahmadi beliefs.
The conservative actor Hamza Ali Abbasi, a Khan supporter, chimed in by "congratulating" Ali on social media while tacking on a caveat: "I highly disagree with your Ahmadi/Qadiyani religion and my countrymen think you are not Muslim."
As news spread of Ali's Oscar win, Ahmadis posted online accounts of his conversion, in which the Moonlight and House of Cards actor described his emotional response to prayer, his initial concerns about joining the Ahmadiyya faith, and his experiences with other Muslims. It's hard to imagine what it must feel like for an Ahmadi kid growing up in Pakistan to see an actor from his faith recognized as a Muslim, to see a fellow Ahmadi featured in the headlines not as a victim or as a target of persecution, but as a success.
Pakistan has systematically erased Ahmadis and their achievements from the public consciousness. The most glaring example: Its first Nobel Prize winner, the noted physicist Dr. Abdus Salam—who quoted from the Qur'an in his 1979 acceptance speech and said Pakistan was thankful for the honor—is barely mentioned in Pakistan. Nor has his groundbreaking work been celebrated. Instead, the word "Muslim" was removed from his tombstone to comply with anti-Ahmadi laws. Belatedly, the government renamed a physics center after him last year. And while an envoy to the United Nations might have to delete a tweet about an Ahmadi now, it is in the UN that Pakistan's first foreign minister, an Ahmadi, served as the country's representative and was president of the General Assembly.
Ali's conversion might never have happened had the Ahmadiyya community not spread out of Pakistan, where it had based itself following the end of colonial rule in India and the creation of Pakistan. After the anti-Ahmadi laws were passed, the community's leadership shifted its base to the United Kingdom. As violence and discrimination against Ahmadis grew in Pakistan, they sought refuge in countries around the world, including the United States, where Ali discovered Islam 17 years ago.
In his Screen Actors Guild award acceptance speech, Ali talked about his faith and what happens when a community is persecuted. "When we get caught up in the minutiae, the details that make us all different, there's two ways of seeing that. You can see the texture of that person, the qualities that make them unique, or you can go to war about it, say, 'That person is different from me, I don't like you, so let's battle.'"
Pakistan has chosen battle. And so, while the world fetes a talented artist, Pakistanis can't even share a tweet that congratulates him for being the first Muslim actor to win an Oscar.