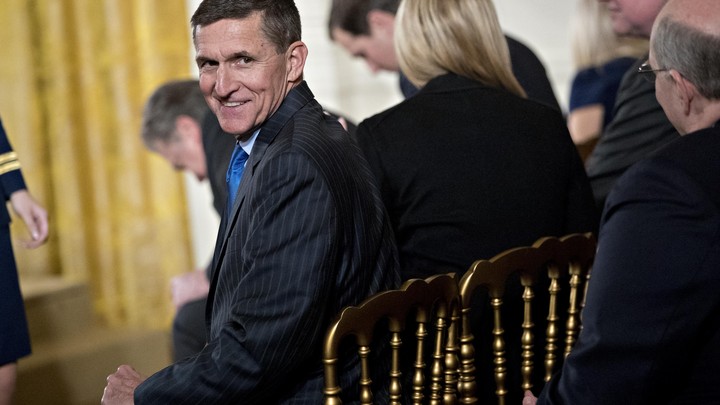 When Michael Flynn resigned as Donald Trump's national security advisor after serving in the post for 24 days—the briefest such tenure in history—he left an already chaotic national-security bureaucracy stunned. His resignation also left Washington's largest special-operations conference without one of its headliners.
Flynn had been slated to speak on Monday evening at the kickoff banquet for the National Defense Industrial Association's annual special-ops conference in Bethesda, Maryland. The conference and a parallel tradeshow bring together defense contractors and senior special-operations officials for three days of speeches, panel discussions, and networking. But that morning, the association sent word that Flynn, a retired lieutenant general who spent three years as intelligence director of Joint Special Operations Command, which runs the most sensitive special-ops missions, would be a no-show.
By then, it was already clear that Flynn's job security was in doubt.  The Washington Post had reported on February 9 that FBI intercepts of Flynn's December telephone calls with Russian Ambassador Sergey Kislyak appeared to contradict his mid-January claim to then-Vice President Elect Mike Pence that he had not discussed the Obama administration's newly announced sanctions on Russia. As we now know, White House Counsel Donald McGahn had launched a review of the issue, which included an interview with Flynn, after being told by acting Attorney General Sally Yates, who had seen the intercepts, that Flynn had opened himself up to blackmail by not being forthright with his bosses. The new president's faith in his national-security adviser was evaporating.
Whether Trump fired Flynn, as his White House Press Secretary Sean Spicer told reporters, or Flynn decided to jump before he was pushed, is still unclear. Either way, as attendees dined on filet mignon, Flynn was likely crafting his resignation letter, in which he acknowledged that he had "inadvertently" given Pence "incomplete information" regarding his calls with Kislyak.
The unraveling of Flynn's brief tenure in the West Wing culminates a bizarre period in his career that few could have predicted when he was earning plaudits as a brilliant, iconoclastic intelligence officer. During his JSOC tour, he oversaw a transformation in intelligence processes that enabled the command's task forces in Iraq to conduct several missions a night, each one based on intelligence collected from the previous raid. A series of increasingly high-profile director of intelligence jobs followed at U.S. Central Command, the Joint Staff and the International Security Assistance Force in Afghanistan, where he again served under his JSOC boss, General Stanley McChrystal. In that job, he burnished his credentials as an officer willing to take controversial positions by co-authoring a paper that was highly critical of the United States' intelligence efforts in Afghanistan.
But it was at his final assignment, as director of the Defense Intelligence Agency, that Flynn's star lost its luster. Flynn's bosses fired him in 2014 amid complaints about his allegedly overbearing management style and a series of public comments he made that ran counter to Obama administration orthodoxy. From there, it was a short jump to the Fox News circuit, where he reliably bashed the Obama administration for being weak on counterterrorism, and an ever-shorter one to a position as an adviser to presidential candidate Trump.
As they perused the vendor booths offering military widgets at the NDIA tradeshow, the middle-aged former special-ops personnel who made up the bulk of the conference attendees, many of whom had multiple Iraq and Afghanistan tours under their belts, expressed surprise and disappointment that one of their own had lost his job so quickly, and over a question of personal integrity to boot. "There's a lot of people that are shocked that it happened in the first month in office, and over an integrity issue," a retired special-operations officer who served on the National Security Council said.
Others saw the issue in starker terms. "He lied to Pence and he had to go," a retired Special Forces colonel who described Flynn as a passing acquaintance told me. Retaining Flynn would have entailed a major risk for Trump, he said. "The real danger for the administration is if he's going to lie about something that small … what happens when something really big hits the fan?"
While acknowledging that Flynn enjoys a sterling reputation among his peers, the retired colonel evinced little sympathy for his predicament. "Everybody thinks the world of him," he said. But "integrity is something you have to give away," he said. "Nobody can take it from you."
In his resignation letter, Flynn contended that he had indeed performed his duties "with the utmost of integrity and honesty." But that was not the view of some at the conference. "I didn't think he would last that long to begin with, but I didn't anticipate the issue being one of personal integrity," the retired special-operations officer who has served on the NSC said. "I just can't fathom why he would ever mislead, withhold, whatever you want to call it, information from the vice president. I can guarantee that when he was a commander, if one of his subordinates lied to him, he would have gotten rid of him also."
Others were more sympathetic to Flynn, preferring to see him as a straight-shooter undone by politics. "As a soldier, he expects everybody to do the right thing," a retired special-ops officer who served two tours with Flynn said. "But politics is a hall of mirrors, and it's very difficult for a straightforward elite military officer to deal with that kind of political perfidy."
Like the president, some at the conference were troubled by the deluge of government leaks that they blamed in part for Flynn's troubles. "There's also growing frustration [with] all the leaks," the retired officer who'd served on the NSC said. "Is it the bureaucracy fighting back against the president, or is it an internecine war being waged among the president's advisers for primacy? In either case, it's not a good thing."
General Raymond A. "Tony" Thomas, the head of U.S. Special Operations Command, weighed in on the morning of February 14. "My first thought when I woke up and saw the news [of Flynn's resignation] this morning [was] that our government continues to be in unbelievable turmoil," he told the conference during his keynote speech. "I hope we sort it out soon because we're a country at war, and I think most of us reflect on that every day, but unfortunately back here in D.C. sometimes that's lost in the noise."
In that war, "we have killed over 60,000 [ISIS] in the last two years," he said. (The actual number of ISIS fighters killed by U.S. and coalition forces is unknown, as the Pentagon does not release these figures. Estimates, as a result, vary widely.) Speaking to reporters after his talk, Thomas was asked whether the "turmoil" in Washington that he had referenced was affecting special-operations missions. His reply was unequivocal: "We stay focused."
We want to hear what you think about this article. Submit a letter to the editor or write to letters@theatlantic.com.
Sean D. Naylor
is the author of
Relentless Strike: The Secret History of Joint Special Operations Command.