The House Kills an Anti-Corruption Measure
If the Senate approves, it could change how multinationals deal with foreign governments.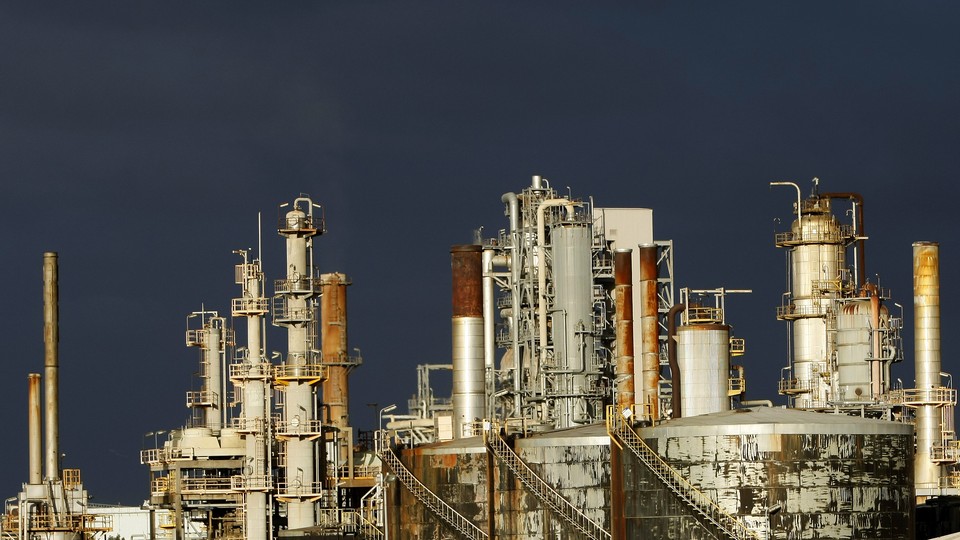 Among the numerous concerns addressed by 2010's Dodd-Frank financial reform bill was the so-called "resource curse," whereby mineral or fossil fuel-rich countries are unable to transform their wealth into economic growth and development, often falling victim to corruption and poor governance. The final bill included a measure, co-sponsored by Senators Ben Cardin and Richard Lugar, requiring that all oil, gas, and mineral companies on the U.S. stock exchange disclose any payments they make to foreign governments for licenses or permits for development. It aimed to curb bribery and give poor countries rich in resources a chance to hold their governments and resource-extraction companies accountable. After years of delay, on June 27, 2016, the Securities Exchange Commission published a final version of the rule that enforces Cardin-Lugar. It was set to go into effect in 2018.
On Wednesday, the House of Representatives voted to kill that rule and effectively gut Cardin-Lugar using a special authority that allows lawmakers to undo recently passed regulations. The Senate will likely take up a complementary measure in the coming days. It is expected to pass.
In an op-ed in The Wall Street Journal last week, Republican Majority Leader Kevin McCarthy declared that the rule "would put American businesses at a competitive disadvantage"— a position echoed by the American Petroleum Institute (API), the top energy-lobbying group in Washington, and the oil giant ExxonMobil, one of API's top members. Over the years, ExxonMobil has claimed that Cardin-Lugar, if turned into an enforceable rule by the SEC, would compel the company to disclose private, internal data. That, in turn, would place it a severe competitive disadvantage relative to the BPs and Shells and Rosnefts of the world, the company has argued.
How Tillerson, confirmed as secretary of state today, thinks about corruption and regulating the resource-extraction industry matters. During Tillerson's confirmation hearing earlier this month, Virginia Democrat Tim Kaine raised the point that ExxonMobil has conducted business in countries afflicted by the resource curse like Chad, Equatorial Guinea, Nigeria, Indonesia, and Angola. "How will you work with nations that suffered under this resource curse ... [and] make sure they respect human rights, the rule of law and our longstanding commitment to transparency and anti-corruption?" he asked. Tillerson, in response, touted the role of USAID in "strengthen[ing] the institutional capacities and set standards of expectation in the developing part of the world including those that have resource wealth." (Donald Trump has yet to appoint anyone to head up  USAID.)
While SEC filings do not show that Tillerson played a direct role in ExxonMobil's lobbying over Cardin-Lugar, between October 25, 2011, and January 31, 2012, company representatives filed a number of comments and attended meetings with SEC commissioners concerning the rule, focusing largely on the competitiveness argument; API also lobbied the commission on several occasions. "Exxon was just incredibly vocal and aggressive," Zorka Milin, the senior legal adviser of Global Witness, an international anti-corruption NGO, told me. "What are they fighting so desperately to hide?"
After the SEC first published the rule in 2012, API, the U.S. Chamber of Commerce, the Independent Petroleum Association of America, and the National Foreign Trade Council sued the SEC in the U.S. District Court for the District of Columbia to undo the rule, and the court vacated it. But in 2014, Oxfam sued the SEC for dragging its feet on drafting the rule; in 2015, a federal judge ordered it to fast-track the rule, and it complied.
In an email, ExxonMobil spokesman William Holbrook wrote that the company believes "the best approach would be to adopt a rule consistent with Extractive Industries Transparency Initiative principles," referring to a parallel system similar to the one envisioned in Cardin-Lugar. Several years ago, Steve Coll helped explain why companies like ExxonMobil might prefer this alternative: It is a voluntary regime and, according to its critics, includes slow, insufficient enforcement mechanisms. ExxonMobil executive have also sat on the initiative's board, Coll reported.
Yet 30 countries have enacted laws mirroring Cardin-Lugar that feature the same reporting requirements. The requirements are so similar, in fact, that companies would have been able to file the same report with the SEC as they do with other jurisdictions, Milin explained.
According to the Natural Resource Governance Institute, 120 companies have reported their foreign government payments under the British, Canadian, French, and Norwegian laws, including BP, Shell, Total, Gazprom, and Rosneft. Of these companies, payments totaling $150 billion have been made to governments in 102 countries. "The companies which are reporting under U.K. law such as BP and Shell have not noted that this has been overly burdensome," Milin said.
The point of Cardin-Lugar was not to malign foreign governments or multinational companies like ExxonMobil, but simply to compel them to play fair. And as Richard Lugar pointed out in 2015 while the measure was mired in bureaucratic hell, "Allowing for greater transparency of government finances gives the United States more information about what actions these governments are taking"—it's a tool of soft power, in other words, using American business interests to help the Washington further its interests abroad.
Tillerson's critics will remain skeptical over his ties to Russia, a country where ExxonMobil has done lucrative business which may soon receive relief from sanctions under Donald Trump, and question whether his recusal agreements with the company are sufficient, especially as the lengthy list of Donald Trump's conflicts of interest grows. Questions about whether Tillerson can, with satisfaction, leave behind ExxonMobil and its concerns—over things like Cardin-Lugar—will dog him through his tenure at State.