The Foreign-Policy Contradictions of the Trump Administration: A Crib Sheet
America appears to be pursuing four Mexico strategies at once.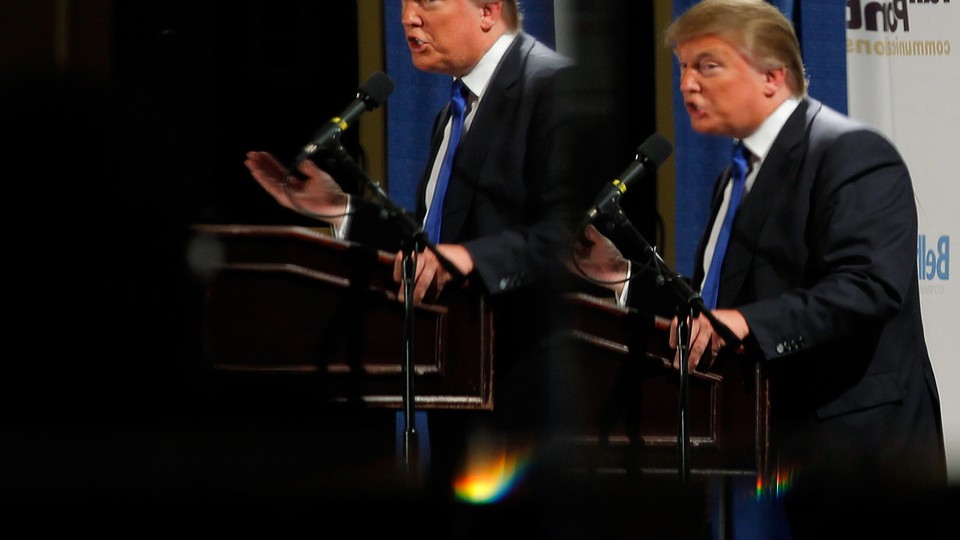 During the presidential campaign, Donald Trump regularly contradicted himself on foreign policy. Now he has an entire administration to mix up the messages. Often these misalignments seem to be attempts by Trump's team to soften the more controversial statements made by the president. But any effort to walk back the tweeter-in-chief's words needs to be viewed skeptically. As then-candidate Trump made clear in a presidential debate, when he brushed off a disagreement with his running mate about Syria by bluntly stating the two hadn't spoken about the issue, he doesn't feel obliged to coordinate messages with his team. Anyone who gets out too far in front of the president is vulnerable to being overruled in a late-night tweet.
All administrations suffer from coordination problems. Obama's one-time Defense Secretary Chuck Hagel was forced out for, among other things, seeming to publicly contradict the president on America's anti-ISIS strategy. But the Trump team's contradictions are coming with such speed and regularity that it can be hard to tell who actually speaks for America, and indeed what the country's foreign policy is at any given time. There currently seem to be several—and they're not always compatible. What follows is an effort to keep track.
Mexico: Be Precise, Please
Trump has promised a hard line on illegal immigration. On Thursday, he told reporters that his administration is removing "really bad dudes, and at a rate that nobody's ever seen before." That's possible, he elaborated, because "it's a military operation." Officials very quickly changed their tune, with Press Secretary Sean Spicer asserting that Trump's use of the word "military" was an adjective intended to convey that deportation operations were carried being out with "precision." (Dictionary officials called BS.) Homeland Security Secretary John Kelly took it a step further, vowing there will be "no use of military force in immigration operations, none." But if that denial was flat, Kelly has also apparently contradicted himself on Mexico policy. New immigration memos set out a policy where non-Mexicans caught attempting to enter the U.S. illegally could be moved to Mexico. But, speaking in Guatemala, Kelly said that the policy would be to send deportees "to their home countries as quickly as possible."
Number of policies: 4
Russia Sanctions: On-Again, Off-Again
The Trump administration seems to have at least many opinions about Russia as it does officials. Take the issue of sanctions levied on Russia over its invasion of Ukraine. In the run-up to his inauguration, Trump took a strongly skeptical stance toward the sanctions. "Why would anybody have sanctions if somebody's doing some really great things?" he told The Wall Street Journal. But only three weeks later, he reportedly told a former Ukrainian prime minister that he wouldn't lift sanctions until Russia withdrew from Ukraine. During confirmation hearings, Defense Secretary James Mattis said he needed to meet with the rest of the national security team to craft a strategy on sanctions. But those positions vary. While Vice President Mike Pence has said sanctions could be lifted if a cease-fire in Ukraine held—a much lower bar than withdrawal—Secretary of State Rex Tillerson has said he recommends "maintaining the status quo."
Number of policies: At least 3
Australian Migrants: Will the U.S. Take Them?
Trump has called a plan to resettle would-be migrants to Australia in the U.S. a "dumb deal," but is it a done deal? Hard to say. Trump reportedly lit into Australian Prime Minister Malcolm Turnbull over the plan, which had been agreed to by former President Barack Obama. After news of that call broke, U.S. Press Secretary Sean Spicer affirmed that Trump would nonetheless "allow it to move forward" out of respect for Turnbull. Less than an hour later, Trump called it into question again, suggesting he would honor the deal, but adding, "we'll see what happens." Australia's leaders are apparently not all convinced it will move forward. Australian Immigration Minister Peter Dutton this week for the first time officially linked the U.S. resettlement plan with an arrangement for Australia to take Central American migrants, saying that Canberra wouldn't accept migrants from Costa Rica and elsewhere if Trump didn't uphold his end of bargain.
Number of policies: 1.5
Radical Islam: War Is Coming
In his inaugural address, Trump promised to eradicate "radical Islamic terrorism" from the planet. That phrase delighted his supporters, including a new national security aide, Sebastian Gorka, who called the use of the phrase "putting the marker down for the whole national security establishment." But the replacement of Michael Flynn (who famously once tweeted that fear of Muslims is "RATIONAL") with H.R. McMaster as national-security adviser puts a big question mark over the Trump team's approach to Islam. McMaster has not given an interview since his appointment, but anti-Islamic writers are already up in arms about him, since he does not share Gorka's view of the religion. In his first staff meeting at the National Security Council, McMaster called the use of the term "radical Islamic terrorism" unhelpful, explaining that he viewed terrorists as "un-Islamic," according to The New York Times.
Number of policies: 2.
Iraq's Oil: Take It or Leave It
Throughout the campaign, Trump repeatedly threatened to seize Iraq's oil. That line of thought culminated in a speech at CIA headquarters the day after the inauguration, when he lamented the missed opportunity to take it, musing "maybe we'll have another chance." That chance could have come as early as this week, when James Mattis, former Marine general and current secretary of defense, arrived in Baghdad. But Mattis chose not to take it, declaring: "We're not in Iraq to seize anybody's oil." At least until Trump tweets say otherwise.
Number of policies: 2
Israel-Palestine: Will Two Become One?
The so-called two-state solution is Schrodinger's peace plan: both dead and alive at the same time. Standing next to the Israeli prime minister last week, Trump casually shrugged off decades of official U.S. policy. "I'm looking at two states and one state," he said. "I like the one that both parties like." That message did not go over well, judging by the response from the U.S. ambassador to the U.N., Nikki Haley, who was quickly dispatched with a new line. "The two-state solution is what we support," Haley told reporters. "Anybody that wants to say the United States does not support the two-state solution—that would be an error." Since then, Trump opted to re-emphasize his ambiguous position, saying he likes the solution, but "so far it hasn't worked."
Number of policies: As many as it takes to make the Israelis happy
Europe and NATO: Love Them or Leave Them
Trump has declared NATO "obsolete" and predicted that "more countries will leave" the European Union. Vice President Mike Pence attempted to soften the blow this week, carrying the message on a trip to Europe that Washington is "steadfast and enduring" when it comes to the EU and "unwavering in our commitment" to NATO. That effort was almost immediately undercut when Reuters reported that chief White House strategist Steve Bannon had told the German ambassador to the U.S. that the EU was a "flawed concept." As of Thursday, Trump is "totally in favor of it."
Number of policies: Wavering
China's Currency: Is a Designation Coming?
Trump promised throughout the campaign to designate China a currency manipulator on day one of his administration. He even wrote an op-ed about it in The Wall Street Journal. Day one is long past, and this week, Treasury Secretary Steven Mnunchin made clear a designation wasn't coming soon, saying "we're not making any judgments" until a regular review process was complete. That cautious note lasted less than 12 hours, with Trump telling Reuters, "I think they're grand champions at manipulation of currency."
Number of policies: 2, pending review