European Leaders Are Now Describing Trump as a Threat
The new administration has called into question "the last 70 years of American foreign policy," one says.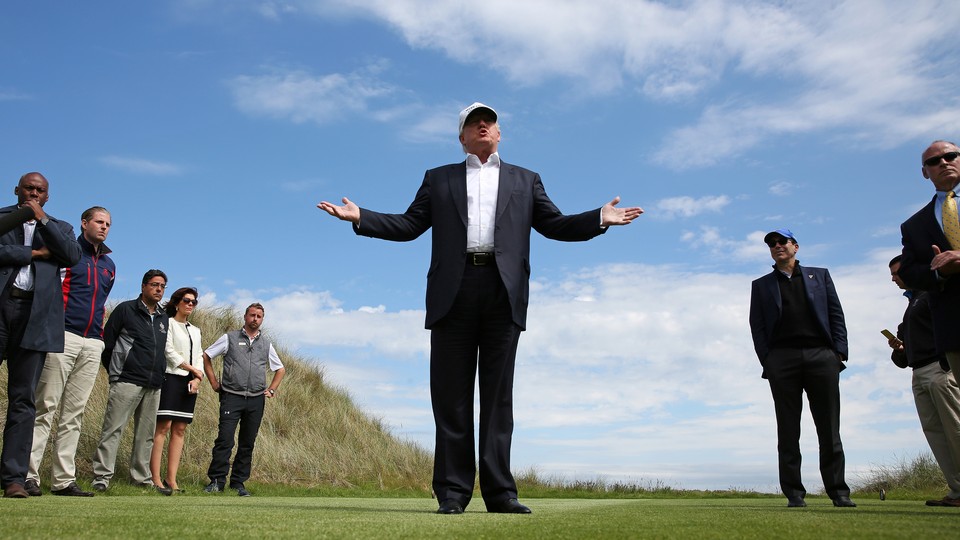 Something has fundamentally changed in the world when one of the leaders of the European Union mentions the American president among the top threats to European unity, along with Russian aggression, radical Islamic terrorism, and civil wars in the Middle East. On Tuesday, European Council President Donald Tusk did just that. In a letter to the heads of EU member states, he expressed deep misgivings about the other Donald, who has questioned the value of NATO, applauded Britain's exit from the European Union, suggested other countries may also leave the bloc to reclaim "their own identity," and dismissed the EU as merely a "vehicle for Germany" to assert its power.
The "change in Washington puts the European Union in a difficult situation; with the new administration seeming to put into question the last 70 years of American foreign policy," Tusk wrote. Europe should try to preserve its close relations with the United States, he argued, but the EU should also respond to Trump's protectionist trade policies by "intensifying" its trade talks with other countries. (The EU is the second-largest supplier of imports to the U.S. and America's second-largest export market.)
Tusk also identified an internal danger for the European Union: the rise of "anti-EU, nationalist, increasingly xenophobic" populist movements in countries like France and the United Kingdom, for which Donald Trump has expressed support. "National egoism is ... becoming an attractive alternative to integration," he warned, leaving the EU more vulnerable than it's been since the signing in 1957 of the Treaty of Rome, which created an early version of the union.
Tusk's letter comes as European leaders from Germany to Iceland to Britain condemn Trump's immigration ban, and a day after Guy Verhofstadt, the EU's lead negotiator for Brexit talks, similarly characterized the U.S. president as a threat to the union on par with jihadist terrorism and Vladimir Putin. "Trump spoke very favorably of the fact that also other countries will want to break away from the European Union, and that he hoped for a disintegration of the European Union," Verhofstadt said during a speech in London.
"Twenty million people have died because of nationalism in Europe, because of the [Holocaust], ethnic cleansing, pogroms," Verhofstadt continued. "There is not one family living on the continent ... who has no grandfather, grandmother, member of the family, who was not a victim of these stupidities, and of these atrocities at the end of the 19th and the whole 20th century." Staking the "future organization of Europe on nationalist ideas is the most stupid thing you can do," he added. "It's playing with fire."
As Richard Aldrich of the University of Warwick has documented, U.S. leaders since Harry Truman have supported European political and economic unification—not just through the creation of the Marshall Plan and the North Atlantic Treaty Organization after World War II, but also through overt and covert backing for the European federalist movement in the late 1940s and 1950s. These American leaders hoped, in part, that a "United States of Europe" would help counter the Soviet Union and the spread of communism, but they also hoped to avoid a repeat of the horrific history invoked by Verhofstadt, including a resurgence of German aggression. Barack Obama referenced those goals when he traveled to the United Kingdom last spring to campaign against Britain leaving the EU. "For centuries, Europe was marked by war and by violence," Obama said. "The architecture that our two countries helped build with the EU has provided the foundation for decades of relative peace and prosperity on that continent."
Donald Trump doesn't appear to agree. And European leaders seem increasingly aware of that fact. As German Chancellor Angela Merkel observed shortly before Trump's inauguration, "We Europeans have our fate in our own hands."