Is Trump Walking Back the Israel Embassy Move?
The longer he delays, the lower the chances it will happen.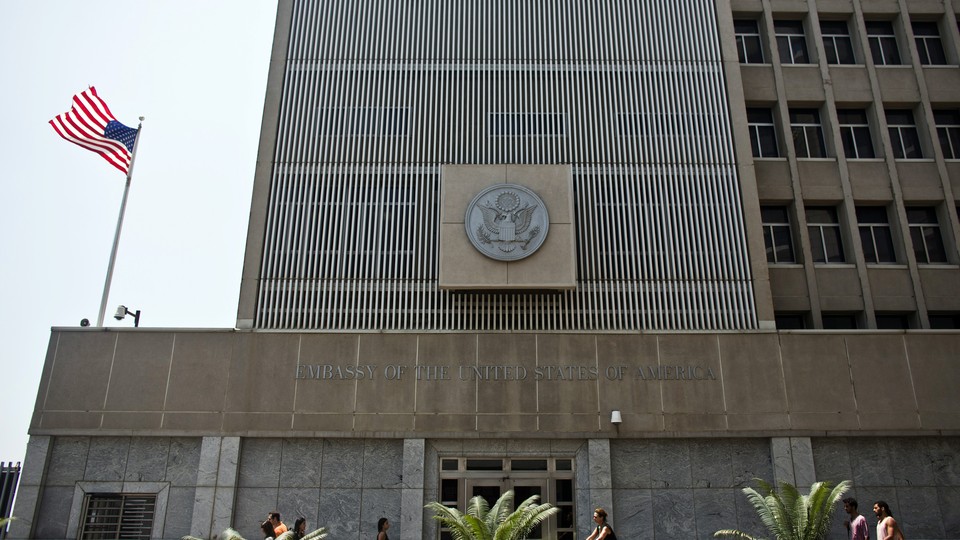 Late last week, an unconfirmed report by Israel's Channel 2 news suggested that President Donald Trump would soon announce the relocation of the U.S. embassy in Israel from Tel Aviv to Jerusalem, delivering on a promise he made repeatedly on the campaign trail. All of Jerusalem is claimed by Israel as its "eternal and undivided capital." But the eastern part is considered by the international community to be occupied territory, and claimed by Palestinians as the capital of their own future state. Jerusalem is also sacred to Jews, Christians, and Muslims around the world. It has therefore been one of the most symbolically laden—and contested—places on earth for centuries.
The White House spokesman, Sean Spicer, has since repeatedly emphasized that discussion about a possible move is in its very early stages, suggesting no announcement is imminent for now. But since the U.S. presidential election last November, those close to Trump have reaffirmed his determination to follow through, leading many to conclude that the decision—considered by past presidents, but never implemented—had already been made, absent any major political coordination or laying of diplomatic groundwork. Should it happen in the near future, the timing would be strange: Moving the embassy is not a priority for even the Israeli far right, for whom issues such as expanding settlements are much more important. Even Avigdor Lieberman, Israel's hardline defense minister, dismissed the idea in December, perhaps recognizing that moving the embassy would almost certainly invite an outpouring of violence.
Spicer signaled that a complex conversation on the matter has only just begun. "[Trump's] team's going to continue to consult with stakeholders as we get there," he said on Monday. According to Israeli officials the issue barely came up in Trump's recent phone call with Israeli Prime Minister Benjamin Netanyahu.
There is a distinct possibility the embassy move may never happen, with the prospect diminishing further, however slightly, with each passing day. (Perhaps the report that the decision had been made was nothing more than a trial balloon floated to gauge reactions to such a decision.) Even this president, with a self-consciously "transformational" approach designed to upend much of the traditional order in government, including foreign policy, will increasingly have to reckon with the consequences of his decisions.
Since the late 1940s when Israel was established, U.S. policy and the international consensus have agreed that the status of Jerusalem must be determined through negotiations between Israel and the Arabs, especially the Palestinians. The 1947 UN partition plan placed Jerusalem under international control, and not as part of either the anticipated Jewish or Arab states. The 1947-1948 war left Israel in control of the western part of the city, with Jordan taking the east. But Israel captured East Jerusalem from Jordan in 1967, effectively annexing it in 1980. The UN Security Council has repeatedly rejected that de facto annexation, and emphasized the urgent need for Israel to withdraw from the occupied territories, "including Jerusalem." While a few, small countries did maintain embassies in or near West Jerusalem, following the annexation of the East, all were relocated to Tel Aviv, where the United States and all other major countries' embassies have always been. Moving the U.S. embassy to Jerusalem now would break this consensus. And it would be widely interpreted, especially by Israelis and Palestinians, as privileging Israeli and Jewish claims on the city and implicitly recognizing or condoning the annexation of East Jerusalem.
Americans, including Trump, might not care too much about the Palestinian reaction to moving the embassy. But Israelis responsible for national security do not have this luxury. Even if the Palestinian leadership knows that unrest, let alone violence, would be self-defeating and counterproductive, it may be unable to contain a spontaneous or organized explosion of rage in the occupied Palestinian territories, especially East Jerusalem. The Palestinian security services would try to contain the outrage, but their numbers and capabilities are limited (not least because of Israel's restrictions), and they aren't allowed to operate in most of the West Bank and not at all in East Jerusalem. Moreover, it will be politically difficult for Palestinian leaders to argue for calm while expressing the indignation necessary to maintain credibility.
At best, Palestinian leaders will end up speaking out of both sides of their mouths. There is, after all, no way they can argue that Palestinians shouldn't be profoundly upset by a U.S. policy shift that will be widely interpreted as an abdication of one of the last vestiges of evenhandedness that has survived from the late 1940s. Hamas and other extremist groups will no doubt seek to exploit the situation. While mainstream Palestinian leaders will seek to prevent this, they will also have to ensure that they are not outbid by extremists.
Palestinian leaders won't be the only ones feeling compelled to register their vehement objections to the embassy move. Egypt and Jordan, both of which have long-standing peace treaties and security partnerships with Israel, would likely regard the relocation as a major violation of the spirit, if not the letter, of their peace treaties with Israel—both of which were brokered and guaranteed by the United States. They would not abrogate or rescind the treaties, but significant, public gestures of noncooperation with Israel, including recalling or expelling ambassadors, or suspending some cooperation, are conceivable.
This is even more applicable to the Gulf Arab states, with whom Israel has made striking progress in recent years, thanks largely to their mutual opposition to Iran. Saudi Arabia, the United Arab Emirates and Qatar—all of which have offered a subtle but substantial degree of regional legitimacy and de facto recognition of Israel as a key ally against Iran—would feel bound to react negatively to moving the embassy. This, in turn, would slow or even undo recent diplomatic gains, which are among the most important in Israel's history. Gulf countries and other members of the Organization of Islamic Cooperation would feel compelled to take public action to reassert the Palestinian, Muslim, and Christian claims on Jerusalem, and reject the implications of such a radical U.S. policy shift.
One additional irony is that Israel and the United States have been lecturing the Palestinians ad nauseam in recent years about the foolishness of purely symbolic gestures that come with a heavy cost—in their case, usually involving initiatives to gain more recognition in the UN or other multilateral institutions. A decision by Trump and Israel to relocate the embassy would send a clear message that they believe purely symbolic benefits can indeed be worth paying a heavy practical price, and the logical response of the Palestine Liberation Organization (PLO) will be to redouble their own efforts with much less concern about American or Israeli complaints.
There are many half-measures the Trump administration could announce that fall far short of moving the embassy while allowing him to claim that he has fulfilled its promise. David Friedman, Trump's nominee to serve as ambassador to Israel and a strong supporter of the settler movement, may reportedly operate out of Jerusalem—possibly in the U.S. consulate, the de facto embassy for the Palestinians—while the rest of the embassy stays behind in Tel Aviv. Friedman, who holds extreme views about Palestine and opposes a two-state peace agreement between Israel and the Palestinians (the bedrock of U.S. policy in recent decades), owns an apartment in Jerusalem in which he reportedly intends to reside no matter what happens with the embassy.
Looking ahead, there are several important dates to keep in mind. Donald Blome, U.S. consul general to Jerusalem, was appointed to his post in 2015, and a typical two-year term would expire sometime this year. That will present an opportunity for the administration either to re-designate the consulate as the U.S. "Embassy to Israel" or as a satellite office for the ambassador. In addition, June marks the expiration of a key presidential waiver. In 1995, the U.S. Congress passed a law providing for the relocation of the embassy, but allowing for a presidential waiver for six-month periods "to protect the national security interests of the United States." That waiver has been invoked by every president until now, with almost no criticism. One of the simplest, albeit dangerous, steps that Trump could take is to allow the waiver to lapse in June, couple that with a big announcement of the fact, and then do virtually nothing to follow through on actually moving the embassy.
If Trump elects not to move the embassy in the early days of his administration, it's harder to imagine him doing it later. As he settles into office, one hopes that he will become more acquainted with the enormous risks and empty symbolism of a gesture that wouldn't change anything on a practical level for Israel or the United States, or for their relationship. Above all, he and his team will, presumably, hear more clearly from Israeli national security establishment officials and others who might be enthusiastic about the idea in theory, while recognizing the major costs it would entail for them. "Why now?" is the question that will be raised time and again by thoughtful Israelis and Americans, not to mention Arabs. There isn't any rational or practical answer.
The wisest course is to allow U.S. policy on Jerusalem to remain unmolested—a path endorsed quietly but firmly by influential security voices in Israel, and suggested by all of the other warnings from U.S. partners like Jordan, European allies such as France, and outgoing officials like former President Barack Obama and former Secretary of State John Kerry. Anything else would shatter one of the longest-standing diplomatic consensuses, flout international norms and expectations, and inexplicably toss buckets of fuel on smoldering embers that, for now at least, are not blazing out of control.
Should Trump actually move the embassy, that tense and tenuous calm is unlikely to survive. And then Israel, the Trump administration, the region, and the world would have to deal with the consequences.