Translating Trump and Dealing With North Korea: The Week in Global-Affairs Writing
The highlights from seven days of reading about the world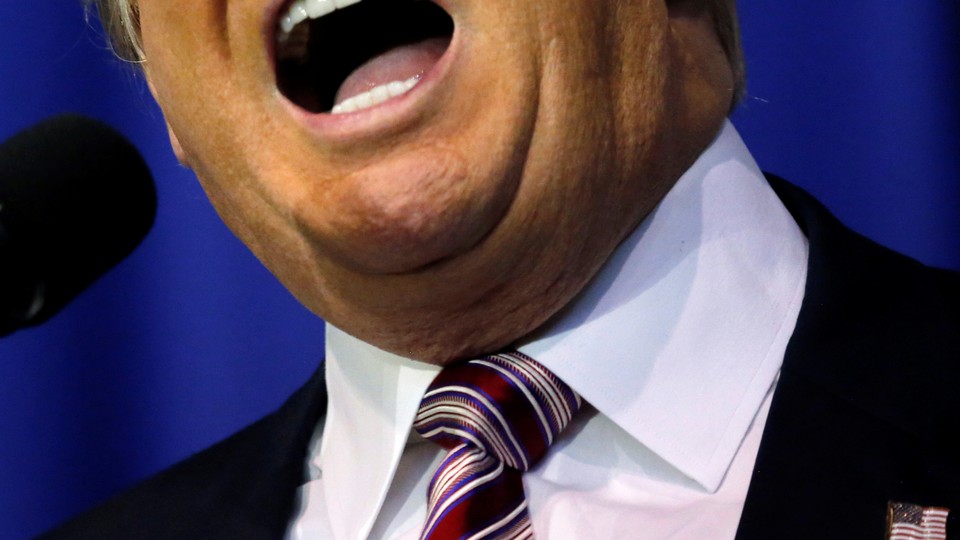 Can You Turn a Terrorist Back Into a Citizen?
Brenadan I. Koerner | WIRED
"Koehler's key finding has been that all extremists, regardless of ideology, develop a sort of tunnel vision as they go through the indoctrination process. An ordinary high school or college student, Koehler argues, has a lot of problems (tricky classes, meddling parents, romantic woes) as well as many potential solutions (study harder, find a job, date someone new). A person who's journeying down the path toward radicalization, by contrast, sees their problems and solutions each get winnowed down to one—a process that Koehler terms 'depluralization.' The solitary problem for these individuals is always that there's a global conspiracy against their race or religion; the solitary solution to such persecution is violence, with the goal of placing themselves and their group in control of a revamped society."
* * *
'Make America Big Again'? The Headache of Translating Trump into Foreign Languages.
Samantha Schmidt | The Washington Post
"Since the beginning of his political rise, Trump's remarks have been translated into a slew of languages worldwide, and his official swearing-in only elevates the power of his words. For some, his simple vocabulary and grammatical structure make his speeches easy to follow. But for others, his confusing logic, his tendency to jump quickly from topic to topic and his lack of attributions for so-called facts make his remarks sound like a puzzling jumble, and that creates a headache when translating Trump's speeches for non-English audiences."
* * *
Russia: Life After Trust
Michael Idov | New York Magazine
"One tends to imagine life in an autocratic regime as dominated by fear and oppression: armed men in the street, total surveillance, chanted slogans, and whispered secrets. It is probably a version of that picture that has been flitting lately through the nightmares of American liberals fretting about the damage a potential autocrat might do to an open society. But residents of a hybrid regime such as Russia's—that is, an autocratic one that retains the façade of a democracy—know the Orwellian notion is needlessly romantic. Russian life, I soon found out, was marked less by fear than by cynicism: The all-pervasive idea that no institution is to be trusted, because no institution is bigger than the avarice of the person in charge. This cynicism, coupled with endless conspiracy theories about everything, was at its core defensive (it's hard to be disappointed if you expect the worst). But it amounted to defeatism. And, interestingly, the higher up the food chain you moved, the more you encountered it. Now that Russia has begun to export this Weltanschauung around the world, in the form of nationalist populism embodied here by Donald Trump, I am increasingly tempted to look at my years there for pointers on what to expect in America."
* * *
The Art of a Deal With North Korea
Joel Wit and Richard Sokolsky | Politico
"A fourth option, serious coercive diplomacy, stands the best chance of success. It would lead with diplomatic engagement with the North backed by the threat of robust military and economic actions to protect the United States and its allies from an expanding North Korean nuclear program. By necessity, because the North's nuclear program is far along, the objective of coercive diplomacy would be the gradual denuclearization of North Korea in phases within a broader framework of concluding a comprehensive peace agreement that would, in the eyes of Pyongyang, end the U.S. 'hostile policy' toward the North. Such a step-by-step process would be designed to secure the immediate U.S. objectives of capping and reversing the North's nuclear and missile programs. As long as all parties understand that denuclearization is a process that won't happen immediately, such an initiative would not mean that the U.S. is accepting North Korea as a nuclear state."
* * *
The Patient War
May Jeong | Harper's
"Peace requires patience. It took Vietnam negotiators five years to sign a ceasefire agreement. Resolving the war between Iran and Iraq took eight. The Good Friday Agreement of 1998, which halted hostilities between Northern Ireland and the United Kingdom, was built on the failures of three attempts going back to 1973.
In Afghanistan, peace has long been elusive. After the American invasion in 2001 and the rapid collapse of the Taliban regime, international stakeholders met in Bonn, Germany, at the end of the year to choose a new leader for the country. Absent was anyone from the Taliban, who were 'running around trying to avoid being killed by the Americans,' Barnett Rubin, who participated in the meeting on behalf of the United Nations, told me. The dignitaries settled on Hamid Karzai, a forty-four-year-old mujahed, as interim president."
* * *
Good News, Germans! You Will Soon Be Able to Legally Insult Foreign Leaders.
Emily Tamkin | Foreign Policy
"What timing! Less than one week after U.S. President Donald Trump's inauguration, Germany announced it will do away with the portion of its criminal code that makes it illegal to insult a foreign leader by Jan. 1, 2018.
The regulation, described by Justice Minister Heiko Maas as 'obsolete and unnecessary,' is infrequently used, though it was invoked last year after comedian Jan Boehmermann read an 'obscene poem' about Turkish President Recep Tayyip Erdogan on television. The case was dropped due to 'lack of evidence,' although Erdogan still has a civil suit against the comedian, which will be decided in Hamburg on Feb. 10."