A Sanctions Skeptic for State?
What Rex Tillerson's confirmation hearings revealed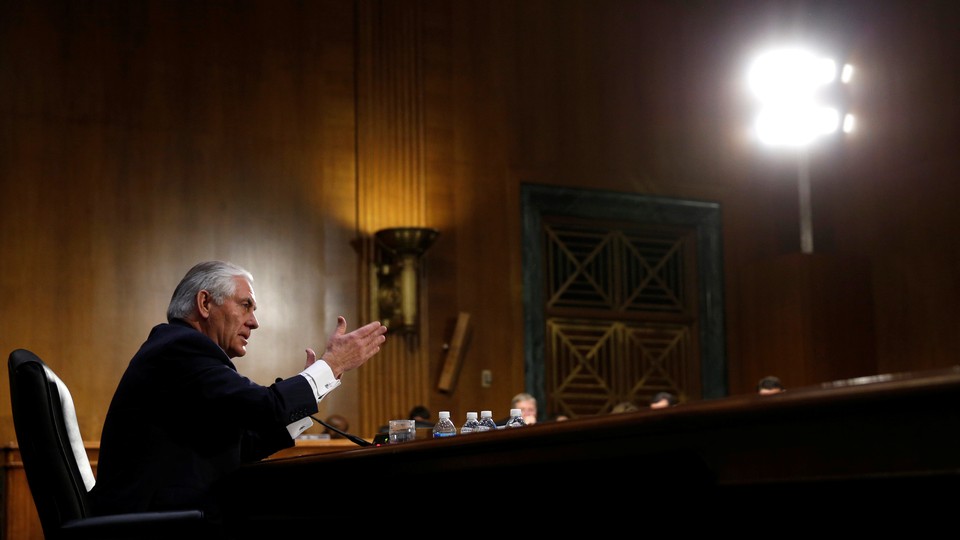 Rex Tillerson, Donald Trump's choice to serve as secretary of state, fielded roughly nine hours of questions before the Senate Foreign Relations Committee on Tuesday. Among other things, he was asked for his views on the role of economic sanctions in foreign policy, whether fossil fuels contribute to climate change, and how a Trump administration will deal with the extrajudicial war on drugs in the Philippines. Tillerson, who served for 10 years as the CEO of the oil giant ExxonMobil, often sounded like the engineer he was earlier in his career, replying frequently that he would need more time to gather facts—for example stating that he did not have "sufficient information" to say whether Russia's action in Syria constituted war crimes.
Yet he also expressed some clear views, which were heavily scrutinized given their how they aligned with ExxonMobil's interests. A case in point was the use of sanctions, which he referenced in his opening statement, along with aid, as an instrument of foreign policy to be used "when appropriate." On multiple previous occasions, Tillerson has expressed opposition to the Obama administration's Ukraine-related sanctions against Russia, where ExxonMobil has substantial business ties. During the hearing, Tillerson explained his skepticism: "[B]y their design [sanctions] are going to harm American business. That's the idea, to disrupt America's business engagement in whatever country is being targeted for sanctions."
Still, he expressed openness to using narrow sanctions for specific problems, for example if the United States was under direct cyberattack by a foreign country. "[If] the conclusion is made that these sanctions are going to be the best and most appropriate way to act," he said, "then I think the executive would like to have the optionality to make that decision."
New Jersey Democratic Senator Bob Menendez, a key architect of U.S. sanctions against Iran and Russia, at one point stated that sanctions are intended to disrupt economies abroad, rather than harm business at home. But Tillerson's view finds support within the business community—Myron Brilliant, the U.S. Chamber of Commerce's executive vice president and head of International Affairs, for instance, wrote in an email that "American workers and farmers shouldn't have to take a hit for a policy that has no chance of succeeding." U.S. sanctions against another country could, for example, limit its citizens' ability to purchase American goods, or spark an equivalent response by the targeted country against the United States.
When Menendez told Tillerson during the hearing that "diplomacy is not the same as deal making," he underscored both the tension between Tillerson's former role and his potential future one, as well as the exact reason sanctions matter. They move the terrain of conflict from into the economic realm, where the American casualties might be shareholders or even jobs, but are not U.S. soldiers.
"While I appreciate that Mr. Tillerson did not advocate for the immediate repeal of sanctions currently in place, he was noncommittal on maintaining or increasing sanctions on Russia," New Hampshire Senator Jeanne Shaheen said in an e-mail. "His stance on sanctions is something I think many members of the committee will be reviewing when deciding their vote."
Several senators, including Oregon's Jeff Merkley, also questioned Tillerson about the involvement of a European ExxonMobil subsidiary with Iran, Syria, and Sudan, countries which the U.S. has sanctioned for terrorism sponsorship. Merkley wanted to know whether Tillerson recalled any discussions over whether ExxonMobil should have disclosed these deals; Tillerson claimed he could not. But Merkley seemed focused not so much on haranguing Tillerson over past behavior, but on assessing whether, as secretary of state, he would discourage a CEO from taking actions that undermine U.S. efforts to combat terrorism. "I would certainly be open to having the folks in the State Department contact companies and just inquire as to whether they're aware of the actions they're taking," Tillerson replied.
Connecticut Senator Chris Murphy went further. "[W]as there any country in the world whose record of civil rights was so horrible or whose conduct was so directly a threat to global security or U.S. national security interests that Exxon wouldn't do business with it?" Tillerson replied: "The standard that is applied is first was it legal, does it violate any of the laws of the United States to conduct business with that particular country, then beyond that it goes to the question of the country itself: Do they honor contract sanctity? Do they have a rule of law? And if they do or don't, are there mitigating actions that can be put in place to protect whatever business activity might be undertaken?" Murphy pointed out that Tillerson's list did not include a country's human rights record or the national security interests of the United States. "That … could go to contract sanctity, rule of law, and stability of the country, which is always a judgment as well," Tillerson said.
This is what some senators of both parties and public interest groups seem to be worried about: the possibility that Tillerson, should he become secretary of state might not be able to divest himself—spiritually, if not materially—from his more than four decades at a company that's done business everywhere, from Russia to Chad to Indonesia. In his responses regarding ExxonMobil's activities, Tillerson displayed a clear, technocratic preference for the rule of law: in essence, that if a certain business decision was legal and profitable, then it was prudent. But what some of the questions directed at Tillerson implied is that national interests do not always align with private interests, and, in fact, that they often shouldn't.
"Tillerson's performance yesterday confirmed our concern that he is not prepared to make the switch from advancing Exxon's interests to serving the interests of the American people," Zorka Milin, senior legal adviser at Global Witness, wrote in an e-mail.
Tillerson also showed some surprising differences between Trump's views and his own, most notably regarding Russia, about which he said he had not spoken to Trump. He labeled Russia's annexation of Crimea as illegal, and said that the United States should have provided more aid to Ukraine. He also affirmed his support for NATO. Ties between Trump and the government of Petro Poroshenko, the president of Ukraine, meanwhile, are strained, stemming from the president-elect's openness to warmer ties with Russia. Trump has also suggested that, to maintain U.S. support, the alliance's other members should spend more on their militaries, and that it should focus more on terrorism, a stance less welcome by the governments of Germany and France.
In an exchange with the Florida Senator Marco Rubio, Tillerson also said it was fair to assume that Putin knew of any cyberattacks against the United States; Trump himself was reluctant to embrace reports of Russian involvement until his press conference yesterday. Given ExxonMobil's longstanding business ties with Russia and Tillerson's personal relationship with Putin and Igor Sechin, the CEO of the state-backed oil firm Rosneft, this was notable.
Tillerson has set in motion a recusal process to avoid conflicts of interest with his former employer, which is more than Trump, his potential future boss, has promised. At his press conference yesterday, he announced a plan to transfer control of his company to his sons, an approach that fails to meet the standards set by many ethics experts to avoid conflicts of interest. But Tillerson's recusal may sunset in only a year or two, while his term, if confirmed, could extend beyond that timeframe.
There remains the question of how well Tillerson can adjust his approach to the world, with its complex system of sovereign governments, treaties, and interests that may not necessarily align with those of a massive corporation like ExxonMobil. The task for him will be to prove that he can, as he said he knows he must, leave the business of oil behind, in favor of the business of state.