A Brief Guide to Rex Tillerson's Controversial Foreign Ties
As the Senate holds confirmation hearings on the president-elect's secretary of state pick, a few concerns are likely to surface.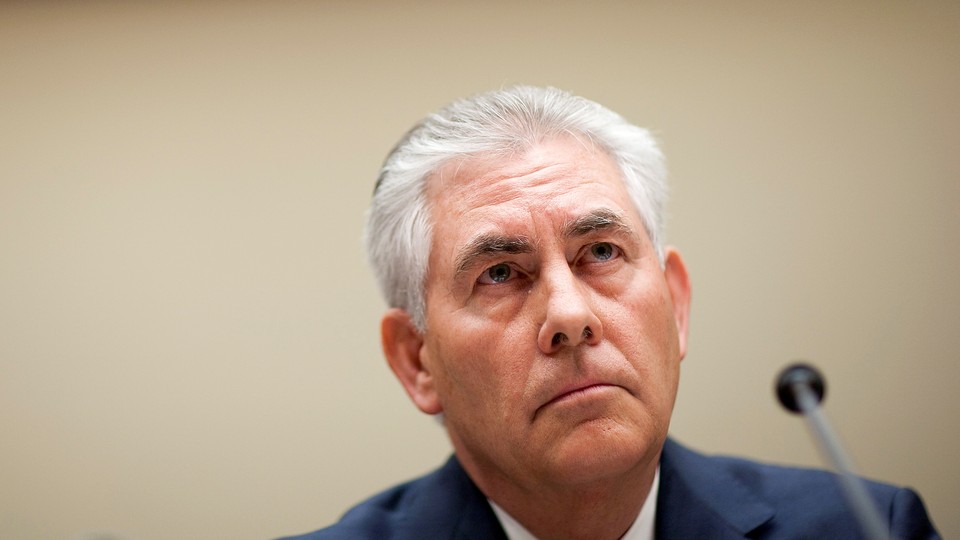 When Rex Tillerson goes before the Senate Committee on Foreign Relations on Wednesday for his confirmation hearings to become the next secretary of state, he'll likely face standard questions a range of international issues including the Israeli-Palestinian peace process, Syria, and tensions in the South China Sea. But the committee has perhaps never assessed a pick like Tillerson, who spent his 10 years as the CEO of the energy multinational ExxonMobil focused on long-term shifts in the energy market and their impact on geopolitics.
He has never served in public office. And his leadership of one of the most powerful corporations in the world, while it gave him State Department-relevant experience negotiating in dozens of countries, could present substantial challenge for him if he's confirmed. His company's relationships with Russian President Vladimir Putin; a shadowy Russia-U.S. oil venture based in the Bahamas, a tax haven; as well as, allegedly, the governments of Iran, Syria, and Sudan, suggest a pragmatic businessman whose pursuit of profit, while legitimate, leaves him open to difficult questions on his foreign ties.
Most notable of these questions: Russia. For a time, Tillerson headed up ExxonMobil's Russian operations. He took a lead role on the company's dealings in the country's Sakhalin-1 oil and gas project, building a partnership with the state-owned Russian oil firm Rosneft in the late 1990s and early 2000s. That deal—conducted, at Tillerson's strenuous insistence, to the letter of Russian law—paved the way for ExxonMobil to gain substantial equity in additional Russian oil fields, helping it replenish its reserves. Things were not always smooth: In 2003, ExxonMobil tried to acquire a stake in Mikhail Khodorkovsky's Yukos, the country's largest private oil firm, just before the firm was nationalized and Khodorkovsky was arrested.
As Steve Coll writes in his book Private Empire, ExxonMobil during this time was helping broker stronger ties between the Bush administration and Vladimir Putin, since "the Bush administration had decided that American foreign policy would embrace and promote the direct ownership of Russian oil by U.S. corporations." In 2011, the company entered a $500-billion joint venture to drill on the Arctic shelf and Black Sea, and another shale-development deal in Siberia. For his efforts, Tillerson received the Russian Order of Friendship Prize from Putin in 2013. But these projects were halted in 2014, when the United States and other countries imposed sanctions on Russia for its actions in Ukraine and Crimea. One of the sanctioned individuals is Igor Sechin, the head of Rosneft.
Tillerson is certain to field questions on whether he can remain objective where Russia is concerned, particularly on the issue of sanctions against the country in connection with its involvement in Ukraine or the hacking of the Democratic National Committee.
Tillerson has spoken frequently about long-term energy security, and his willingness to pursue deals in unstable countries. In one instance in 2011, ExxonMobil struck an exploration deal with the Kurdistan Regional Government in northern Iraq. Some of the blocks included in the deal edged into territory disputed by the Iraqi government. In striking the agreement, ExxonMobil, arguably, had bolstered the cause of Kurdish self-determination. As the International Crisis Group's Joost Hiltermann told me in December: "The Kurds are taking unilateral steps to incorporate these areas, and they're using companies such as Exxon, who are willing to be used, in order to further that goal."
Tillerson has made his financial disclosures and ethics agreement public, as Bloomberg noted, making him the only Trump cabinet pick to have done so thus far. He has worked out a complex arrangement with the State Department through which ExxonMobil will deposit his $180 million retirement payout into an independent trust to help avoid conflicts of interest. He has also pledged to divest from 156 entities in more than a dozen countries within 90 days of his confirmation. Unwinding his more than 2 million shares of ExxonMobil stock promises to be a far steeper challenge, due to the company's strict liquidation policies. In addition, Tillerson, pursuant to federal law, must recuse himself from making decisions impacting ExxonMobil for one to two years, which could be difficult considering the company's extensive global reach.
In interviews, Tillerson has touted ExxonMobil's reputation for conducting business on firm legal footing. "[I]t's up to me and the leadership and the corporation to insure that at all times though we are consistent with all of the laws, all of the rules, wherever we are operating anywhere in the world," he told Charlie Rose in 2013.
But on Monday, USA Today reported that an ExxonMobil subsidiary conducted business with Iran, Syria, and Sudan in the early 2000s at a time when each country was under sanctions as a state sponsor of terrorism. According to filings with the Securities Exchange Commission, ExxonMobil conducted $53.2 million in sales with Iran, $600,000 to Sudan, and just over $1 million to Syria.
ExxonMobil told USA Today that its deals were legal because they were done through a Europe-based joint venture and did not involve U.S. employees. Tillerson, for his part, said in the 2013 Charlie Rose interview that ExxonMobil had no deals in Iran. In an interview with CNBC in March, he stressed that the company "never had large investments in Iran" due to the challenging terms of investing in the country. "We'll wait and see if things open up for U.S. companies. We would certainly take a look because it's a huge resource-owning country."
After meeting with Tillerson on Monday, Connecticut Senator Chris Murphy, a Democrat on the Foreign Relations Committee, stressed in a statement the need for a secretary of state "who will be an advocate for growing diplomacy as a tool in our national security toolkit, and who doesn't shy away from confronting countries like Russia over increased aggression," and will protect human rights. "I remain unconvinced that Mr. Tillerson is a nominee that meets those standards, and I will continue to urge my colleagues to oppose his nomination," he added. Murphy's Democratic counterpart Chris Coons, meanwhile, said several days ago that he was "encouraged" by Tillerson's thoughts on sanctions, NATO, and defending U.S. allies in the Baltics, all issues that Trump has wavered on.
On the Republican side, Arizona Senator John McCain told Politico that he still has "some concerns" and "more questions" for Tillerson. South Carolina Senator Lindsey Graham said, "Mr. Tillerson's got to convince me, and I think other members of the body, that he sees Russia as a disruptive force, that he sees Putin as undermining democracy all over the world, not just in our backyard. … He has to realize that the Russians did it when it came to the hacking and that new sanctions are justified."
The biggest question, perhaps, is how Tillerson's background as a corporate executive, beholden to shareholders, will inform his sense of the broader national interest when he's beholden to citizens. In one revealing exchange in his Charlie Rose interview, Tillerson argued that whatever promotes global energy security is in America's national interests. "We do not represent the U.S. government as we travel around the world; we never pretend to do that. And we never ask the U.S. government to do anything on our behalf. We're perfectly willing and prefer to enter countries, construct our contracts and make our negotiations, ExxonMobil to the host country," he said.
These sorts of dealings make Robert Weissman, the president of Public Citizen, wary of the "broader, revolving door question." In Tillerson, he said, "you have a guy whose spent his entire career in Exxon, has no qualifications for this job [of secretary of state], except his work at Exxon. And that just raises huge questions, probably unanswerable ones, about how he will cease to represent the views of Exxon in this job, or the oil industry more generally, instead of advancing the interest of the American people."
If Graham and McCain's recent moves were any indication, they're prepared to hold Tillerson and the Trump administration accountable where Russia is concerned. Late on Tuesday, the senators announced a new, bipartisan sanctions bill seeking to further isolate Russia economically, in response to the hacking allegations. The sanctions would, notably, hit companies looking to invest in Russian energy.