Istanbul's Grand Bazaar and Britain's Electoral Meddling: The Week in Global-Affairs Writing
The highlights from seven days of reading about the world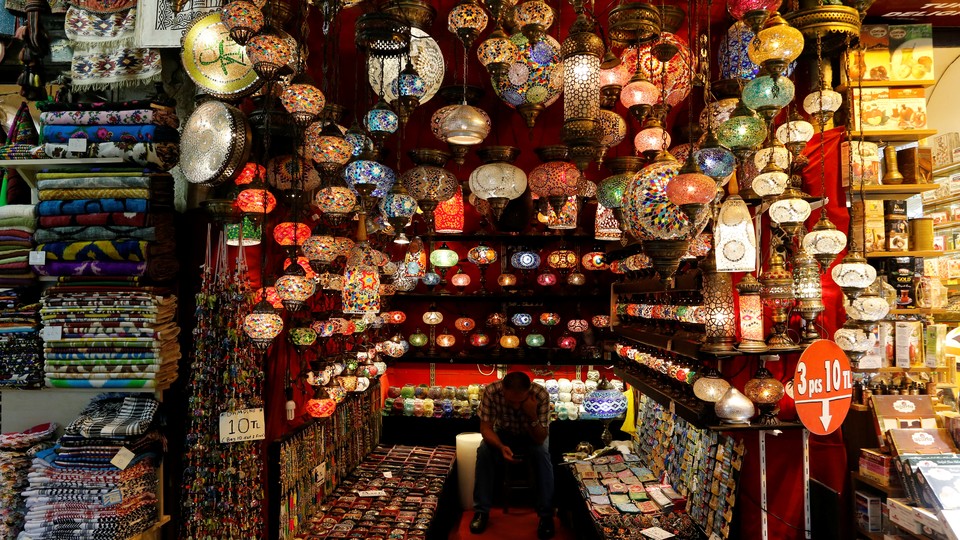 The Deportees Taking Our Calls
Jonathan Blitzer | The New Yorker
"Drawn by low operating costs, generous tax incentives, and proximity to the U.S., more than ten major call-center firms now operate in El Salvador, employing some twenty thousand people. Deportations from the U.S. have fuelled the industry by bringing an influx of English-speaking job-seekers. Anzora was one of twenty thousand Salvadorans deported in 2007. Since President Obama took office, in 2009, the U.S. has deported 2.7 million people, more than during any previous Administration. A hundred and fifty-two thousand of them are Salvadoran, and roughly twenty per cent have spent at least five years in the U.S. They generally speak fluent and idiomatic English—the most crucial requirement for call-center work. Their next most important quality is their desperation. Deportees are 'very loyal,' a recruiter for a call center told the news service McClatchy. 'They know they won't get another shot.' At one call center I visited, more than half the employees had been deported from the U.S. Recruiters show up at an isolated hangar of the San Salvador airport to intercept deportees as they get off small jets flown in by Immigration and Customs Enforcement."
* * *
How Britain Tried to Influence the U.S. Election in 1940
Christopher Woolf | PRI's The World
"In many ways, the British campaign in 1940 has become the model for that kind of classic influence campaign.
The Brits used wiretaps to get dirt; recruited journalists to plant favorable stories; invented fake stories; used dirty tricks to try to destroy opponents; and funded and coordinated pro-British activist groups.
The goal was to try to change U.S. public opinion and to manipulate America's political establishment toward helping Britain in its fight against the Nazis. In 1940, this was no sure thing. Incumbent Franklin D. Roosevelt wanted to help the UK but faced an uphill battle to overcome isolationist and 'America First' views."
* * *
Pilsner and Diplomatic Advice in Ho Chi Minh City
Simon Stanley | Roads & Kingdoms
"This is Hoa Vien Bräuhaus, a Czech-style restaurant, beer hall, and microbrewery, and the official state home of the Czech Republic in Ho Chi Minh City. Void of the usual lineup of armed guards and passport verification checkpoints, this is not your typical foreign consulate.
In this cramped jigsaw puzzle of a city, wedged among the phở joints and coffee shops, Hoa Vien's entrance sits like some kind of portal onto the cobbled streets of Prague. With 6,000 miles separating these two seemingly unconnected lands, it's possibly the last thing you'd expect to find in Vietnam; Czech beers and hearty European fare on offer alongside diplomatic assistance."
* * *
Germany's Last Atlanticist Confronts Trump
Matthew Karnitschnig | Politico EU
"The schadenfreude some may have felt after the American election has given way to cold fear. As the president-elect repeatedly dismisses European integration and the NATO alliance, many on the Continent have felt the common ground between the U.S. and Europe crumble beneath their feet.
Will Washington turn its back on Europe? And if it doesn't, how will people here cope with the new American administration's hostility to the very idea of a united Europe?
The answers will depend in no small measure on a mild-mannered, 61-year-old German civil servant few in Europe have ever heard of: Christoph Heusgen."
* * *
At Istanbul's Grand Bazaar, Empty Shops Echo Turkey's Deepening Strains
Scott Peterson | The Christian Science Monitor
"Inside the tight warrens of Istanbul's famous Grand Bazaar, an edge of desperation has crept into the voices of touts trying to sell their wares.
They are selling everything from gold jewelry, tourist trinkets, and spices to leather jackets and underwear, as traders have for centuries along these cramped, ancient flagstone alleyways.
But a number of shops are closed, with lights out or tarpaulins draped over their fronts. And owners say their hopes that 2017 would reverse a slowing economy and end attacks, which have damaged Turkey's tourist-friendly reputation, have hardly materialized."
* * *
How Russia Decided to Allow a Little Domestic Violence
Leonid Bershidsky | Bloomberg
"On Wednesday, the Russian parliament gave preliminary approval to a bill decriminalizing domestic violence. It's part of President Vladimir Putin's push for a return to traditional family values.
In the summer of 2016, Russia got its first law specifically directed at domestic violence. The parliament introduced the notion of 'close ones' to Article 116 of the criminal code, which deals with battery. That group includes the suspect's children, spouse, parents, siblings and other relatives. Beating them without any consequences to their health became punishable with a jail term of up to two years. Many in Russia saw this as a necessary measure: according to women's rights activists, 10,000 Russian women a year die as a result of domestic violence. Official statistics say 40 percent of all serious violent crime takes place in the home.
But the purveyors of a traditionalist, conservative ideology that has become fashionable during Putin's third presidential term immediately started working to undermine the law. To them, it was an example of impermissible interference in family affairs."