The USSR's Futurist Film and Sweden's Sweet Tooth: The Week in Global-Affairs Writing
The highlights from seven days of reading about the world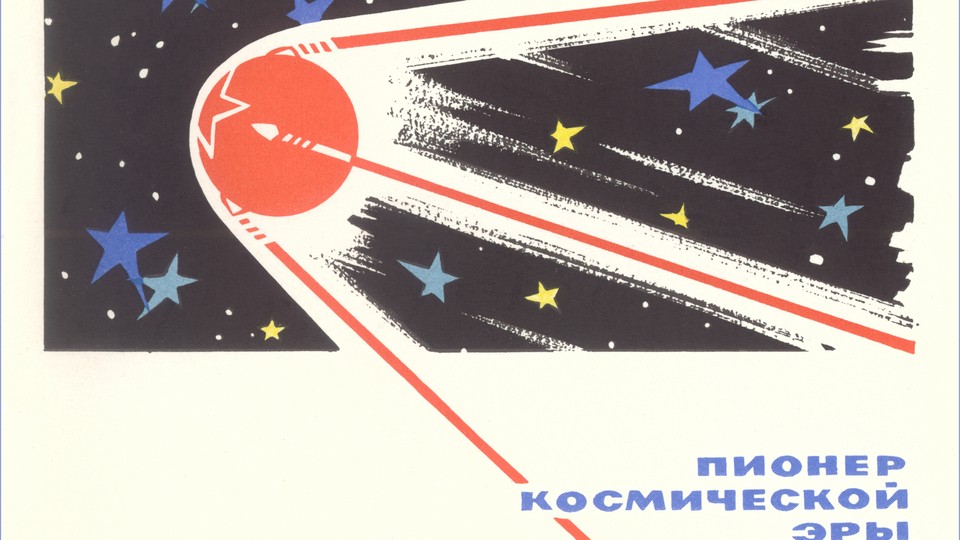 Nomads No More: Why Mongolian Herders Are Moving to the City
Patrick Kingsley | The Guardian
"Look down on Ulaanbaatar from the hills at its edge, and you will see a central hotchpotch of new skyscrapers and crumbling Soviet tower blocks surrounded by an unplanned periphery of white yurts, or, as they are known in Mongolia, gers. Thousands and thousands of gers.
These are the homes of around 600,000 former herders who—like Altansukh—have migrated to the Mongolian capital in the past three decades. The scale of the migration is extraordinary: Around 20% of the country's people have moved to Ulaanbaatar, doubling the city's population and significantly increasing its physical footprint."
* * *
How the Soviets in 1960 Imagined 2017: Interstellar Travel, Underground Cities, and Socialism Everywhere
David Filipov | The Washington Post
"The 45-pane filmstrip evokes a poignant note about the meaning of 2017 as Russia prepares to celebrate the 100th anniversary of the 1917 Bolshevik Revolution. President Vladimir Putin, who has overtly stated his aversion to revolution, has been trying to come up with a way to celebrate the one that defined modern Russia. It's a far cry from what Soviet leaders thought this year would be.
Back in the U.S.S.R., the 100th anniversary of the 1917 Bolshevik Revolution was going to be a great time, a moment to savor all the achievements of socialism. And if you go by the imaginations of V. Strukova and V. Shevchenko, the authors of 'In the Year 2017,' these achievements were awesome."
* * *
Cyberwar for Sale
Mattathias Schwartz | The New York Times Magazine
"The White House, C.I.A. and F.B.I. have all claimed that, based on classified evidence, they can trace the hacks of Podesta's email account (and other hacks of people close to the Clinton campaign) back to the Russian government. But with the rise of private firms like Hacking Team, penetrating the email accounts of political opponents does not require the kind of money and expertise available to major powers. A subscription-based website called Insider Surveillance lists more than a dozen companies selling so-called ethical malware, including Milan-based Hacking Team, the German firms FinFisher and Trovicor and the Israeli company Nice. Compared with conventional arms, surveillance software is subject to few trade controls; a recent attempt by the United States to regulate it under a 41-country pact called the Wassenaar Arrangement failed. 'The technology is morally neutral,' says Joel Brenner, a former inspector general of the National Security Agency. 'The same program that you use to monitor your babysitter might be used by Bashar Assad or Abdel Fattah el-Sisi to keep track of whomever they don't like.'"
* * *
For These Girls, Danger Is a Way of Life
Alexis Okeowo | National Geographic
"In a poor country run by a government that seems to have little will to protect girls, the wisest thing they can do is try to escape the station in which they were born. Amid all the threats, school can be their only refuge. Education is a challenge because of the fees, but it is also a source of hope. A high school degree can give them more economic freedom and a chance to forge their own lives, perhaps by enabling them to attend a university or get jobs that require more skills.
Yet one estimate says that only about one in three girls attended secondary school between 2008 and 2012, and pregnancy is among the biggest hurdles. Sierra Leone's ministry of education banned pregnant girls from attending school. The intent of the policy, which was formalized by the government in 2015, is to prevent them from influencing their peers and to protect them from ridicule."
* * *
An Adorable Swedish Tradition Has Its Roots in Human Experimentation
Hana Glasser | Atlas Obscura
"In Sweden, Saturday is for sweets. The Swedish custom of lördagsgodis, or Saturday candy, was spurred by the outcomes at Vipeholm, which definitively proved that sugar, particularly between meals, causes tooth decay. The idea behind lördagsgodis is moderation—to limit candy consumption to a weekly, rather than a daily, occurrence.
Once a week, Swedes are given a free pass to indulge in all the gummies, chocolates, and salty liquorice their Nordic hearts desire. (Non-Nordic hearts will most likely take a pass on the salty liquorice.) However, few Swedes standing in line at the supermarket to collect pick-and-mix candy on Saturday morning know that their weekly indulgence has its origins in the sustained mistreatment of 660 psychiatric patients."
* * *
The 21st Century Gold Rush
Malia Politzer and Emily Kassie | The Huffington Post's Highline
"The biggest refugee crisis in recorded history has engulfed continents, swung elections and fueled the rise of nativism. It has also made a lot of people very, very rich. These are the stories of the CEOs, criminal masterminds, pencil-pushers and low-flying vultures who have figured out how to profit from global instability, also known as human suffering."