'Trump Is Speaking About Us Without Seeing Us'
Conversations with refugees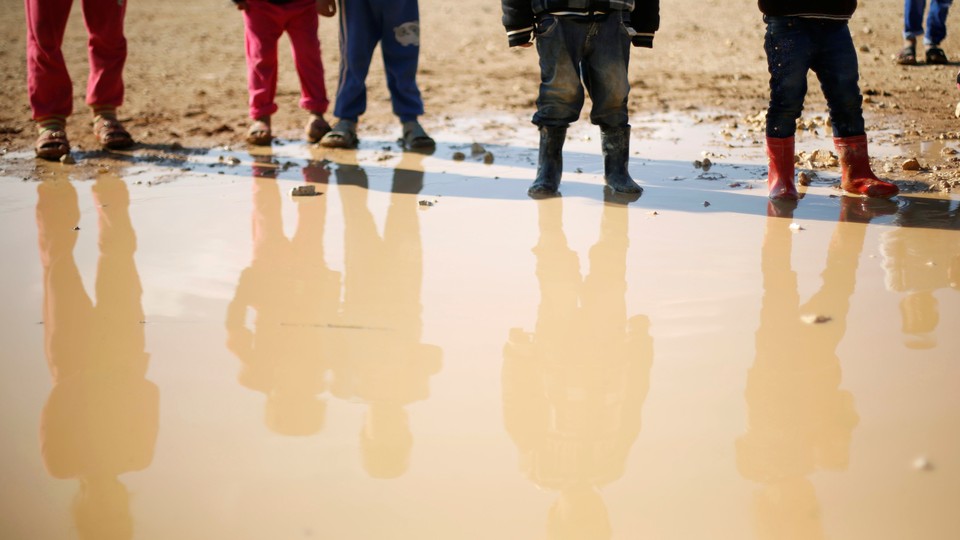 AMMAN, Jordan—The day that President Donald Trump signed an order banning refugees from America for 120 days, Amman was pierced with cold. It snowed for the first time this year, a mute flurry of fog and sleet dropping over the city as its resident Syrian, Iraqi, Sudanese, Somali, and Yemeni refugees flooded Facebook and WhatsApp networks with questions and fear. I got a message on Instagram from Mahmoud, a 20-year-old Syrian and a former student that I hadn't seen in years: "Hi Alice/I am mahmoud/How are you/I miss you." A few minutes later, after I asked if he was still in Jordan: "Yes/but my father is in America."
I went to Zarqa, an industrial city an hour from Amman, where Mahmoud and his mother Um Zuhair live in a Palestinian refugee camp—a place where Palestinians who have been there for 50 years sublet asylum space to Syrians who have been there for five. Mahmoud was only 16 when I last saw him, and he has grown tall and gangly, his smile still shy but quicker than before. I found him and Um Zuhair sending frantic messages to Mahmoud's father Abu Zuhair, who's been in Texas for one year and is scheduled to receive a green card in April. He was supposed to visit them next week, hoping to get an exception to Jordan's ban on Syrians entering the country because of his impending American residence. (Jordan used to be open to Syrians, but closed its borders in 2016, the government saying it couldn't handle any more.) Now he'll stay in Dallas, avoiding airports and police, for at least 120 days more. "The ban won't last after that, right?" Um Zuhair asked. "It's impossible for this to continue because American government doesn't have racism. My husband told me so," she said, pulling out her phone to show me their chats. The most recent one was a photo of Ann Donnelly, the federal judge who halted some of Trump's airport deportations. Above it, "Baba Amerika" had written in Arabic:
"They stopped many different nationalities, Syrians and Yemenis and so on… In Dallas airport a few hours ago… A federal judge came and allowed them to enter and refused Trump's order… That's how it is when the law speaks…!! Everyone is speechless…!!"
I was glad Abu Zuhair was OK, though his wife told me she missed him, she was tired and she didn't know when they would ever leave Jordan, where life is not life because it's frozen. Her sons are not educated. The family fled East Ghouta when fighting began there in 2012, a year before a major chemical attack happened there in 2013. They'd intended to go straight to America, applying for family visit visas through Um Zuhair's daughter, who married an American before the Syrian conflict began. But the embassy rejected their applications for three years straight, until Abu Zuhair finally got one by applying alone. In the meantime, Mahmoud worked illegally at a plastic factory and managed to become literate in Arabic and English through evening classes from an NGO. (That's where we met four years ago, when I was volunteering with the NGO. Mahmoud and his mother were in my English literacy class.) He was bursting to tell me that he had gotten good enough to study many Islamic texts on his own, showing me a stack of Quranic interpretation paperbacks.
"I'm sure that America's Senate will stop the president, right?" Mahmoud asked me earnestly. "Because you know, Trump is fighting the wrong Islam." There are a lot of incorrect teachings out there, Mahmoud went on, like the idea that you should hate and kill people who don't have the same theology as you. "Some people think others who dress or speak differently are enemies of God, and they should fight them. But they're mistaken." That was why he and his family fled Syria and why he was so adamant about studying his own religion now, Mahmoud added: because he didn't want to join groups that kill. "That's jahil. Ignorance," he said. Even in Zarqa, a conservative and low-income area, there were a lot of Jordanians around who have ideas like this, Mahmoud told me, which was why he walked me through the camp so quickly. Zarqa, by the way, is the hometown of the late Abu Musab al-Zarqawi, the former leader of al-Qaeda in Iraq, which later became ISIS.
"But Syrian refugees are running from terrorism," Mahmoud said. "Why would Americans think we are the people we're fleeing?" Maybe it's the same thing, I told him. Jahil. They don't know.
I spent two days visiting refugee friends, choking every time I read them the title of Trump's order: "Protecting the nation from foreign terrorist entry into the United States." One Iraqi, 37-year-old Basel al-Sudani, seemed to stare past me. He had just spent an hour telling me about being tortured in prison for more than two years because he worked with U.S. forces in Baghdad. He cited the death threats in which he was called a traitor who should be killed, and described how militias came to his house, beat his wife, and detained him a week after his second daughter's birth. He showed me the scars on his back from being electrocuted and beaten. Basel should be eligible for a fast-tracked visa to the United States because he worked with U.S. forces, but instead he's been a refugee in Jordan for two years, life on hold with no work permit, no school for his children, no way to return to Iraq and nowhere else to go. He showed me a text message from AMBAFRANCE, one sentence from the French Embassy rejecting his asylum application without explanation.
I remembered Mohammed, a Yemeni friend I met in the morning, who told me he prefers American resettlement procedures with all their requirements because there's always a face-to-face interview. "It's funny that I'm a victim of procedures, because I actually love procedures," he told me. "I guess I thought if I had a chance to actually talk with someone, they'd know I'm not a terrorist. At least there's that one small human chance." Now Trump has issued a new American procedure, a piece of paper that, for at least 120 days, erases Mohammed's 10-minute shot at humanity, and reduces Basel and his wife and daughters' lives to even less than the consideration of a text message. But when I asked Basel if he regrets having worked with Americans, he answered: "I lost every hope in prison. But I know I did nothing wrong. Americans are human beings too. Aren't we from the same planet? They are human, I am human and there's nothing wrong with us working together. Only extremists don't know this." He has many friends in America, other Iraqis who've been resettled, and they've told him about working there as security guards, taxi drivers and Walmart employees. "I'd love to do this," Basel tells me. "I just want to forget everything that happened to me. I want to work and let my daughters live."
When I was drained from collecting too many sad stories, I found refuge in a Sudanese home. Abu and Um Mohand are from South Kordofan, Sudan. They've been refugees since 2013, when their family fled government-rebel clashes in their region. Last time I saw them was March 2016, when they told me they were getting resettled to America, so I was surprised they were still here. "We didn't tell you? Mohand's file got rejected. Because of the taharosh," Um Mohand said, lowering her voice as she leaned over the gas heater. I was confused. "Taharosh, harassment? Like of girls?"
"Eghtesab. Rape," Um Mohand said. "Boys and girls." I've known this family for four years, but this was the first time they had told me that Mohand was raped by rebel militias at age 17. That's one reason they fled, in addition to Abu Mohand having been imprisoned and tortured twice, first by the rebels for refusing to join and then by the government, which thought he was a rebel. Abu and Um Mohand had told UNHCR about the rape when they came to Jordan, but Mohand didn't want to mention it to his resettlement interviewer, a woman. So they rejected him for dishonesty, though the rest of the family was still waiting—until now. When I read the title of the order to Um Mohand, she burst out laughing. "Erhab? Terrorists? Us?" I laughed too, because it all seemed such a farce, and because I had just found out Abu Mohand had diabetes and acute hemorrhoids, that he needed a surgery worth more than $1,000 which no NGOs would fund for a Sudanese refugee, and I know he loves to laugh. I was still shaken by the knowledge about Mohand when I started explaining the order, and what the thinking behind it might be: "Some Americans think we are weak, so we can't help others." Americans haven't been tortured, exiled, or bombed like my friends have, but I went on. "We're weak, and the world is dangerous, so we have to focus on ourselves. We can't afford to help people. We have to make ourselves great. America first." So the man in the White House says, I told Abu and Um Mohand.
They laughed. "He's wrong, binti, my daughter," Abu Mohand says. "Like me, I am weak now. I need to be safe. But if I have hope, I can help. I can help the people, step by step. You for example, you help me, I help Um Mohand, she helps someone else. The world is like this!" I was confused, because it seemed the opposite: borders, bombs, torture, and rape, the safe people hiding away while my friends live in camps forever or lose their children in the seas. But Abu Mohand was firm. "We come from war and we don't forget this. If I see another country or people in war, I remember: I went through the same. So I have power to help. Because I'm coming from this fire, you know?" I didn't know what power he was talking about, and I said so, because it seems the president of the United States has taken much of his power away. Where does power come from? Um Mohand laughed again. "You are a human being. It comes from inside. We know, from war, it made us strong."
In the evening, I went to a shawarma restaurant with a 19-year-old Syrian named Maher, another of my former students. He wanted to take selfies in the snow, and introduce me to one of the Syrians working at the restaurant, a former soccer star from Homs who's now a refugee shawarma cashier to support his wife and two sons. We went upstairs in the restaurant and the 32-year-old told me he got a resettlement offer to America on January 20, the same day Donald Trump was inaugurated. He had been in a Facebook frenzy all week, tracking the news and asking friends in America if the new president would affect their resettlement. Most said no, which is why he was still in shock that he and his family can't go. "Trump is speaking about us without seeing us," my new friend said, forehead scrunched, tensed across the table. "We all know America is the country of freedom and democracy. How could it become like this?"
When the cashier had to go back downstairs, I sat with Maher, who started telling me about his last few years. "I really grew and got a lot of skills from being in Jordan," Maher said. He was only 14 when his family fled from Homs, and he started doing manual labor at a car service center with his brother to feed and house their family. A year later, Maher bluffed his way into a photography and design position at a company, saying he was a professional photographer despite never having touched a digital camera before. After some time, he moved from the company to an NGO providing relief for Syrians across the border in Daraa. He's only 19, but coordinates trainings in advocacy and media for their relief staff in Syria. "The NGO pays less than the company, so my family didn't want me to do it at first," Maher said. "We are still in need, they said. But I've only been thinking of Syrian people the whole time since coming here, and I'm really happy with the work we're doing, how it's helping people." There's a Syrian saying that he loves, Maher told me, and he writes it in Arabic: "Giving is the secret to happiness."
I told Maher that he knows more than the president of the United States of America. He grinned, and we walked out into the snow.