Why Did This Happen in Canada?
The context of the Quebec shooting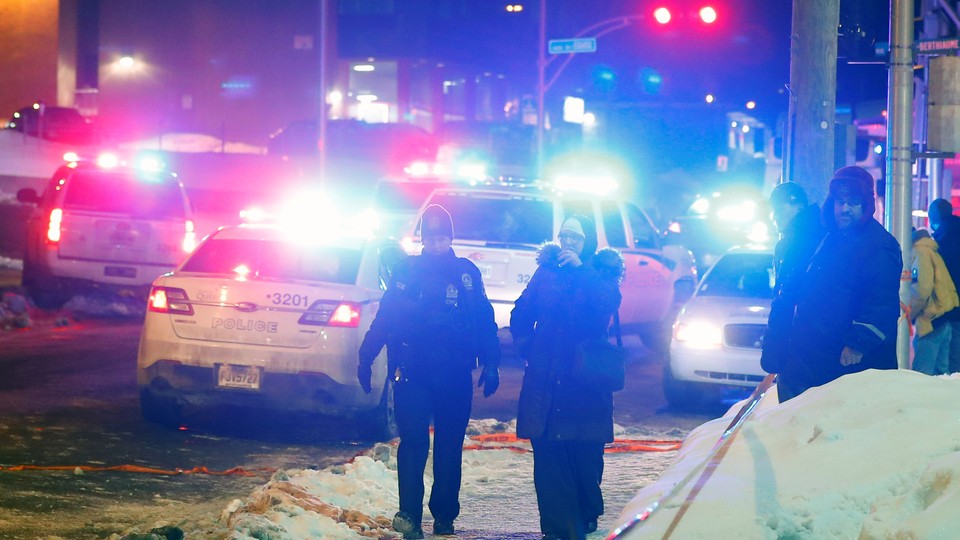 At around 7:50 pm on Sunday evening, police received several emergency calls from the Centre Culturel Islamique de Quebec, a mosque and cultural center in Quebec City. They arrived to a scene of carnage: Six Muslim men, including a halal butcher, a university professor, and a government worker, had been shot and killed by a gunman. Nineteen others were injured. Of the five who were sent to the hospital, four remain, two in critical condition. The attack, one of the worst acts of violence against Muslims in Canadian history, shocked a nation that prides itself on being a paragon of multicultural inclusion. "We are a country of diversity," the Syrian Assembly of Manitoba's Tarek Habash told the CBC. "For something like that to happen here, it's very sad."
After police identified their prime suspect, a 27-year-old student at Laval University named Alexandre Bissonnette, a member of an online group that welcomes Syrian refugees to Quebec claimed to recognize him as a member of the far right. "[H]e made statements on our Facebook page. He acted like a troll. He attacked the rights of women." Among Bissonnette's "likes" on Facebook are Donald Trump and France's far-right political leader Marine Le Pen.
In the aftermath of the attack, sympathy for the victims poured in from across the world. Russian President Vladimir Putin offered condolences, as did Donald Trump. Officials in Paris turned off the Eiffel Tower's lights. Canadian Prime Minister Justin Trudeau sought to reassure Muslims that Sunday's "despicable act of terror" was an attack on the country's cosmopolitanism. "We are with you," Trudeau said. "Know that we value you, you enrich our shared country in immeasurable ways."
But the mass shooting is a terrible reminder of another truth: a growing distrust toward Islam among Canadians, and a rise in far-right politicians eager to follow Donald Trump's lead. Canada's reputation as a safe, welcoming haven for refugees is no longer assured.
The anti-immigrant backlash that Trump and Le Pen represent in the United States and Europe has also been festering in Canada for years. In 2013, a survey conducted by the polling firm Angus Reid, suggested that 69 percent of people in the province of Quebec distrusted Islam. In the rest of Canada, it was 54 percent, up eight percentage points from 2009. "It's disturbing to see this growing level of mistrust," the firm's Andrew Grenville said at the time.
Some see the Quebec City attacks as a disturbing sign of things to come. "There is already a growing and documented climate of Islamophobia in Canada," said National Council of Canadian Muslims executive director Ihsaan Gardee. "There are legitimate fears that Trump's so-called Muslim ban and accompanying rhetoric will lead to more hate, and further acts of violence."
In Canada, Islam broke into the political debate in a major way in 2015, when the Conservative administration of former prime minister Stephen Harper passed an intrusive surveillance law aimed at combating "jihadi terrorism." In the weeks before that year's federal election, he proposed creating a police hotline where people could report "barbaric cultural practices." Though the proposal didn't specifically mention Islam, University of Ottawa law professor Natasha Bakht and other critics argued that it was intended for "targeting Muslim communities."
The introduction of these policies seemed to coincide with a wave of hate crimes against Muslims. The policies also appeared to boost Conservative popularity. "Harper's attempts to win over voters by demonizing Muslims are working," read an Al Jazeera op-ed. Trudeau's Liberal Party, by contrast, based its campaign on a different vision of Canada, one that made an appeal for unity. Liberals promised to quickly accept 25,000 Syrian refugees, arguing that "Canadians can and must do more to help Syrian refugees who are desperately seeking safety."
Harper ultimately lost to Trudeau, and resigned as leader of the Conservative Party shortly after. "My friends, we beat fear with hope," Trudeau said during his October 20, 2015, victory speech. "We beat negative, divisive politics with a positive vision that brings Canadians together." Two months later, Trudeau personally welcomed Syrian refugees at Toronto's airport. "You're safe at home now," he said, giving them warm coats for the cold Canadian winter.
Meanwhile, a political backlash against refugees was exploding across Europe. Trump was inspiring global outrage for his vow during the GOP primaries to ban all Muslims from entering the United States; Canada looked like a bastion of racial tolerance and diversity in comparison, thanks in no small part to its embrace of Syrian refugees.
But the anti-Islam sentiment that pollsters and right-wing politicians identified in the years leading up to Canada's election didn't dissipate. In fact, it only seemed to grow.
By the summer of 2016, after thousands of Syrians had arrived in Canada, polling from the firm MARU/VCR&C found that only one-third of Ontarians held a positive view of Islam. "While Canada rides a wave of global praise for welcoming Syrian refugees, a new poll suggests we're also facing a wave of something sinister—Islamophobia," the Toronto Star reported. Further polling that fall from Angus Reid seemed to "show a hardening of public attitudes toward newcomers, something possibly driven by … Donald Trump."
Into that fray stepped Kellie Leitch, the frontrunner for leader of Canada's Conservative Party. Leitch, a formerly little-known member of parliament, burst into prominence last year for proposing a plan to screen refugees for "anti-Canadian values." She seemed to sense political opportunity in the rising distrust of refugees, surveying potential supporters to see if they'd support a tougher government stance on refugees. As establishment Conservatives fought for the party's leadership, Leitch proposed that all new immigrants be screened for "anti-Canadian values"; she denied that the plan was anti-Muslim. "Canadians value freedom of religion. Full stop. That includes all religions," she told Maclean's magazine. Yet a former advisor to Harper argued that "many will read it as a security measure to make sure no radical Muslims get in."
After the announcement, Leitch climbed in the polls, and she celebrated Trump's presidential election win in November as an "exciting message that needs to be delivered in Canada." Like Trump, Leitch was soon winning the endorsement of racist hate groups. The Council of European Canadians, an alt-right nationalist group, celebrated her values-test for immigrants as a way to "effectively eliminate believers in Islam who, according to the Koran, do not believe in Canadian civic, legal, or moral values." Leitch rejected the endorsement. But when earlier asked what she thought of support from racist groups, Leitch would only say she was "delighted that we have literally hundreds of people coming on board to support my candidacy."
Yet the Quebec City shooting is an extreme reminder that Canada's official narrative of multiculturalism is not shared by all Canadians. The self-image that politicians like Trudeau project to the world—a tolerant and welcoming society for people of all cultures and backgrounds—masks a different reality.