The Netanyahu Investigations
How the Israeli prime minister's scandal could spoil what should be his perfect political moment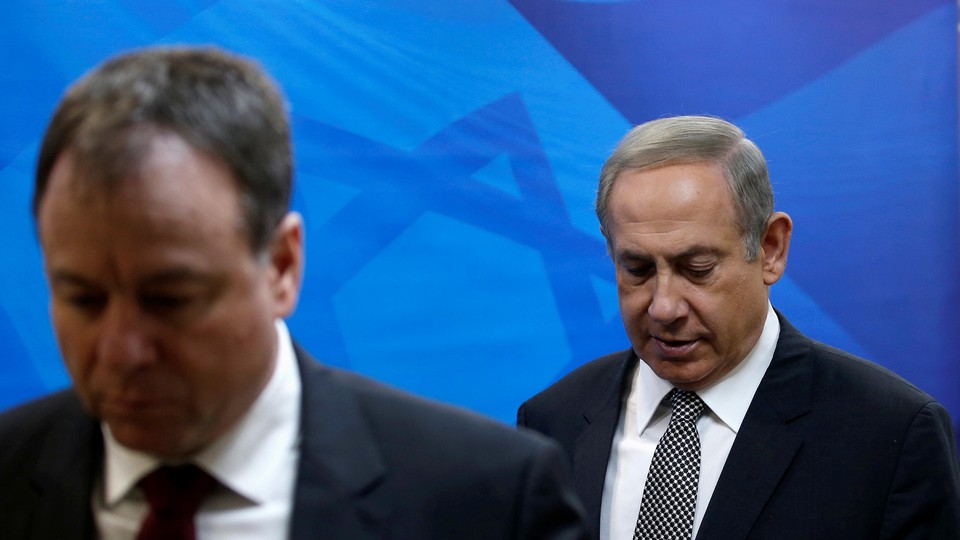 TEL AVIV, ISRAEL—These should be heady days for Benjamin Netanyahu. Over the past year, the prime minister of Israel's savvy political maneuvers both expanded his coalition and undermined his opposition. The Knesset recently passed an unusual two-year budget, which buys him a long period of political calm. And for the first time in his 11 years as prime minister, he now has a Republican counterpart in Washington who seems to support his government without reservation. Instead, he finds himself at perhaps his most politically vulnerable.
This month, investigators from the national police anti-fraud unit questioned Netanyahu twice at his Jerusalem residence over his alleged acceptance of tens of thousands of dollars in gifts—cigars, suits, and the like—from wealthy businessmen. One of those accused was Hollywood mogul Arnon Milchan (producer of Pretty Woman and other hit films), who was alleged to have sought the prime minister's help in securing a long-term U.S. visa. Netanyahu, according to his lawyer Ya'akov Weinroth, insisted that these were simply gifts between friends, and denied any charge of a quid pro quo. Investigators have said they will soon pay him a third visit. But fallout from the corruption investigation could ultimately see Netanyahu ousted, and perhaps even prosecuted. A few commentators have likened Netanyahu to a Moses figure dying on Trump's doorstep after eight years spent wandering in the Obama desert.
Netanyahu is Israel's second-longest serving prime minister, and he has already announced plans to run for a fifth term in 2019. He has spent years elevating loyalists to key positions and consolidating control of the government: at one point last year, he held four separate cabinet posts. And yet these very efforts—and in particular his fixation on the Israeli media—may also have sown the seeds for his own downfall.
In an earlier era of Israeli politics, Netanyahu's current problems might have been career-enders. The late Yitzhak Rabin resigned in 1977 amid reports that he and his wife held a foreign bank account (at the time, a misdemeanor) which contained $10,000 of their own money. But corruption and scandal have since become more pervasive, and, consequently, less shocking. Israel's three previous prime ministers were all investigated for graft; one, Ehud Olmert, is serving an 18-month prison term. The interior minister, Aryeh Deri, is a convicted felon, jailed for taking bribes during a previous stint at the same ministry. "We used to be a very homogeneous society where nobody had a lot of money," Ifat Zamir, the head of the Israeli branch of Transparency International, told me. "But the world changed in the 1990s. Some people made a lot of money, and suddenly the cigars become okay."
The Netanyahus have long occupied pride of place in this crowded field of wealth-seekers. In 1994, a Jerusalem paper wrote about the family's penchant for dining and dashing. Their appetites grew after Netanyahu became prime minister for a second time in 2009: a $2,500 contract for gourmet ice cream at their official residence, and a $127,000 bed installed on a government plane so they could nap on the five-hour flight to London. Netanyahu's wife, Sara, has been investigated for stealing patio furniture, and his son, Yair, for accepting free Mariah Carey tickets. None of this seemed to put a dent in the Netanyahu family's political fortunes. But it all made for good headlines.
When Netanyahu lost his first reelection bid in 1999, he blamed it partly on the media—in particular, Yediot Aharonot, then the country's largest newspaper. He fell out with its publisher, Arnon Mozes, in part over an unflattering story about his wife, Netanyahu himself said after the story ran. The relationship remains frosty to this day: Sara once compared Mozes to Lord Voldemort, the villain of the Harry Potter novels, while the prime minister routinely insists that Mozes is the mastermind of a global conspiracy to unseat him.
Netanyahu got a measure of relief in 2007 from Israel Hayom, a free tabloid founded by Sheldon Adelson, the American casino magnate and GOP mega-donor. Today, it is Israel's most widely read publication, and is committed, seemingly, to one ideology: defending Netanyahu. Many Israelis call it the "Bibiton," a portmanteau of Netanyahu's nickname and the Hebrew word for newspaper. Defense Minister Avigdor Lieberman, who was born in the former Soviet Union, has compared it favorably to Pravda.
Yet Netanyahu's obsession with the media has only deepened since then. In recent months he has tried to eliminate Israel's new public broadcaster, over fears that it will become a critical voice against the right, and delayed its planned launch in December at a cost to taxpayers of 140 million shekels. His office has also pressured the popular news site Walla to run more favorable coverage over the past two years, according to current and former journalists with knowledge of the matter. Digital media resides beyond the state's control; Israel does not regulate websites. Walla, however, is owned by Bezeq, Israel's largest phone company, which is currently seeking government approval for major corporate reforms. (Netanyahu refuses to appoint a communications minister, reserving the post for himself.)
But compared to Yediot Aharonot, these are but small irritants. And so, according to Israeli law-enforcement authorities, in late 2014, the prime minister tried to bury the hatchet with Mozes: The two men held a series of secret meetings, which were taped by the prime minister's office. The police say they later found the recordings on the mobile phone of Ari Harrow, Netanyahu's former chief of staff (under investigation for a separate issue). According to Israeli media, the tapes allegedly revealed that Netanyahu asked for more favorable coverage in Yediot, and that Netanyahu complained about several writers, particularly Amnon Abramovich, a liberal columnist. Netanyahu allegedly offered to curtail the circulation of Israel Hayom, particularly its weekend edition, if Mozes would hire a right-wing columnist. They discussed putting a cap on the number of issues printed, and the number of pages devoted to advertising, according to excerpts broadcast on Channel 2.
Netanyahu's alleged offer would have been a major benefit to Mozes. Adelson has reportedly spent $190 million to subsidize his loss-making newspaper; freed from market forces, it undercuts the competition on price. A 2014 study by The Seventh Eye, a media watchdog, found that advertisements in Israel Hayom sold for one-third the price of those in Yediot Aharonot. "It's a behemoth," said Oren Persico, a Seventh Eye reporter. "It digs into all the other newspapers' ad revenue. Yediot Aharonot used to be a near-monopoly. It made a hefty profit. But now, if you're an advertiser, why wouldn't you pay 70 percent less?"
The alleged deal between Netanyahu and Mozes never went through, however. The state will need to decide whether their reported discussion meets the definition of bribery. But it also raises a separate issue. Weeks before the 2015 election, a lawyer named Shahar Ben Meir tried to have Israel Hayom banned, calling it illegal campaign propaganda. The electoral commission dismissed his petition after Netanyahu swore in an affidavit that he had no control over the newspaper. But his reported comments to Mozes suggested otherwise. "The Israel Hayom newsroom was, and is, run by Benjamin Netanyahu," said Isaac Herzog, the Israeli opposition leader. "That's what we said during the election." Critics argue that it represents a massive in-kind contribution to the prime minister worth tens of millions of dollars—a gross violation of Israeli law. Yoel Hasson, a colleague of Herzog's, has asked the state comptroller to reopen the issue. "You don't need a law degree to reach the conclusion that the affidavit is, in fact, false," he said.
This all feels very much like 2008, when a similar swirl of controversy forced Ehud Olmert to resign, after being accused of accepting cash-filled envelopes from Morris Talansky, an American businessman, and spending the money on expensive cigars, watches, and other luxuries. Prosecuting the case took several years, but the accusation (coupled with several others) was enough to end Olmert's career. "This government has reached the end. … National responsibility requires we return to the people for new elections," said the opposition leader at the time, a certain Benjamin Netanyahu.
But there's a key difference here. Netanyahu, unlike Olmert at the time of his resignation, still enjoys the support of his coalition, casting doubt on the predictions of the doomsayers. "I think we're jumping the gun," Lieberman told his party last week, predicting that the case would not lead to an indictment. On Monday, when Netanyahu arrived for a meeting of his Likud party, supporters chanted Bibi, melech Yisrael—"Bibi, king of Israel."
Much of the Israeli public agrees. A poll conducted last summer by the non-partisan Israel Democracy Institute found that 50 percent of Jewish Israelis don't trust the authorities to properly investigate the first family—in part, because the authorities were hand-picked by Netanyahu himself. The state comptroller allegedly softened a 2015 report on excessive spending in the official residence, removing several paragraphs to make it less critical of the Netanyahus. The police chief allegedly watered down an official statement last year about an investigation of Sara Netanyahu. Both officials are Netanyahu appointees.
The biggest question mark hangs over Avichai Mandelblit, the former army lawyer who now serves as Israel's attorney general. He will decide whether to prosecute Netanyahu, the man who hired him as cabinet secretary in 2013, then appointed him to his current position last winter. In a statement this month, Mandelblit offered a long list of the cases against Netanyahu that had not resulted in criminal charges. He sat on the Netanyahu-Mozes recording for months before he approved an investigation, according to the police, and has yet to act on a nine-month-old police recommendation to indict Sara Netanyahu. Last week, he refused to let investigators question the Netanyahus simultaneously—a common practice, to prevent them from coordinating their stories.
Netanyahu, for his part, seems almost nonchalant about the whole affair. For weeks, he has repeated a mantra: "There will be nothing, because there is nothing." The meeting with Mozes, revealed on January 8, was quickly overshadowed by a deadly truck-ramming attack that killed four Israeli soldiers in Jerusalem. Two days later, Netanyahu was at an army base in the West Bank talking about security issues, his chief selling point to voters. If the investigation does not lead to criminal charges, it's unlikely that Israel's dysfunctional center-left can muster the political pressure to force him out of power.
And yet the case refuses to die. Mozes has been interrogated three times, and Adelson may soon be called to testify. The prime minister cancelled his trip to the World Economic Forum at Davos, preferring to keep his finger on the pulse at home. New details and transcripts leak out each night. His Likud confidants offer increasingly half-hearted defenses: David Amsalem, a freshman backbencher, accused the police of bias because they don't investigate "ordinary people" who accept gifts from tycoons; Tzachi Hanegbi, a 30-year veteran of the Knesset, noted that only one of the last five prime ministers to face an investigation was ultimately jailed.
In a way, Netanyahu has spent years preparing for this moment: appointing loyalists in the justice system, ensuring loyalty from his party and sympathetic coverage in the press, and painting all these investigations as partisan witch hunts. "He's a deeply paranoid person," one prominent Israeli political operative said. "He's gambling on this narrative of 'Bibi against the world.'" The next few weeks will reveal whether those preparations were enough.