Fleeing Cuba Alone as a Child
Editor's Note:
This article previously appeared in a different format as part of The Atlantic's Notes section, retired in 2021.
For a recent Atlantic photo essay of naturalization ceremonies, "Choosing to Become an American," we attached a callout for reader stories. The first one comes from Mayda, who was part of the largest exodus of unaccompanied minors in the Western Hemisphere:
I was born in La Habana, Cuba, and came to the United States in 1961 under the Peter Pan Program, which allowed Cuban children to leave the island without their parents or any other adult.

Being a very young girl at the time, I had no idea why or for how long I was leaving Cuba. As anyone can imagine, it was a very traumatic time in my life. For any child to find themselves without their parents arriving at an unknown place, not knowing anyone, not speaking the language—it's unreal. I passed many nights remembering my family, remembering Cuba, my friends, my school … being very sad and wanting to go back.

But time has a way of healing, even when we don't want to heal. I finished my high school while living in a camp for unaccompanied Cuban refugee children on Homestead Air Force Base in Florida City. I went on to study at Xavier University in Cincinnati.

In 1973, I decided it was time to become an American citizen and to honor this country which had given me a home. I consider myself very lucky I was born on a beautiful island to a loving family, and I came to live in and love another wonderful country. I'm very proud to call myself a Cuban-American.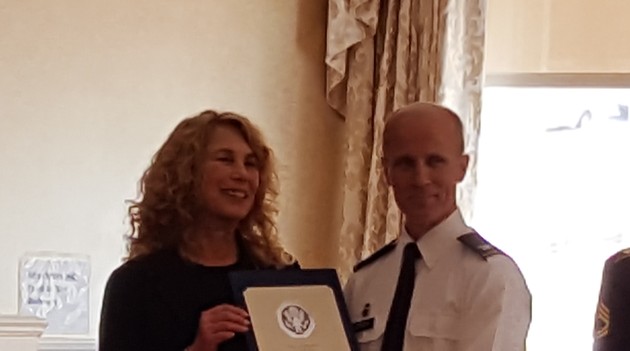 Like Mayda, the first woman profiled in the following video was among the 14,000 children to flee communist Cuba through the Peter Pan Program:
"The exodus of the Cuban children was virtually unknown for over 30 years," according to PedroPan.org. "The name [Operation Pedro Pan] had only appeared in print in March of '62 and in a Reader's Digest article in 1988." More background:
Approximately half of the minors were reunited with relatives or friends at the airport. More than half were cared for by the Catholic Welfare Bureau, directed by a young 30 year old Irish priest, Bryan O. Walsh. The children from the Cuban Refugee Children's Program were placed in temporary shelters in Miami and relocated in 30 States.

Many children of the Unaccompanied Cuban Children's program are unaware that they were part of history in the making. Today, we are trying to locate all the children that came alone and were part of this historical exodus. Please help us locate the grown children of Pedro Pan!
If you happen to be one of those grown children and would like to share your story alongside Mayda's, please send us a note. (One child grew up to became a U.S. senator, another the mayor of Denver, and another the U.S. ambassador to Spain.) To get a sense of what things were like in the refugee camp in Miami, check out the following film produced in 1969 by the U.S. Information Agency, The Lost Apple, which documented stories of the young Cubans and served as anti-Communist propaganda for the U.S. during the Cold War:
Part Two is here.