A Communist Party Man at Davos
Xi Jinping tries to charm the capitalist elite.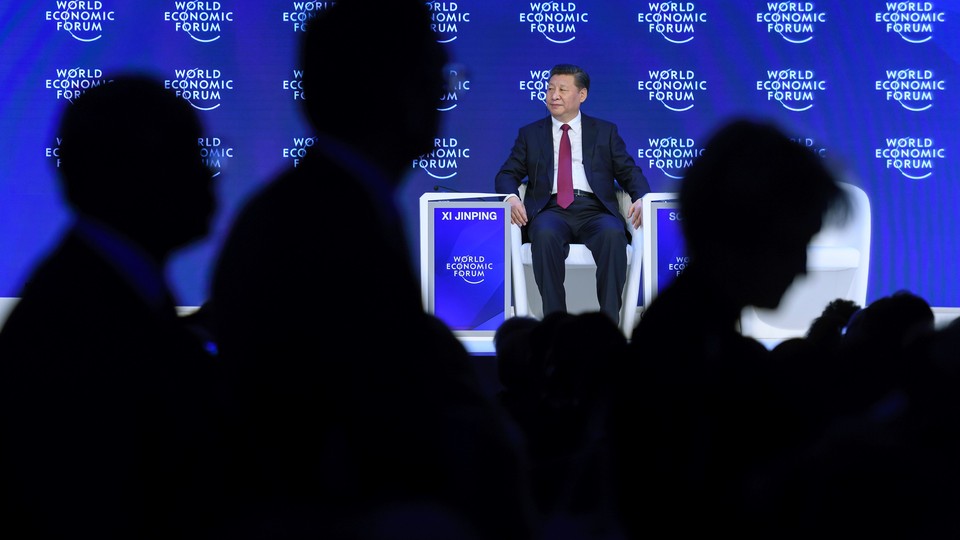 For a global elite still reeling from the shocks of Donald Trump and Brexit, the World Economic Forum (WEF) at Davos this month offers a safe harbor. Surprisingly, some also see China as a safe harbor as well. "In a world marked by great uncertainty and volatility, the international community is looking to China," said Klaus Schwab, the founder of the WEF, in his introduction of China's Communist Party Chairman Xi Jinping.
Xi, who was making his first appearance at the annual gathering, seemed more than delighted at the opportunity to assume the burden. To illustrate the contrast between the modern world's unprecedented civilizational advances on the one hand, and the terrorism and regional conflict that continue to bedevil its progress on the other, he drew on the WEF's characteristic patois of enlightened references and generalities: "'It was the best of times, it was the worst of times.' These are the words used by the English writer Charles Dickens to describe the world after the Industrial Revolution. Today, we also live in a world of contradictions," he said. Among the other contradictions he hinted at: The United States, long the flag-bearer for globalization, will soon be led by a man who has said he wants to strengthen borders and institute impediments to trade. China, however, which remains technically a communist one-party state, credits globalization with spurring decades of heady growth, "will keep its doors wide open," Xi said.
Yet Xi didn't even allude to what, for China, is the biggest contradiction of all: He is in the process of painting himself, and the rest of his party, as the force for globalization internationally, while distracting attention their increasingly oppressive turn at home.
Since Xi's predecessor Hu Jintao became enamored of the concept of soft power as a way of countering Western perceptions of China as repressive, aggressive, and backward, Beijing has been casting around for a way to present itself to the world. Hu loved describing China's "peaceful rise," but the concept never quite stuck. In a March 2014 speech in Paris, Xi's comment that "the lion that is China has awoken, but it is a peaceful, amiable, and civilized lion" drew ridicule (What does a peaceful lion look like, anyway?). Three years later this week at Davos, Xi said that China must "have the courage to swim in the vast ocean of the global market," and urged the world to deliver the benefits of globalization "to all countries and all nations," as he said in his speech. By shifting the debate over the last few months towards China as a champion of globalization, he might have finally found international messaging that really works.
But it is hard to know what is a more astonishing list: the liberal statements and actions Beijing has made in recent months to demonstrate China is a "responsible stakeholder" of the global order, or its instances of domestic authoritarianism and repression in that same short period. The month of November alone provides plenty of examples of each. That month, China's Vice Foreign Minister Liu Zhenmin remarked that climate change is not a hoax—a rebuke to Donald Trump's 2012 tweet calling global warming a lie invented by Chinese companies. (Xi urged all signatories of the Paris Agreement "to stick to it" in his Davos speech.) Also in November, Beijing passed a cybersecurity law that enhances censorship and further centralizes party control over the internet. Then, delegates at the important Asia-Pacific Economic Cooperation summit reportedly said that if the United States turned toward protectionism, China would take the lead on trade. And meanwhile, China is pursuing its "toughest crackdown on critical voices in two decades," in the words of the executive director of Human Rights Watch Kenneth Roth, with the late-November detention of prominent human-rights lawyer Jiang Tianyong as the latest big example.
This month shows the same pattern. In early January, to demonstrate Beijing's support for the economic integration of Eurasia, the first China-to-Britain freight train departed from the eastern city of Yiwu. Early January also saw the promulgation of a law requiring foreign nonprofits to enlist state agencies as official sponsors, and to register with the police, worrying many in the international aid community.
Economic globalization is not the problem, but the solution to many world problems, Xi said on Tuesday. Three days earlier, Zhou Qiang, the president of China's Supreme People's Court, insisted that the party would remain above the law, chilling Chinese liberals. "Bare your swords towards false western ideals like judicial independence," he told a group of Chinese court officials. Zhou's speech represents "the most enormous ideological setback for decades of halting, uneven progress towards the creation of a professional, impartial judiciary," Jerome Cohen, the doyen of Chinese legal studies in America, wrote on his blog. Top Chinese legal scholar He Weifang wrote that this "totally turns back the wheel of history," The Financial Times reported.
The election of Trump, and Beijing's subsequent moves to situate itself on the side of the international liberal trade order, represent a massive public relations coup for Xi. By championing economic globalization—and successfully sidestepping issues of political globalization, like global internet freedom, for example, or the acceptance of international NGOs—he has managed to focus attention on his party and government's positive side. Attending WEF, with its mission to "improve the state of the world," represents the capstone of that strategy. For authoritarian leaders like Xi, going to Davos is akin to donating money to Harvard: It allows them to improve their reputation by paying to associate themselves with a brand. (China's government delegation, which includes over 100 officials, is almost certainly spending tens of millions of dollars on this trip.) "I think WEF is a safe space," for repressive countries, Salil Shetty, the secretary-general of the human rights NGO Amnesty International, told me in 2015.
Lesser authoritarians occasionally get hassled for their crimes. In 2012, for example, The New York Times's Nick Kristof chased Ethiopian Prime Minister Meles Zenawi at Davos, "to confront him and ask him about his worsening pattern of brutality." But Ethiopia's gross domestic product is less than 1 percent the size of China's. China is unique—because of the size of its economy, the level of its repression, and the sensitivity around discussing it. When I reported from the forum in 2015, I found that bringing up human rights in China was the quickest way to end a congenial encounter. (Disclosure: prior to 2015, I did consulting work for WEF.)
Although Beijing has sent delegations to Davos since 1979; has hosted "Summer Davos," a smaller WEF gathering held in Dalian and Tianjin; and has regularly sent the country's second-ranking official, the premier, 2017 marks the first time that China's paramount leader has attended. Xi's power and influence mean that those at Davos who would want to push him to institute political reform will almost certainly not have access to him, neither in private meetings and roundtables nor publicly.
That's not to say Beijing is adapting many of the other trappings of international liberalism. There's no moralizing over human rights, for example, and Beijing is still reluctant to publicly criticize foreign countries, unless it over an action directly involving China. And it's unclear how long this identity will stick, or how deep China's international globalization push will imprint itself in the minds of people around the world.
Whether people see China as rising peacefully or not, the world, in the words of Schwab, expects the country to provide "us all with confidence and stability." For Xi, things seem to be working marvelously at Davos.