So, Why Can't You Call Taiwan?
President-elect Donald Trump has committed a sharp breach of protocol—one that underscores just how weird some important protocols are.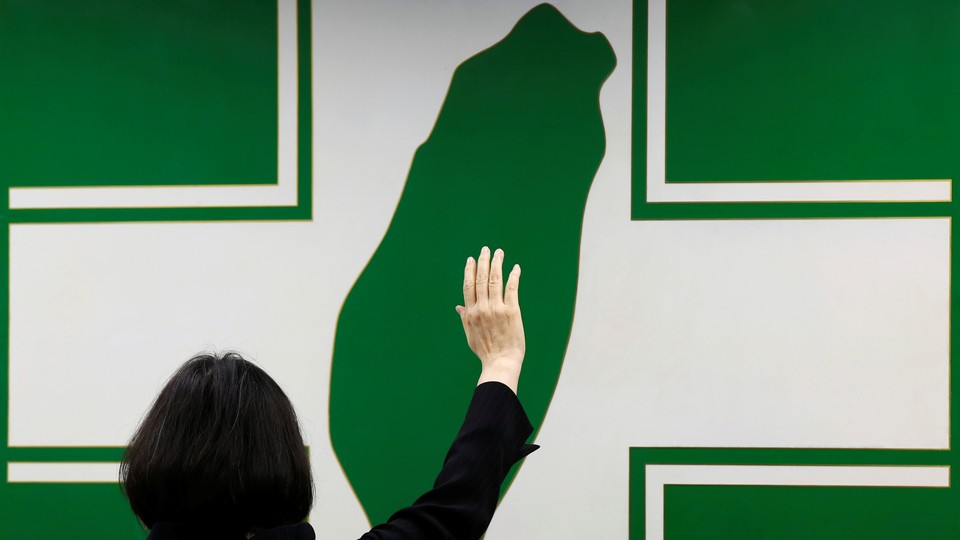 Updated on December 2 at 7:49 p.m.
It's hardly remembered now, having been overshadowed a few months later on September 11, but the George W. Bush administration's first foreign-policy crisis came in the South China Sea. On April 1, 2001, a U.S. Navy surveillance plane collided with a Chinese jet near Hainan Island. The pilot of the Chinese jet was killed, and the American plane was forced to land and its crew was held hostage for 11 days, until a diplomatic agreement was worked out. Sino-American relations remained tense for some time.
Unlike Bush, Donald Trump didn't need to wait to be inaugurated to set off a crisis in the relationship. He managed that on Friday, with a phone call with the president of Taiwan, Tsai Ing-wen. It's a sharp breach with protocol, but it's also just the sort that underscores how weird and incomprehensible some important protocols are.
Trump's call was first reported by the Financial Times, but the Trump campaign soon confirmed it and issued a readout of the conversation:
President-elect Trump spoke with President Tsai Ing-wen of Taiwan, who offered her congratulations. During the discussion, they noted the close economic, political, and security ties exists between Taiwan and the United States. President-elect Trump also congratulated President Tsai on becoming President of Taiwan earlier this year.
Why would Trump not speak with Tsai? Here's where the strangeness starts. The U.S. maintains a strong "unofficial" relationship with Taiwan, including providing it with "defensive" weapons, while also refusing to recognize its independence and pressuring Taiwanese leaders not to upset a fragile but functional status quo. It's the sort of fiction that is obvious to all involved, but on which diplomacy is built: All parties agree to believe in the fiction for the sake of getting along.
The roots of this particular fiction date to 1949, when Chiang Kai-shek's Republic of China was routed by Mao Zedong and the Communists, and Chiang fled to Taiwan. The U.S., in Cold War mode, continued to recognize the ROC in Taiwan as China's rightful government, and so did the United Nations. But in 1971, the UN changed course, recognizing the People's Republic of China—or as it was often called then, Red China—as the legitimate government. In 1979, the United States followed suit. Crucially, the communiqué proclaiming that recognition noted, "The Government of the United States of America acknowledges the Chinese position that there is but one China and Taiwan is part of China."
Officially, this has also been the policy of Taiwan for almost a quarter century. Under the 1992 Consensus, another artful diplomatic fiction, both Taipei and Beijing agreed that there was only one China and agreed to disagree on which was legitimate, as well as maintaining two separate systems. During the Bush years, the U.S. said it would defend Taiwan in an attack, but Bush also pushed back on Taiwanese moves toward independence.
Despite recognizing the PRC, the U.S. has kept close ties with Taiwan since 1979. The State Department notes that "Taiwan is the United States' ninth largest trading partner, and the United States is Taiwan's second largest trading partner." More importantly, the U.S. has sold some $46 billion in arms to Taiwan since 1990, which are intended as defensive. Last December, the Obama administration sold $1.8 billion in anti-tank missiles, warships, and other materiel to Taipei. Of course, the "defensive" purpose to all of this is against China, the most plausible aggressor against Taiwan. Naturally, the arms sales have consistently annoyed the Chinese. (Recently, China has been on a campaign of land-grabbing and saber-rattling across the South China Sea, trying to assert greater control and influence.)
Though the triangle between the U.S., China, and Taiwan sometimes flares up, the general goal of all three has been to maintain the fragile status quo. By speaking to President Tsai, and praising U.S. relations with Taiwan, Trump threatens to upset that delicate balance. Reaction to the call was immediate and, for the most part, aghast.
"The Chinese leadership will see this as a highly provocative action, of historic proportions," Evan Medeiros, former Asia director at the White House National Security Council, told the FT. "Regardless if it was deliberate or accidental, this phone call will fundamentally change China's perceptions of Trump's strategic intentions for the negative. With this kind of move, Trump is setting a foundation of enduring mistrust and strategic competition for U.S.-China relations."
Ari Fleischer, Bush's first White House press secretary, noted that he wasn't even allowed to refer to a Taiwanese government. My colleague James Fallows, not generally a man given to overreaction or caps-lock, was blunter: "WHAT THE HELL????" he tweeted.
As is typically the case with Trump, it's hard to tell whether this blithe overturning of protocol is intentional or simply a result of not knowing, or caring, better.
There are various reasons Trump might be intentionally poking China. Trump spoke harshly about China throughout his presidential campaign, accusing Beijing of currency manipulation, land-grabbing, and taking advantage of the United States. He also showed a willingness, if not an eagerness, to slaughter nearly every sacred cow of American foreign policy.
Some Trump confidants have suggested existing policy on Taiwan should become one of them. John Bolton, who served as Bush's ambassador to the UN, has been advising Trump, and Bolton has been a very public advocate of the U.S. cozying up to Taiwan in order to show strength against China.
Even if the provocation is intentional, that doesn't mean Trump has acted wisely. "I would guess that President-elect Trump does not really comprehend how sensitive Beijing is about this issue," Bonnie Glaser, director of the China Power Project at the Center for Strategic and International Studies, told The Hill.
Some observers suggested that the call fits with the pattern of Trump intertwining his business and political interests, pointing out that he's currently seeking to open luxury hotels in Taiwan.
But it's also possible that Trump just stumbled into the matter, Being There-style. Trump tweeted Friday evening that Tsai had called him, presenting himself as just the guy who picked up the handset. It's unclear how studied the decision to take it was, or whether it was studied at all. Senator Chris Murphy, a Connecticut Democrat, assailed Trump for not taking it seriously. "Foreign policy consistency is a means, not an end. It's not sacred. Thus, it's Trump's right to shift policy, alliances, strategy," Murphy said in a pair of tweets. "What has happened in the last 48 hours is not a shift. These are major pivots in foreign policy w/out any plan. That's how wars start."
It's also hard to know how big a deal Trump's call is. China did not immediately comment. A White House official told The New York Times that the administration was only informed of the call after the fact, and said the fallout could be significant. There were other questions. Wouldn't Beijing see that what Trump did was a blunder, but not a major shift in policy? Isn't the Chinese government sophisticated enough not to take Trump at face value?
Trump's previous conversations might provide hints on whether foreign governments will take Trump seriously. As Uri Friedman wrote today, Trump's conversation with Pakistani Prime Minister Nawaz Sharif has already had repercussions. The Pakistani government put out a readout that read suspiciously like a near-verbatim transcript of Trump's words, capturing the tone the president-elect uses. His promise to "play any role that you want me to play to address and find solutions to the outstanding problems" might sound to an American who just observed the election as so much Trumpian space-filling, but it made headlines in Pakistan, where some interpreted it as a nod to Pakistan's conflict with India in Kashmir. Hussain Haqqani, Pakistan's former ambassador to the United States, told the Times it appeared Pakistani officials had taken Trump's words too seriously.
China is perhaps a more sophisticated foreign-policy player than Pakistan; it's certainly a more important one. But as Fallows points out, a China that sees Trump as buffoon probably isn't good for American interests either.
For the time being, the most important thing to watch is probably for Beijing's announcement. That will be the first clue as to whether Trump's phone call will set in motion a huge realignment of American policy and relationships with China and Taiwan—or if it will be another Hainan Island incident, barely remembered 15 years on.