Will Trump Break the Special Forces?
The president-elect's plans to defeat ISIS will rely heavily on elite soldiers already on the verge of burnout.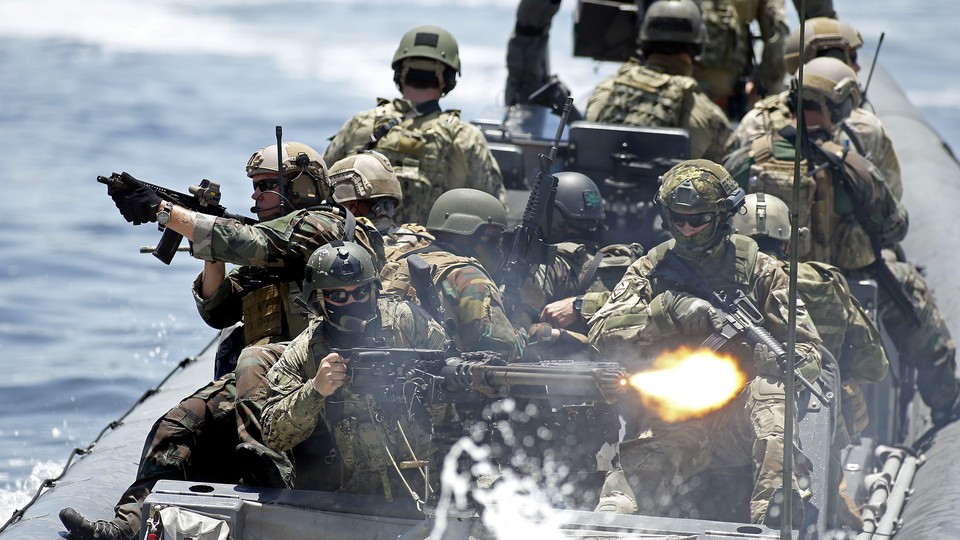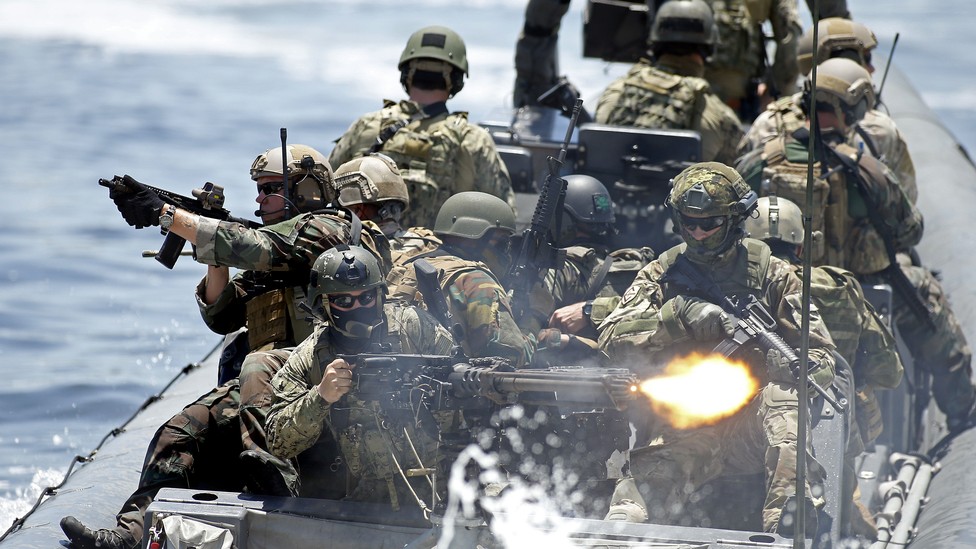 On December 6, Donald Trump delivered perhaps his most-detailed post-election comments on national security. Speaking at a stop on his victory tour in Fayetteville, North Carolina, he reiterated his commitment to expanding the fight against the Islamic State and, more broadly, against "radical Islamic terrorism." Rather than toppling "foreign regimes that we know nothing about … our focus must be on defeating terrorism and destroying ISIS," he said. He then predicted a seemingly busy future for the Green Berets, the largest component of U.S. Special Operations Command (SOCOM). "The motto of our Army Special Forces is 'To free the oppressed,' and that is exactly what they have been doing and will continue to do," Trump said.
Fulfilling such pledges without breaking the special operations forces (SOF) likely to bear the brunt of the battle will pose a clear challenge to Trump's national security team. After 15 years of waging secret wars that began in Afghanistan and spread to Iraq, Somalia, Yemen, Libya, and Syria, while covering down on other responsibilities around the globe, SOF are already stretched thin and on the brink of burn out. Special operators and members of Congress alike are saying something's got to give.
The irony is that SOF are victims of their own successes in the post-9/11 era. A fringe element in the U.S. military at the time of the September 11 attacks, the aftermath saw them immediately thrust into the limelight, when Green Berets, partnered with the CIA and Afghanistan's Northern Alliance, brought down the Taliban regime. But it was the fight against the insurgency following the 2003 Iraq invasion that cemented the rise to preeminence within the entire U.S. military of SOCOM's most valued organization: Joint Special Operations Command (JSOC, or "jay-sock"), the secret outfit that runs "direct action" missions such as raids and hostage rescues involving SEAL Team 6, Delta Force, the 75th Ranger Regiment, and other highly specialized units.
As Abu Musab al-Zarqawi's al Qaeda in Iraq group threatened to overwhelm the U.S.-led coalition in Iraq in 2005 and 2006, JSOC was its most formidable opponent, tracking down and killing Zarqawi with an air strike in June 2006. By the end of the George W. Bush administration, the urgent need to fight al Qaeda in Iraq, a resurgent Taliban in Afghanistan, and burgeoning Islamist militant groups in Africa, had swollen SOCOM's budget from $2.3 billion in September 2001 to $9.3 billion, while the number of personnel assigned to the command had grown from 45,650 to 54,500, according to SOCOM spokesman Ken McGraw.
But although the Bush administration set JSOC and, by extension, SOCOM, on the path from middling bit player to shining star ("JSOC is awesome," Bush told Bob Woodward), no president has relied upon special ops as much as Barack Obama. Although high-profile one-off missions, such as the rescue of Captain Richard Phillips and the killing of Osama bin Laden, have captured the headlines, JSOC and the other U.S. special operations forces came into their own under Obama by giving him the ability to maintain concurrent military campaigns in half-a-dozen countries while keeping those battles off the front pages.
Under Obama, SOCOM has added more than 15,000 personnel, and its budget has increased to $10.4 billion from $9.3 billion, according to SOCOM spokesman Ken McGraw (who noted that the 2006 and 2010 Quadrennial Defense Reviews drove the growth). In Iraq and Syria, JSOC is targeting ISIS leaders and external operations, while the 5th Special Forces Group and other U.S. SOF work with Iraqi security forces, Kurds, and Syrian Arab guerrillas. Elsewhere, SOF quietly operate in Libya, maintain a task force in the Horn of Africa and Yemen, and form a significant slice of the 8,400 U.S. troops left in Afghanistan. The number of special operators deployed at any one time is actually down to 7,500 from a peak of between 12,500 and 13,500 at the height of the wars in Iraq and Afghanistan. Yet as the shrinking U.S conventional forces largely return to a peacetime training regimen, the operational tempo for SOF has not let up.
With no foreign policy or military experience to draw on, Trump will probably rely on two subordinates in particular when deciding how and where to use SOF. One is retired Army Lt. Gen. Michael Flynn, his controversial pick to be his national security adviser. As JSOC's intelligence director between 2004 and 2007, Flynn proved instrumental in the command's metamorphosis from an organization designed for episodic, short-duration, no-notice missions, to one capable of conducting up to a dozen raids per night on a continuous basis. In his recent book Field of Fight, written with Michael Ledeen, Flynn lays out an expansive vision of the war he says is necessary to defeat "radical Islamists," who he clearly sees as the primary threat facing America. "We must engage the violent Islamists wherever they are, drive them from their safe havens, and kill them or capture them," he writes. In addition to ISIS, Flynn also mentions the al Qaeda, Taliban, and Haqqani network fighters that have found refuge in Pakistan's tribal areas. If Pakistan refuses to take action against their safe havens, then the United States must pick up the slack, he writes. This would imply more work for JSOC, whose job is killing and capturing terrorist leaders. It has also undertaken several raids into Pakistan.
The second key figure in crafting Trump's approach to using SOF will be his nominee for defense secretary, retired Marine General James Mattis. Montana Republican Representative Ryan Zinke, a retired SEAL officer and Trump's nominee for secretary of the interior, said in an interview that Mattis understood and worked well with special operations. "He gave me a lot of latitude," said Zinke, whose special ops task force in Iraq worked closely with Mattis's 1st Marine Division. Mattis is also believed to favor a more aggressive stance than the Obama administration on matters concerning Iran, a country with whose operatives JSOC has tangled repeatedly.
How Trump will expand the use of special operations forces while acknowledging that they have barely had a moment to catch its breath since 9/11 is another matter. As early as March 2013, then-SOCOM commander Admiral Bill McRaven was sounding the alarm that his force was "fraying." His successor, Army General Joseph Votel, warned Congress about the high operational tempo in 2015. Current SOCOM commander, Army General Raymond "Tony" Thomas, told Congress in April that he considers preserving the force his "highest priority." And in October, when about 50 active and retired members of the special operations community gathered for a conference hosted by CNA, a nonprofit research and analysis organization, the consensus opinion was that SOF are already fully committed. "Continuing at the present pace of deployments risks burning out the force," according to a paper summarizing the conference's conclusions.
"We are using our special forces too much," Zinke said at a recent U.S. Naval Institute forum. "I would say the force is not [broken], but it is strained." In an interview at the event, Washington's Democratic Representative Adam Smith appeared to agree with Zinke. "They've been on countless deployments for a long time," Smith said. "SOCOM has definitely borne the brunt of a lot of the missions, so yes, I think there is a danger of overusing them."
McGraw noted that SOCOM has taken steps to alleviate the stress on its force, instituting a policy requiring service members to have a minimum of 250 nights at home over a 24-month period, and establishing the Preservation of the Force and Family initiative, which aims to identify best practices to improve the well-being of special operators and their families. Ultimately, however, "preservation of the force requires growth or relieving SOF of some of its currently assigned missions," the CNA conference report found.
Trump's desire to avoid toppling regimes will do little to mitigate SOF operational tempo in the near term, given that many current special operations deployments are to countries whose regimes have already been toppled. Thus his commitment to "stability" is unlikely to reduce the pace of SOF deployments, with one exception: any rapprochement with Russia will probably see the end of the CIA's covert campaign to train rebels to fight the Syrian regime, a program that has relied on special forces support.
Indeed, there's an excellent chance that the Trump-Flynn mindset will mean fewer restrictions on special operations forces fighting ISIS. That's one reason why his election was greeted warmly by many in the SOF community, said a retired Special Forces officer in close touch with operators in the field. "Across the board everyone's happy," he said. "'Trump is going to remove the shackles and let us get to work'—that's the perception. But I suspect the reality is murkier."