Lingua Quechua in Peru and Keeping Up With Kabila: The Week in Global-Affairs Writing
The highlights from seven days of reading about the world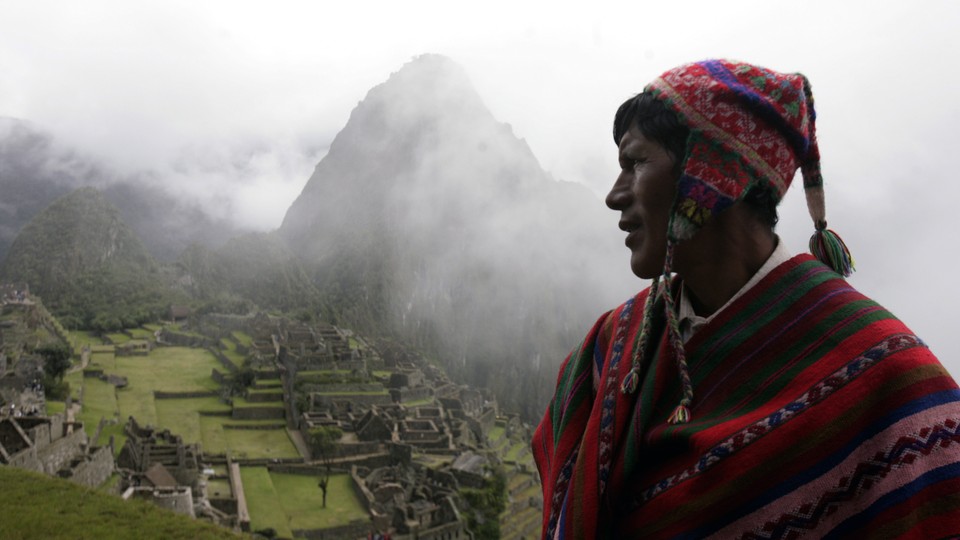 The Graffiti Kids Who Sparked the Syrian War
Mark MacKinnon | The Globe and Mail
"Naief Abazid had no inkling that he was about to launch a revolution, or anything else that has followed. He was just doing what the bigger kids told him to. Trying to make them laugh. 'It's your turn, Doctor Bashar al-Assad,' he painted, just under the window of the principal's office of the all-boys al-Banin school in his hometown of Daraa. The date was Feb. 16, 2011.
It was an incendiary political idea—suggesting that Syria's Baathist dictatorship would be the next to fall after the Arab Spring revolutions in Tunisia and Egypt, written by an apolitical teenage prankster. Painted on a cool and dry winter evening, it would improbably set in motion a chain reaction of events that continue to rock the Middle East—and the world."
* * *
Peace Be Upon You
Nadim Roberts | The Walrus
"In Calgary, Aziz found a Muslim community in conflict—and denial—over how to address the fact that dozens of young men were leaving their community to travel to distant battlefields. The Canadian government estimates that as of the end of 2015, 180 Canadians overseas were actively involved with terror organizations; about half of them are believed to be in Syria and Iraq, having been recruited by groups such as ISIS. It was difficult for members of the city's Muslim community to accept that radicalization was happening in Calgary. It seemed implausible that these young men could be capable of carrying out acts of violence abroad—until it started happening."
* * *
In Amsterdam, Dutch Youth and Refugees Run a Housing Project Together
Letty Reimerink | CityLab
"Since July, more than 550 young adults under the age of 28 have been living here. Half of them are Dutch, including students and others without the means to afford Amsterdam's high rents. The other half are refugees, recently arrived from the Middle East, Africa and elsewhere, and eager to settle into a new life in a new land.
The two groups are not only encouraged to mix socially but to think of themselves as building a new community together. They organize joint activities, like movie nights and football matches. Through a buddy system, they learn about each other's cultures. They also share responsibility for maintaining the buildings and grounds, a "self-management" structure intended to unite all the residents in the common cause of caring for their living space."
* * *
When Tyranny Takes Hold
Evan Osnos | The New Yorker
"What is the precise moment, in the life of a country, when tyranny takes hold? It rarely happens in an instant; it arrives like twilight, and, at first, the eyes adjust.
Xu Hongci had been drawn to politics by the promise of dignity. Growing up in Shanghai during the Second World War, part of a downwardly mobile middle-class family, he resented the Japanese occupation and the Chinese leaders who failed to prevent it. 'Japanese soldiers would fish in our pond, swaggering off with the biggest carp without paying a single penny,' Xu recalled, in a memoir he wrote years later. 'Our nation's tragedy awakened my political consciousness at a young age.'"
* * *
Peru Airs News in Quechua, Indigenous Language of Inca Empire, for First Time
Dan Collyns | The Guardian
"For the first time in Peru's history, a national news broadcast has been aired entirely in Quechua, the indigenous language of the Inca empire, which is still spoken by 4 million Peruvians.
Called Ñuqanchik—which means 'all of us' in Quechua—the daily news program that launched this week targets speakers of the language some historians trace back to Peru's earliest civilizations 5,000 years ago.
For co-presenter Marisol Mena, Monday's debut broadcast was a 'historic achievement', symbolically ending centuries of marginalization. 'We've struggled for a long time to see this initiative, and now we are broadcasting information to our Quechua brothers and sisters,' she said."
* * *
With His Family's Fortune at Stake, President Kabila Digs In
Michael Kavanagh, Thomas Wilson, and Franz Wild | Bloomberg
"His presidency had brought peace and economic growth to Congo, the 45-year-old said, outlining reforms he'd made in telecommunications, mining, energy and banking. What he didn't say is how some of his own family members are among the biggest beneficiaries of those changes—including his sister Jaynet and brother Zoe, who both listened from the front row as elected members of parliament.
Together the Kabilas have built a network of businesses that reaches into every corner of Congo's economy and has brought hundreds of millions of dollars to the family, a Bloomberg News investigation has found. The sprawling network may help explain why the president is ignoring pleas by the U.S., the European Union and a majority of the Congolese people to hand over power next week, though his advisers dispute this."