The Great Maple Caper and an App for Absolution: The Week in Global-Affairs Writing
The highlights from seven days of reading about the world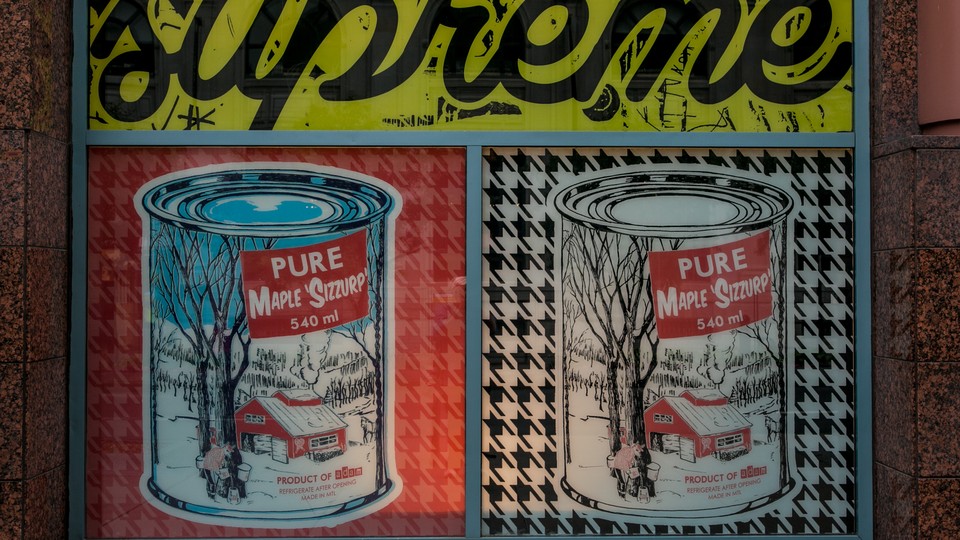 The Last Diplomat
Adam Entous and Devlin Barrett | The Wall Street Journal
"Over a four-decade career in the foreign service, whether in Islamabad, London, Pretoria, New Delhi or Tunis, Raphel had distinguished herself by building vast networks of contacts. She had spent as much time as she could outside the embassy, rubbing shoulders with politicians, military officers, journalists, aid workers and spies over teas, lunches and endless cocktail parties. Sources felt they could talk to her—that she understood them.
Nowhere was that more true than in Islamabad, where she had started her diplomatic career. 'I could go to Robin and say, "does this member of parliament matter?''' said Cameron Munter, who took over as U.S. ambassador to Pakistan in 2010. 'She knew them all.'
There was a downside to being trusted in a country that many of her colleagues in Washington loathed. Those who took a dimmer view of Pakistan, especially in intelligence circles, were suspicious of Raphel's close connections in Islamabad. They believed she had become too close to the Pakistanis and that she was being used."
* * *
Inside Quebec's Great, Multi-Million-Dollar Maple-Syrup Heist
Rich Cohen | Vanity Fair
"Americans are focused on the wrong border. It's not Mexico, with all this dubious talk about building a wall, but Canada, with its Mounties, and comedy writers who move among us, betrayed only by the occasional mispronunciation of 'about,' that threatens our way of life. If this nation was not founded on the free flow of syrup, it should have been. And now, as anyone with kids can tell you, the price of syrup has remained stable and high; it's more expensive than oil. Is it Arab sheikhs who did this, Russian oligarchs? No. It's Canadians, who, organized into an ironfisted cartel, have established a stranglehold on that honey-flavored elixir."
* * *
What Taiwan's Leader Sees in Donald Trump
Nick Frisch | The New Yorker
"On the surface, Tsai would seem an unlikely ally for Trump. A former World Trade Organization negotiator, she generally supports free trade and was a prominent backer of the Trans-Pacific Partnership. She favors robust American engagement along the Pacific Rim, a strong welfare state, and strict environmental protection. She is also temperamentally Trump's opposite: a methodical, soft-spoken technocrat who is childless and unmarried, enjoys reading classical Chinese literature, and sometimes seems to shrink under a spotlight. But a land as small and vulnerable as Taiwan cannot afford to be picky about its allies—some of the smallest and most despotic regimes in the world (Swaziland's, for instance) have received generous aid from Taiwan in exchange for diplomatic recognition and an occasional mention in speeches at the United Nations. By making a phone call to Trump, Tsai saw an opportunity to boost her domestic approval ratings while establishing a rapport with the next American President and, crucially, his hawkish and China-skeptic advisers. For her, geopolitics and Taiwan's survival come first."
* * *
With New App, Spaniards Can Summon Priests Like Ubers
Kavitha Surana | Foreign Policy
"So far, there are about 100 technology-savvy priests signed up to be confessors-in-waiting. Like a holier-than-thou Uber driver, they signal when they are available to listen to sins. Dispensing with anonymity, and the app provides basic information about the priests, like name, date of birth, and year of ordainment. There's also a handy list of the Ten Commandments, in case you need a refresher on how many sins you've racked up since your last confession."
* * *
'We Are Orphans Here'
Rachel Kushner | The New York Times Magazine
"Shuafat Refugee Camp is inside Jerusalem proper, according to the municipal boundaries that Israel declared after the Six Day War in 1967. (Though the entire walled area is frequently referred to as the Shuafat Refugee Camp, the actual camp, run by the United Nation's relief agency for Palestinian refugees, is only a small portion. Adjacent to the camp are three neighborhoods that are the responsibility of the city of Jerusalem.) The Palestinian Authority has no jurisdiction there: The camp is, according to Israeli law, inside Israel, and the people who live there are Jerusalem residents, but they are refugees in their own city. Residents pay taxes to Israel, but the camp is barely serviced. There is very little legally supplied water, a scarcely functioning sewage system, essentially no garbage pickup, no road building, no mail service (the streets don't even have names, much less addresses), virtually no infrastructure of any kind. There is no adequate school system. Israeli emergency fire and medical services do not enter the camp. The Israeli police enter only to make arrests; they provide no security for camp residents. There is chaotic land registration. While no one knows how many people really live in the Shuafat camp and its three surrounding neighborhoods, which is roughly one square kilometer, it's estimated that the population is around 80,000. They live surrounded by a 25-foot concrete wall, a wall interspersed by guard towers and trapdoors that swing open when Israeli forces raid the camp, with reinforcements in the hundreds, or even, as in December 2015, over a thousand troops."
* * *
In Nigeria, Schoolboys Turned Killers and Came After Their Ex-Teachers and Students
Robyn Dixon | Los Angeles Times
"The second lesson of the day was under way when terror came to Yagana Sanda's school for primary and secondary students in Bama in northeastern Nigeria. Sanda ran for cover as screaming boys and girls scrambled to jump the school's fence, some of them falling and breaking limbs.
Two of the gunmen chilled her: Tukur had once been her brightest student, a earnest boy who had never missed a school day. Gomna had disrupted any class he was in until he dropped out early."