The Long Fall of Taiwan
The island once had a seat on the UN Security Council. Now a simple phone call with its leader is international news.
Richard Nixon excelled at stating the obvious. On his historic first trip to China in February of 1972, he visited the Great Wall, marveling at its vast length and age. "I think that you would have to conclude that this is a great wall," he remarked. But when dealing with a country as complex as China, Nixonian plainspeak was not always a bad thing. In a private conversation in June 1971 with Walter P. McConaughy, the U.S. ambassador to Taiwan, Nixon said that the United States needed to prepare Taiwan's leaders for the eventual shock that would accompany Washington's improved ties with Beijing. At the time, Washington had full diplomatic relations with Taiwan, but not China; the small island nation was still one of the five permanent members of the United Nations Security Council (UNSC). In the eyes of the world, Taiwan's strongman leader Chiang Kai-Shek was the legitimate ruler of China. But Taiwan, Nixon said, must know that Washington is engaging with Beijing, "not because we love them. But because they're there." China, he implied in his circuitous yet blunt way, was just too big to ignore anymore. More importantly, it had been a mistake to ignore China.
Amid the outcry following President-elect Donald Trump's early December call with Taiwanese President Tsai Ing-Wen—the first known occurrence of a U.S. president or president-elect speaking with a Taiwanese leader since Jimmy Carter—it's worth recalling just how much Beijing has eclipsed Taipei in global importance. According to Tsai's office, she told Trump during the call that she hoped the United States "would continue to support more opportunities for Taiwan to participate in international issues." Yet the implicit legitimacy conferred upon Tsai by merely speaking with Trump, as an equal, is unprecedented in the post-Carter era.
China in the early 1970s was so insignificant—a chaotically governed, desperately poor nation—that Nixon was right to speak of it as a place largely ignored by the world. China in 2016, by contrast, is not just "there"; it's pretty much everywhere. Beijing challenges the United States for trade dominance in Latin America, sidelines the United States in global economic arrangements, and contributes more troops to UN peacekeeping missions than any of the other permanent members of the UNSC.
Trump's values and policies, as well as his nascent cabinet and advisors, suggest the potential for a warming of relations with Taiwan, and a chance for the democracy of 23 million people to recoup some of its lost influence. Beijing, meanwhile, views Taiwan as a province that has merely pretended to be independent since 1949, the year Chiang established the Republic of China after losing the Chinese Civil War to Mao Zedong. Reabsorbing Taiwan has been China's primary foreign policy goal for decades (though Chinese officials see this as a matter of internal—not international—relations). And it sees attempts to legitimize Taiwan as serious provocations. Regardless of how Trump seeks to rebalance relations, Beijing won't allow Taiwan to return to its 1970s status without a major fight.
That fight has its roots in the 1970s, after Nixon and Mao embarked on their diplomatic reengagement. In his excellent new book on Sino-U.S. relations, The Beautiful Country and Middle Kingdom, the journalist John Pomfret writes about the outcry after U.S. officials alerted the country that Washington would be severing relations with Taiwan. "When U.S. officials arrived in Taipei to explain the decision," he writes, "a crowd attacked their car, first pelting it with tomatoes and then smashing the windows with rocks. Deputy Secretary of State Warren Christopher suffered cuts to his face."
China's major economic realignment followed its political one. After Deng Xiaoping took over China, several years after Mao's death in 1976, China embarked on a series of reforms that unleashed its economic power. In 1971, its estimated gross domestic product of $98.56 billion was only roughly twice the size of Taiwan's; now, it's over 20 times bigger. That astonishing growth has, among other things, forced the world to take China's feelings about Taiwan more seriously. The International Monetary Fund, for example, now refers to Taiwan as Taiwan Province of China. While the United States and Taiwan remain relatively close despite the lack of formal relations between them, China "fights tooth and nail against any enhancement of the relationship with Taiwan," a former senior official focusing on Asia policy, who asked to speak anonymously because of the sensitivity of the subject, told me. "There's nothing too small for China to object to" when it comes to Taiwan, he said, adding, "and after a while, they just grind down any administration."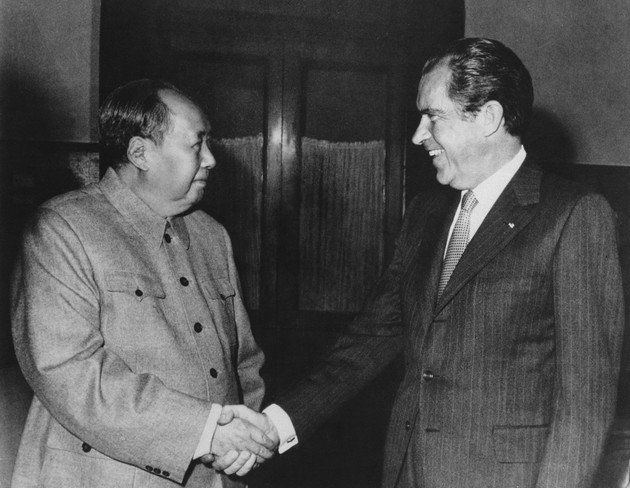 Until recently, Taiwanese and Chinese diplomats regularly travelled the world fighting for diplomatic recognition, while China sat quietly in the UNSC seat it took from Taiwan in October 1971, using its veto largely as a cudgel against countries that recognized Taiwan. Now it doesn't need to; the fight is over, and Taiwan lost. South Africa, the last major country to recognize Taiwan, switched over in 1998. Taiwan lost the Gambia, the smallest nation in continental Africa, in March 2016, dropping the number of states that recognize it to 22, the most important of which are the Vatican and Nicaragua.
But Taiwan's flagging diplomatic fortunes have not slowed its struggle for recognition. In 2012, just before President Barack Obama won reelection, I interviewed several members of various Taiwanese advocacy organizations in Washington, including the non-profit Formosan Association for Public Affairs (FAPA), which "seeks to build worldwide support for Taiwan independence," according to its website, and the non-profit US-Taiwan Business Council, which promotes business and trade ties between the two nations. Though they spoke with optimism, their situation was grim. Yes, of course, Taiwan is not as central to Washington as it once was, the council's president Rupert Hammond-Chambers admitted. "It's not that Taiwan has done anything wrong, but the China relationship has just engulfed so much," he said.
Once, Taiwan was the gateway to manufacturing on the mainland, but that changed in the 1990s, in the run-up to China's ascension to the World Trade Organization in 2001. "You had U.S. companies falling over themselves to get into China. I thought this was very distasteful," Hammond-Chambers said. The "last great heyday" of the Taiwan lobby ended in 2002, he said, when Senators Jesse Helms and Frank Murkowski, big supporters of Taiwan, retired. And many members of the House of Representatives that once supported Taiwan grew more reluctant to do so as their own stature grew, FAPA's executive director Coen Blaauw told me at the time. "They have so much more things at stake," Blaauw said.
FAPA's members listed their organization's accomplishments, including allowing U.S. citizens born in Taiwan to say on their passports they are from Taiwan, and not China, and helping found Taiwan caucuses in Congress. Janice Chen, then a FAPA fellow, proudly cited a study that called Taiwanese Americans the sixth-most successfully lobbying ethnic group, behind Hispanics and Armenians. Of Trump's call, FAPA's Blaauw said, "It doesn't matter if it was a happy accident, or a concerted policy—it provides us with a peg, or a platform. We are going to do an ad campaign" thanking Trump for the call.
It's possible that with Trump in the White House, Taiwan will play an even larger role in U.S. diplomacy. "Taiwan is about to become a more prominent feature of the overall U.S.-China relationship," former U.S. ambassador to China and potential Trump secretary of state Jon Huntsman predicted in an interview with The New York Times on Saturday. Randy Schriver, a former deputy assistant secretary for East Asian and Pacific affairs who now runs the Project 2049 Institute, a pro-Taiwanese think tank, is cautiously optimistic. "There has been a subtle struggle behind the scenes" to make Taiwan an issue in its own right, and not just "an issue within U.S.-China issues," Schriver said. The U.S. government, he added, should not "always have to ask 'Mother May I,'" to Beijing in regards to Taiwan.
In an essay published in Foreign Policy two days before the presidential election, Trump advisors Alexander Gray and Peter Navarro seemed to call for more comprehensive arms sales to Taiwan. In a July article in The National Interest, Navarro, a professor at the University of California, Irvine, castigated past presidents, including Obama, for appeasing China and ignoring Taiwan, a "beacon of democracy." He called for an increase in the number of visits from members of the Congress and the Cabinet (though not the secretaries of state and defense) to Taiwan.
In a January essay, John Bolton, a Trump advisor and former George W. Bush administration ambassador to the United Nations, argued the United States could use Taiwan to compel China to behave less aggressively. (Bolton reportedly visited Trump Tower on Friday—the day of the call.) This process could "start with receiving Taiwanese diplomats officially at the State Department" and end with "restoring full diplomatic recognition," Bolton wrote. Reportedly a candidate for a top post in the Trump administration, Bolton recognized Beijing "would be appalled" by these steps. But he said this is a smart way to counter China's aggression in the South China Sea.
Trump, of course, is not yet president. Even for heads of state far less mercurial than him, policy evolves to reflect new realities. During the Third Taiwan Straits Crisis in 1995-1996, Bill Clinton ordered two carrier battle groups through the Straits; he then angered many conservatives in 1998 by parroting Beijing's policy on Taiwan, particularly when he said "the United States will not support independence" for the island nation. And in April 2001, George W. Bush stated the United States would "do whatever it [took] to defend Taiwan," a calculus that changed after 9/11, when he decided he needed China's support for the war on terror. At this stage, "it's too early to say with high confidence which way it will go," Schriver said.