The Widows of Duterte's Drug War
As the death toll in the Philippines soars, those left behind confront a different life.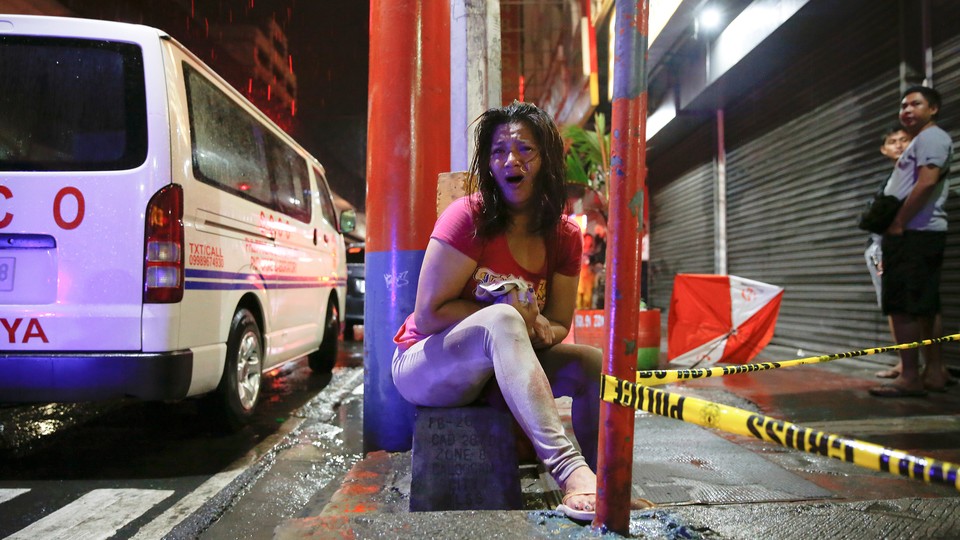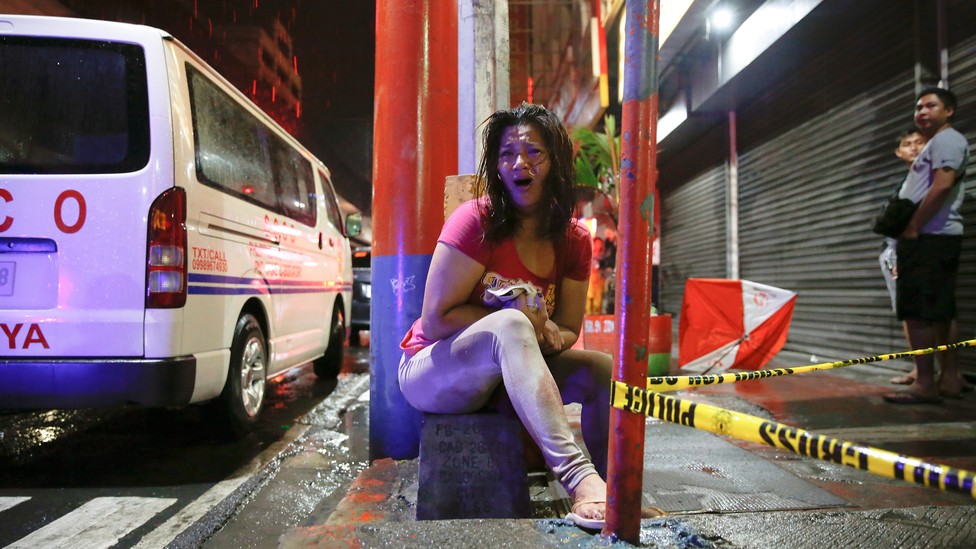 MANILA—On the morning of September 19, 18-year-old Brent Michael Bravo was on his way home from Manila's Pasay City Hall, where he was being tried for illegal drug possession. He flagged down a motorized rickshaw, driven by 27-year-old Marvin Columbino. Bravo sat behind Columbino, so that his girlfriend and his grandmother, who had accompanied him that morning, could sit in the motorcycle's side carriage. As they rounded the corner of city hall, a motorcycle, its driver wearing a bonnet and sunglasses, pulled up next to them. Suddenly, he raised a gun and opened fire, shooting at the rickshaw five times at close range. One bullet hit Bravo's left arm and body, exiting through his right side and embedding itself in Columbino's spinal chord. According to police reports, Bravo was the target of the attack.
Columbino's partner, Luisa Caparic, and one of his sisters, were on their way home, not far from city hall, when they saw the familiar green rickshaw with "Columbino" painted across the back, stranded by the roadside. One of Columbino's slippers lay across the sidewalk. Onlookers told them about the shooting, and the two women rushed to the hospital. "The doctor told me my husband's condition was 50-50—that he might not live," Luisa said. Though they were never married, she always referred to Columbino as her husband. Roughly two hours after the shooting, at around 10:45 a.m., doctors declared Columbino dead. He left behind two young sons from a previous relationship, and 20-year-old Luisa, who was six months pregnant. "When they told us he was gone, we refused to accept it. We begged the doctor to revive him, to do anything, try everything to bring him back," she said.
When he campaigned for the presidency of the Philippines, Rodrigo Duterte promised to wage a deadly war on drugs. In fiery speeches, he called drugs "the evil that will destroy the country," and said users were sub-human beings who deserve to die. "Go ahead and kill them yourself as getting their parents to do it would be too painful," he said in one speech. With hyperbolic flourish, he committed to killing 100,000 criminals and dumping so many of their corpses in Manila Bay that the fishes would "grow fat" by feeding on them. "The funeral parlors will be packed. … I'll supply the dead bodies," he bragged. Duterte was pledging to do what no other president had managed to do: Go after drug traffickers and end drugs and criminality, all within a self-imposed timeline of three to six months.
Immediately after taking office on June 30, Duterte launched Oplan Tokhang (Operation Tokhang), a portmanteau of two words meaning to "knock" and "plead." The Philippine National Police (PNP) describes it as a "community-based" approach, wherein village chiefs and residents are encouraged by police to help compile neighborhood watch lists of suspected drug users and dealers. Based on this list and other intelligence, the police conduct house-to-house visits, invite alleged users to sign a waiver promising to stop using drugs, or submit themselves to a rehabilitation program. 807,659 people have surrendered as self-confessed drug users or dealers, according to police records. Records also show that more than 4 million homes have been visited (the number includes houses both cleared of and implicated in drug activity). Those homes cleared of any suspicion of drug activity are branded with a sticker listing the date of the visit, the name of the visiting officer, and a note thanking residents for their cooperation.
But mercy does not seem to be the point. Since Duterte took office, the PNP has reported 5,617 drug-related deaths, 1,959 at the hands of the police—the result of shoot-outs during drug bust operations, they say—and 3,658 vigilante-style killings, usually performed by masked men on motorcycles in pursuit of marked targets. The PNP estimates that only 16 police officers have been killed in action as of November 25. That hasn't stopped Duterte from saying in his speeches that he loses two to three police officers a day in the war on drugs.
Duterte's war on drugs has been widely criticized around the world as brutal and excessively disproportionate to the country's actual problems with drugs. The government's Dangerous Drugs Board, in fact, pins the number of users at 1.8 million—about 2.3 percent of the population—as of 2015.
Government drug enforcement officials acknowledge that Duterte is prone to inflating reality. "He just exaggerates it so we will know that the problem is very big," Wilkins Villanueva, regional director of the Philippine Drug Enforcement Agency, has said. Public perception surveys show that many people seem to be buying into the story: A poll from September showed that 76 percent of Filipinos are satisfied with the government's anti-drug campaign but 71 percent—nearly all of them—thought that it was important for the suspects to be caught alive.
While public support for Duterte's campaign is robust, its results are difficult to accept for the families of bystanders like Columbino (the youngest-such innocent casualty was five-year-old Danica Mae Garcia, who died in August when a stray bullet intended for her grandfather, identified by police as a drug pusher, caught her in the neck). While his real name was Marvin, to his friends and family in the overlapping slum alleys just behind the big busy streets of Pasay in the capital of Manila where he lived, he was known as Balong, which, in the Pangasinan dialect, means "a loved boy."
Roughly 50 of Balong's friends attended his wake, taking part in a mix of old and new Filipino funeral traditions. Mourners gambled and played card games to stay awake and keep vigil (so as to be certain the departed is never alone). Some food, along with Balong's sunglasses, wallet, and cellphone, sat at the base of his casket. A baby chick was placed atop the casket, in accordance with a superstitious belief that it would peck at the conscience of the guilty.
On the fifth and final day of Balong's wake, the mourners speculated over the fate of Brent Bravo, the real target of the shooting. On the day of Balong's death, the same masked man that had hunted Bravo down stormed into his house and finished the job, killing him, they said. "If [Bravo] is dead, it makes it … easier to bear," Luisa said slowly. "But I want them to catch the one who did it, the one who shot my defenseless husband, innocently going about doing his job. I hope they find him and kill him, too." (According to the police, Bravo went into hiding immediately after the shooting. Officials were unable to question him about the motives behind the attack or about the gunman, and the case has gone cold.)
"We are going to have a girl. My husband won't ever get to see her," Luisa said, rubbing her hand over her belly. The chick, which had been pacing across the glass-covered casket, jumped onto her lap and ambled up her swollen belly. Without Balong, there is nothing for her in Manila, she said. She has decided to move back in with her parents in Samar in central Philippines to give birth to her daughter.
Balong believed that being a good father and hardworking citizen would shield him from the bullets of Duterte's war. "My husband and I would watch the news about all those addicts being killed. He would cheer the police and President Duterte. [He would say] that they got what they deserved. I would look at the widows of the men killed, but never thought I would be one of them," Luisa said. "I voted for Duterte. We both did. My husband—even as he is lying there—doesn't regret voting for him and would do it again. I am sure of it."
Among those fighting Duterte's brutal war, there are also victims. On the evening of August 19, 37-year-old Mark Garcia, a police officer, sent his wife, Judy, a text message: "One more operation, hon. This is the last one," the message read. After 12 years of marriage, Judy, 36, was accustomed to Mark's long, erratic hours. When they began dating, Mark was a police cadet. "If we get married, you will have to understand my job. My time will be split between you and my job and there will be times when the job will come first," Judy recalled him saying. So Judy thought nothing of his text. And she saw nothing ominous about the squad car that rolled up to their house later. "They told me something had happened to Mark, and we should go the hospital. I thought he had gotten hurt—that's all I was willing to think," she said.
As they drove to the hospital, the silence in the squad car agitated Judy. And when Mark's boss, the police provincial director, and his wife met her at the hospital and told her to be strong, she lost her resolve. "I just cried and cried. I think I let out a scream. At some point, I just blacked out," she said.
Later, the police provided Judy with a police report outlining the circumstances of Mark's death. He and his unit were conducting a series of undercover drug busts when he texted her at around 7:05 p.m. An undercover officer had just purchased seven dollars-worth of "shabu," or crystal meth, from a dealer known as William who had been under police surveillance. The other officers were closing in to arrest him when he and another unidentified man made a run for it. A police chase and shootout ensued. The officers shot and killed the unidentified man, but William managed to make it to his house and arm himself. Mark kicked open the door and William fired at him with a homemade shotgun (made of a gas pipe attached by wires to a rifle stock), hitting Mark in his upper thigh. Though wounded, he managed to fire back, killing William with a bullet to the forehead. It was to be Mark's last police operation. The bullet damaged his femoral artery, and later that night he died from blood loss, leaving behind his wife, two young daughters, and a two-month-old son.
Mark's family and community mourned his death. PNP director general Ronald de la Rosa came to his wake twice. At Mark's burial, supporters turned out in the hundreds, wearing t-shirts printed with Mark's picture and a small inscription reading "Keep on Fighting!" Even Duterte came to the wake, thanked Judy for her husband's service, and repeated his line about losing two to three officers a day to Oplan Tokhang.
As Duterte approaches his sixth month in office, the body count continues to soar. In September, he informed the public of his intention to extend his war on drugs for an additional six months. He did not realize the extent of the drug scourge and how many people were involved, he said, until he became president, and needed more time to get the job done. In October, the International Criminal Court warned the Duterte government that the continuing extrajudicial killings may warrant an "examination into the situation of the Philippines." But Duterte remains resolute.
Many more, then, will continue to die. Some will be like Balong and Mark. And in their wake, there will be widows like Luisa and Judy.
For Judy, it is the silence that is most difficult to bear. She felt it first after the last of the mourners left. Her cellphone had gone quiet, no longer buzzing with messages from Mark. The home they had moved into only months earlier began to feel hollow—a museum of sorts, with Mark's awards and pictures hanging from the walls. Drawings of him on his mountain bike hung above the flat screen television that dominated the living room.
On one living-room wall hung a family picture. Judy and the children are dressed in white, and Mark wears his police uniform. "Mark was gone by the time the kids and I had our pictures taken. It was just by sheer luck that the photo studio still had Mark's pictures in their files and [was able to add] him in the photo. … Mark doesn't have a picture with our son," she said. She had recently given birth to baby Gael. "I support the war on drugs, but it hurts me to see the media reports that blame the police for the deaths," she said. "Like it's always their fault. What about my husband?"