Ranked: After Castro, What the World's Eccentric Presidents Are Wearing
One president-for-life has been known to show up at rallies in clothes displaying his own face.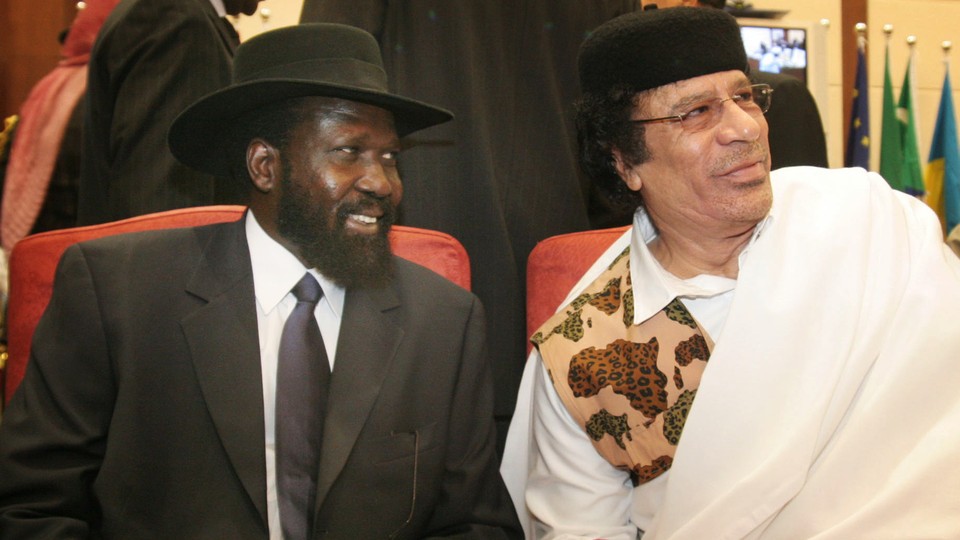 Fidel Castro's passing brings to a close an important period in world history: the era of bold fashion choices by world leaders. From his cigars and uniforms to his late-in-life love of tracksuits, Castro knew how to project a brash image. But with Muammar Qaddafi departed, and Mao suits long since replaced by Western business wear, the geopolitical world has entered a period of sartorial blandness. Even Barack Obama was willing to put on a silly shirt for the annual APEC summit. #MAGA hats notwithstanding, it's hard to imagine Donald Trump following in his footsteps. For that matter, when have you seen Trump without a tie or a golf shirt? And yet, a few stalwarts are hanging on to their eccentricities. Here are some of the world leaders who remain committed to their affectations.
5. Salva Kiir. Where did George W. Bush leave his greatest mark on the world? In fashion, at least, the answer is South Sudan. The U.S. president reportedly gave a black Stetson to Kiir back in 2006, and the South Sudanese president has rarely been photographed without a cowboy hat on since.
4. Alexander Lukashenko. The man known as Europe's last dictator dresses as you would largely expect from a post-Soviet apparatchik: sharkskin suits, greatcoats, military uniforms. But he has one favored accessory: his teenage son Kolya, who is rumored to be in line for succession. The two often appear in public in matching outfits. Suits? Yep. Military uniforms? You bet. Kolya has even been spotted with the true dictator's accessory: a golden gun. Maybe this one isn't so funny.
3. Robert Mugabe. Zimbabwe's president-for-life is a creature of the Castro era, and it shows. He has been known to show up to rallies with clothes displaying own face, a feat not even Donald Trump has attempted yet. He has inspired his own fashion line in Zimbabwe. And he knows how to be an iconoclast: He stood out as the one leader not wearing the group outfit at an India-Africa summit last year. If you're going to rule forever, you might as well do it your own way.
2. Kim Jong Un. North Korea's dictator has so many visual tics it's hard to pick just one. There is his penchant for pinstripe suits, his fedoras, his desire that his countrymen share his hairstyle, or his brief flirtation with hipster glasses. South Korean media even speculated that he fractured his ankles wearing heels to make him look taller. But if there is one Kimism that has remained constant, it's the pants. For reasons as yet unexplained, he wears his trousers tailored long and wide, a choice most apparent when he's pictured sitting. Let's just be grateful he hasn't picked up any fashion tips from Dennis Rodman.
1. Nicolas Maduro. As his country disintegrates around him, Venezuela's president has attempted to drape himself in national symbols, literally. Channeling his popular predecessor, Hugo Chavez, Maduro frequently wears a jacket in the colors of the Venezuelan flag. He even tried to outflank his political opponents' fashion choices, accusing opposition leader Henrique Capriles of having stolen the Venezuelan-flag cap that became Capriles' trademark. Once, Maduro made a pilgrimage to Cuba for Castro's birthday. What did he bring for a gift? A track suit. Viva la revolucion!
---
This article has been adapted from Matt Peterson's weekly newsletter for Eurasia Group, Signal.