Is It Too Late to Save the Two-State Solution?
Secretary of State John Kerry thinks there's still time—but the process is moving in the wrong direction.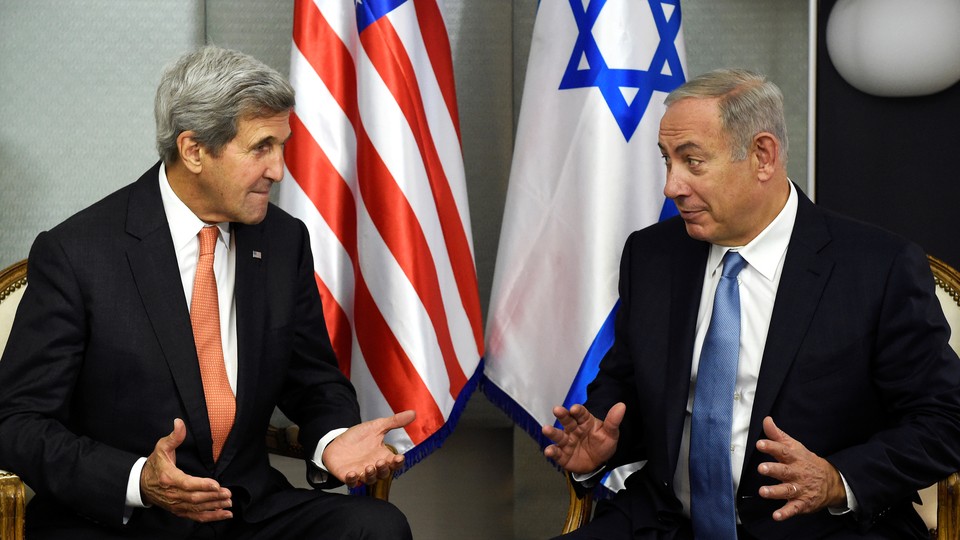 In the spring of 2013, Secretary of State John Kerry declared that time was running out to find a two-state solution to the Israeli-Palestinian conflict. "I believe the window for a two-state solution is shutting," he said then. "I think we have some period of time—a year and a half to two years—or it's over."
That was three and half years ago, as The Atlantic's Jeffrey Goldberg pointed out Sunday at the Brookings Institution's Saban Forum, an annual gathering of U.S. and Israeli leaders. Kerry's effort to broker peace in 2013 fell apart within months. So, Goldberg asked Kerry: "Is it too late for a two-state solution?"
"I believe what I said," Kerry responded. "The timing may be—you know, we can fight about where we are in this process, but I'll tell you this, there is no status quo. It is getting worse. It is moving in the wrong direction."
With fewer than two months left in the Obama administration, Kerry delivered some of his bluntest remarks yet on his prodigious, and ultimately unsuccessful, efforts to negotiate a lasting peace between the Israelis and the Palestinians—a process he portrayed as having been thwarted by Israeli settlement construction on land in the West Bank that might form part of a future Palestinian state. Indeed, Obama has been calling for the Israelis to halt to settlement construction in the West Bank since the first year of his first term as president; even then, nearly eight years ago, Obama said that "time is of the essence. … We can't continue with the drift and the increased fear on both sides, the sense of hopelessness that we've seen for too many years now."
The years have kept going, and in the interim, Kerry said, settlements have kept growing, despite enormous investments of time on his part. "I've talked to Bibi Netanyahu more than 375 times in this term" of four years, Kerry said, adding up to about 130 hours of conversation. "My wife accused me of having talked to him more than I talked to her." In 1993, when the Oslo Accords were signed, creating the Palestinian Authority to govern parts of the Gaza Strip and the West Bank, there were 110,000 settlers in the West Bank. "Today, there are 385,500 settlers. There [are] about 90,000 settlers living outside of the [security] barrier" Israel built, which he called an increase of about 20,000 people since Obama took office.
Kerry said Israeli leaders have a choice between continued settlement construction on the one hand and separation, with the creation of two states, on the other. Addressing the forum via satellite earlier in the day, Israeli Prime Minister Netanyahu downplayed the importance of settlements, saying that the "core" of the conflict was Palestinian refusal to recognize the Jewish state. Netanyahu has publicly embraced the two-state solution in principle, and reiterated on Sunday his view that it was the only path to peace; he has also said that "in the current circumstances, we can't implement two states for two nations." Kerry noted that more than half of the ministers in Netanyahu's government have publicly stated their opposition to a Palestinian state, including the right-wing Education Minister Naftali Bennett, who stated following Donald Trump's victory in the U.S. presidential election, "The era of the Palestinian state is over."
"I'm not here to tell you that the settlements are the reason for the conflict," Kerry said. "No, they're not. But I also cannot accept the notion that they don't affect the peace process—that they aren't a barrier to the capacity to have peace."
Israel can't be both Jewish and democratic over the long term if it abandons the idea of a Palestinian state and instead exercises sovereignty over majority-Arab lands, Kerry said, and it can't be at peace within its broader neighborhood either. "There will be no separate peace" with other Arab states in the absence of a peace with the Palestinians. He wasn't yet willing to say that time has run out to solve the problem. But he said "there has been an erosion over a period of time by virtue of this continued settlement process which narrows and narrows the capacity for peace."
Given this, and given the threat of ISIS, along with ongoing wars in Iraq, Syria, Yemen, Afghanistan, and Libya, and the resulting refugee crises, Goldberg asked how much of a national-security interest resolving the Israeli-Palestinian conflict really is for the United States. Kerry responded: "Israel is our friend. And if you care about Israel, you care about peace … and you cannot protect Israel, ultimately, folks, unless you can find a way to peace."