Making Sense of ISIS's Berlin Claim
In the absence of other evidence, a social-media post could mean any number of things.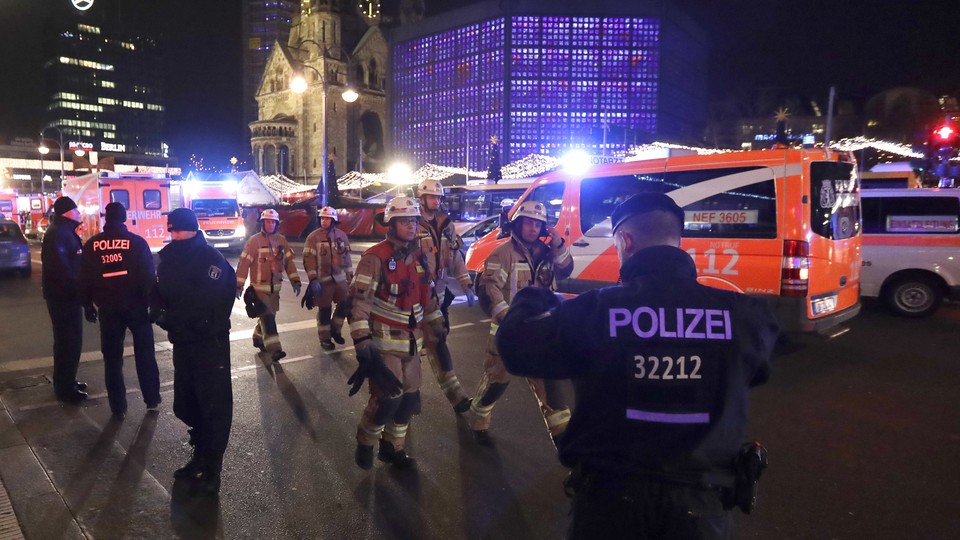 A full day after a truck drove into a crowd at a Berlin Christmas Market, killing 12 people and injuring 49, the Islamic State claimed responsibility on social media. By then, German police had released their initial suspect, due to a lack of evidence; there was no one in custody to ask whether the group's claim was true. In the manner of other such posts, this one was terse, and offered no evidence or new details to substantiate it. The ISIS claim of responsibility following the attacks on Brussels in March, for instance, followed a similar script, as Charlie Winter observed in The Atlantic:
Speculation about the ideological inclination of the perpetrators became certainty when ... ISIS channels on Telegram, a social-media platform favored by jihadists, circulated an English-language claim of responsibility. The text, uploaded onto the Wordpress page of Amaq News Agency, ISIS's "official" news wire, was instantaneously transferred across millions of computer screens and mobile phones by news outlets and commentators around the world.

So it was that ISIS commandeered the narrative space surrounding the attack, in spite of the fact that its statement provided no new information and, indeed, appeared to have been an amalgamation of operational details already observed in Western media reports.
Winter observed that the group, in catering to an audience hungry for information in the wake of an attack, "manipulated a global audience, opponents and sympathizers alike, to disseminate their message of intimidation and enhance the perception of ISIS's threat."
Until this week, Germany had avoided mass-casualty attacks like the ones in Paris (130 killed), Nice (more than 80 killed), and Brussels (32 killed). Yet there were indications that it, too, could be targeted. Just last week, news emerged that police were investigating whether a 12-year-old boy had planted a homemade bomb at a Christmas Market; this summer, the country saw both a knife and axe attack on a train, and a suicide bombing outside of a music festival. No one was killed in either case, aside from the attacker; in both instances, an asylum-seeker was reportedly involved, and in both instances ISIS claimed responsibility. Prior to Monday, Germany's deadliest attack of recent years had been July's mall shooting in Munich, where 10 people died, including the shooter. That incident did not appear to be related to ISIS.
If the ISIS claim proves correct, it's consistent with an accelerating trend of jihadist terrorist attacks in Europe since 2014. As Petter Nesser, Anne Stenersen, and Emilie Oftedal note in a November analysis in the journal Perspectives on Terrorism, "More people have been killed by jihadi violence in Western Europe in 2014-2016 (273 people) than in all previous years [since 1994] combined."
That uptick in fatalities has coincided with the rise of the Islamic State. Yet the authors also stress how the jihadist threat has evolved in Europe over a period of two decades, from the 1990s-era attacks in France of the Algerian Islamic Group (GIA); to the al-Qaeda attacks across Europe in the 2000s; to today's ISIS-inspired attacks. "The three phases are interconnected in that key members of GIA's networks in the 1990s joined al-Qaida's networks in the 2000s, and played a crucial part in recruiting and socializing a new generation of militants in Europe in the wake of the 2003 invasion of Iraq," they write. Now, with ISIS losing territory in Syria and Iraq, and flows of foreign fighters to the battle zone slowing, it's unclear how many would-be recruits will simply stay home and observe the injunction of ISIS's late spokesman to "kill a disbelieving American or European … including the citizens of the countries that entered into a coalition against the Islamic State."
Attacks claimed by ISIS have encompassed both complex, coordinated assaults like the Paris attacks, as well as amateurish efforts by teenagers like the train stabbing in Germany this summer. An ISIS claim by itself, in the absence of other evidence, doesn't give an indication of where the Berlin attack falls within this spectrum of violence, whether directly orchestrated, inspired, or opportunistically claimed by a group intent on spreading fear. But the larger trends aren't comforting.