What Trump Means for Central and Eastern Europe
Some nations are excited for the new president-elect. But others question what he means for their security.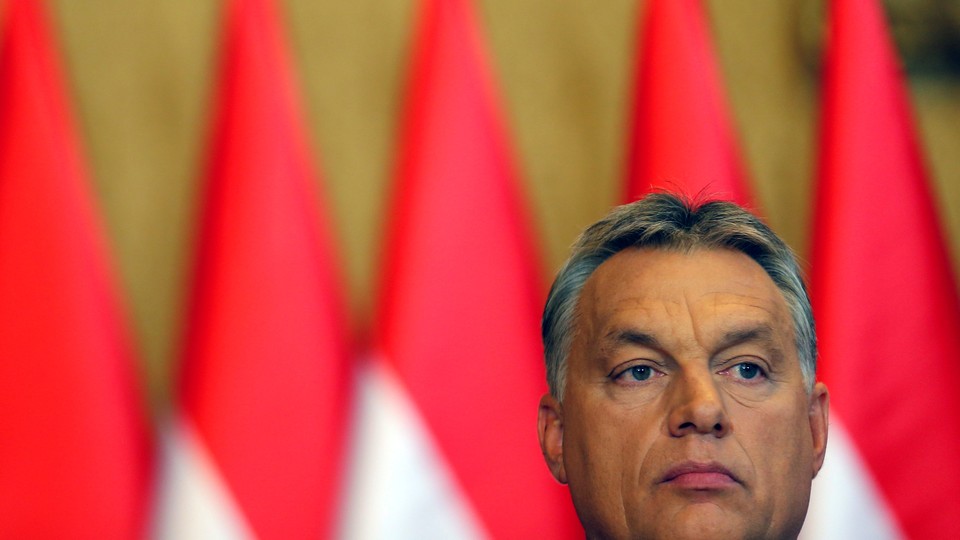 Few European leaders celebrated the results of the U.S. presidential election with as much gusto as Viktor Orban, the prime minister of Hungary. It makes sense: Orban and President-elect Donald Trump share a love of border fences, an open admiration for Russian President Vladimir Putin, a deep skepticism of American involvement abroad, and an apparent affinity for illiberalism. The Hungarian leader first expressed support for Trump on a trip to Romania in July, remarking, "I myself could not have drawn up better what Europe needs." The two leaders spoke over the phone on Friday, when Trump invited Orban to visit Washington, D.C. "I told him that I have not been there for a long time as I was regarded as a 'black sheep,'" Orban said. "He laughed and said so was he."
Many of Orban's regional neighbors do not share his enthusiasm. For the leaders of Poland, Ukraine, and the Baltic states, Trump's victory upends assumptions about Europe's security architecture, compelling them to consider alternatives in the event that the president-elect delivers on his promises to peel back U.S. support for the North Atlantic Treaty Organization (NATO). The alliance, which includes Poland and the Baltic states but not Ukraine, has recently augmented its forces in Eastern Europe as a deterrent against an increasingly belligerent Russia.
While much hinges on Trump's cabinet picks, thus far he has repeatedly questioned Article 5 of NATO's founding treaty, which stipulates that an attack on one ally is an attack on all of them. He has discussed leaving NATO members on their own to defend themselves if they don't pay more for their own defense, refused to answer whether he would categorically defend the Baltic states in the event of a Russian incursion, and has called for a reset of relations with Putin. Lieutenant General Michael Flynn, his national security adviser, has dined with the Russian leader, and appeared as a commentator on Russian state television; K.T. MacFarland, Trump's deputy national security adviser, suggested that Putin deserves a Nobel Peace Prize. Donald Trump, Jr., meanwhile, recently met with a Syrian politician who happens to be close with Russian Foreign Minister Sergei Lavrov, and is widely believed to support the regime of Bashar al-Assad in Syria.
Michal Baranowski, director of the German Marshall Fund in Warsaw, said that for many European leaders, "there is some merit in continuing with the narrative of 'let's wait and see,' which doesn't exclude preparations for 'Plan B.'" The Baltic states of Estonia, Latvia, and Lithuania, which won independence from the Soviet Union in 1991 and joined the EU and NATO in 2004, are acutely aware of how dangerous a 'Plan B' might be, accustomed as they are to coming under the spotlight when U.S.-Russia relations come under strain. Since Trump's victory, speculation has resurfaced that Latvia, which has a sizeable ethnic Russian population and recently ramped up its military preparations, could be Putin's next target.
Like many security officials in the region, Jonatan Vseviov, permanent secretary of the Estonian ministry of defense, was circumspect. "Every campaign is heated. I'm sure it's going to be fine," he said, echoing a now-common sentiment across Eastern Europe. "There is no causal relationship, necessarily, between relations between the U.S. and Russia, and Baltic security. I don't think we live in that simple a world," he said. "We live in a region that is very stable, but where stability can turn into instability relatively fast."
More than any other nation in the region, Estonia has tried to demonstrate that it is contributing its share to the alliance. Juri Ratas, the country's new prime minister, promised last week to continue investing at least 2 percent of GDP on defense spending, the target for NATO member states; Estonia also plans to exceed 2 percent next year. Many nations contribute just under the 2 percent threshold: In 2015, only Estonia and Poland met it. Latvia, Lithuania, and Romania have, however, been gradually increasing their defense expenditures in recent years.
But just in case Trump does refuse to honor America's commitments to its NATO allies, or cuts a deal with Russia that leaves European nations on the periphery vulnerable, some leaders are exploring other options. Polish President Andrzej Duda, for one, is hoping to resurrect the post-World War I concept of a Central European Intermarium, an alliance of nations spanning the Adriatic, Baltic, and Black Seas, that could serve as a counterweight to growing Russian and German power. Most conceptions of such an alliance include the Baltic states, the "Visegrad Four"—Poland, Hungary, the Czech Republic, and Slovakia—as well as Romania, Bulgaria, and several Balkan nations. Last year, the bloc met in Bucharest to discuss concerns about Russian aggression.
Adam Balcer, a political scientist focusing on the Black Sea region, dismissed Duda's vision. "The borders of this imaginary Intermarium are rather blurred," he said, referring to the vague and uncertain shape that a Central European alliance might take. If Trump does attempt to secure a new foreign-policy agreement with Russia, Poland and its neighbors are insufficiently unified to respond as a coherent bloc. "That would end badly. We can't adjust quickly enough," Baranowski said. "We've had this problem historically, and we have not been able to figure it out since the 1750s, [which was] the last time Poland was strong enough to create its own system of alliances that could challenge the East," he said, referring to the Polish-Lithuanian Commonwealth, a state that lasted for four centuries and won territorial victories against the Russian and Ottoman empires before its partition.
Nevertheless, any disruption to NATO's existing framework could make an expanded Central European alliance more urgent. Some hope it could even incorporate nations like Belarus, which has its own concerns over Russia.
Ukraine is perhaps the nation that could most benefit from a hypothetical Central European security agreement. "In Kiev, we think that our position will be stronger if we can consolidate our efforts together with some of our Central European partners … and present a joint message to the new president to deliver our concerns about Russian aggression," Alyona Getmanchuk, director of Kiev's Institute for World Policy, explained. An Intermarium-type alliance, however unlikely, could give the region a more powerful lobby in Washington and Brussels.
At the same time, however, it might give leaders like Hungary's Orban, Poland's Duda, Belarus's President Alexander Lukashenko, and their supporters, more room to implement illiberal policies, and cultivate bilateral agreements with Washington in a kind of "European beauty contest" that could badly damage regional security, Baranowski said. "Some Ukrainian politicians are glad that Trump won, because they think there will be less U.S. involvement, and therefore less pressure to implement reforms," on issues like corruption and decentralization, Getmanchuk said.
Orban's jubilation at Trump's election—watching the results come in, he said last week, was the "most fun" he'd had in some time—betrays a similar hope: that the president-elect's isolationism will make Washington less critical of Hungary. It also shows how difficult constructing a Central European alliance will be. The increasingly rightward, pro-Russia bent of Hungary, Moldova, Bulgaria, and Montenegro, set to soon become NATO's newest member, will not help the Intermarium dream. The Visegrad Four have already diverged from the rest of the EU on immigration policy, with Slovakia proposing an approach that revises the demands on EU member states, an effort to avoid accepting the bloc's mandatory migrant quotas.
Amid all this, the populist presidents of Europe, Poland's Duda chief among them, find themselves in a tricky situation, at once celebrating the election of a like-minded leader in the most powerful country in the world, while worrying how he might undermine the foundations of European security. Trump and Duda spoke last week, but reportedly did not discuss European security guarantees. "It was a nice conversation. … We talked like old friends, even though we didn't know each other previously," the Polish leader said.
Katarzyna Pisarska, director of the European Academy of Diplomacy in Warsaw, explained that "a kind of schizophrenia" runs through Poland. Duda's anti-immigrant, anti-globalization stance aligns with Trump's. But at the same time, Polish leaders "recognize that the liberal world has been serving the Polish national security interest. And when that's no longer there, it's every man for [himself]. And Poland doesn't stand a chance. It never has."
Poland, Pisarska argued, has long taken America's security umbrella for granted. "That umbrella was the basis for the current government to say, 'Don't worry if the EU falls apart, don't worry about Brexit, we still have" the United States, she said. "That's no longer true. They had not foreseen Brexit and Trump—so their whole vision of Poland in Europe is destroyed." Opposition groups in Poland have been pushing for closer relations with Germany, and Chancellor Angela Merkel's decision to run for a fourth term has been reassuring. Duda's anti-liberal platform, however, might make closer ties difficult, but Poland may have no choice in the matter. "It turns out that we are left alone with Germany on the battlefront," Pisarska said.
In a region devastated by both World Wars and the subsequent Soviet occupation, and intimately familiar with the Kremlin's more recent intimidation tactics, the notion that of threat to the post-Cold War peace is chilling. Last Monday, a Russian defense official announced that his country would deploy additional missiles to Kaliningrad, a Russian enclave on the Baltic Sea, in retaliation for NATO's heightened presence in the area. Laurynas Jonavicius, a former adviser to the president of Lithuania, expressed hopes that things will calm down as Trump moves from campaigning to governing. "We're trying to remind Americans that not everything is okay in the region, and attempts at a reset may be dangerous, especially if something goes wrong again. … Russians are very good at using democratic means for non-democratic ends," he said.
Russia's attempt to influence the U.S. election through cyberattacks, one hopes, alerted Americans to what such "non-democratic ends" might look like. But perhaps not quickly enough. As Vseviov cautioned, "democracies may be slightly slower to reacting to these sorts of technological challenges. At the end of the day, we'll figure it out and we'll be better off in the long run, surely."
For now, all NATO members in central and Eastern Europe can do is wait. "You won't see, tomorrow, that U.S. soldiers in Eastern and Central Europe will move on," Iulian Chifu, a former adviser to the president of Romania, said. "It won't happen overnight—it's a matter of credibility, and no one can afford [to lose] that. But the holiday is over."