A Portrait From Cuba and a President in Lebanon: The Week in Global-Affairs Writing
The highlights from seven days of reading about the world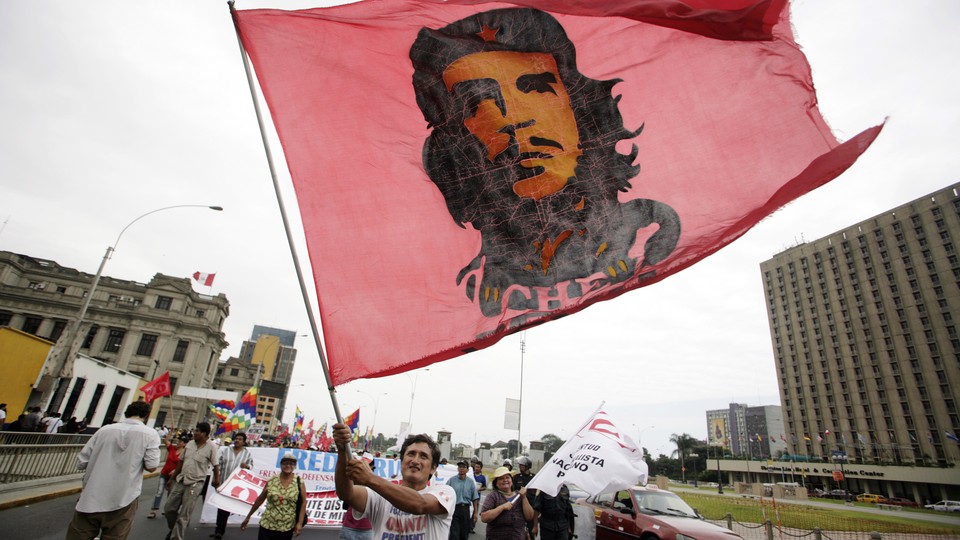 The Ruthlessly Effective Rebranding of Europe's New Far Right
Sasha Polakow-Suransky | The Guardian
"These parties have built a coherent ideology and steadily chipped away at the establishment parties' hold on power by pursuing a new and devastatingly effective electoral strategy. They have made a very public break with the symbols of the old right's past, distancing themselves from skinheads, neo-Nazis and homophobes. They have also deftly co-opted the causes, policies and rhetoric of their opponents. They have sought to outflank the left when it comes to defending a strong welfare state and protecting social benefits that they claim are threatened by an influx of freeloading migrants.
They have effectively claimed the progressive causes of the left—from gay rights to women's equality and protecting Jews from anti-Semitism—as their own, by depicting Muslim immigrants as the primary threat to all three groups. As fear of Islam has spread, with their encouragement, they have presented themselves as the only true defenders of western identity and western liberties—the last bulwark protecting a besieged Judeo-Christian civilisation from the barbarians at the gates."
* * *
Assad in Person: Confident, Friendly, No Regrets
Anne Barnard | The New York Times
"He was on a mission to convince the West that their governments had made a mistake in backing his opponents and that he was secure in his position as the custodian of Syrian sovereignty.
Waxing philosophical, he spoke of every Syrian's right to be 'a full citizen, in every meaning of this word,' and likened intolerant versions of religion to a computer operating system that needed to be updated. He promised that a new era of openness and dialogue was underway in Syria and said that he was thinking ahead about how to modernize Syrians' mentality after a war that he believed his forces were assured of winning."
* * *
Bread Babies and Purple Drink: Ecuador's Spin on Day of the Dead
Amy E. Robertson | NPR
"Part of Ecuador's tradition includes guaguas de pan (bread babies), in which sweet bread dough is shaped into plump babies dressed with piped icing or bits of colored dough. Baskets of guaguas are for sale at the entrance to the cemetery, but many visitors bring their own, with extras to leave on tombstones.
Some say guaguas represent the deceased, and eating them is a way of remembering. Some believe they were created to replace the Indian tradition of mummification. Others think that the form of the baby is based on the indigenous belief that when a person dies, he or she regains the innocence of an infant."
* * *
Lebanon Has a New President (Not That it Matters)
Antoun Issa | Foreign Policy
"'Kullun haramiyyeh'—'they're all thieves'—is the most common sentiment about Lebanon's politics on the streets of Beirut. You'll hear it from street vendors, waiters, students, teachers, architects, taxi drivers, doctors, Muslims, and Christians. It's a view, in short, that unites this perpetually fragmented country.
So when Michel Aoun, the maverick general-turned-politician, achieved his long-held ambition of becoming president on Monday, most ordinary Lebanese reacted with indifference. The new president is just another name, another title, and another episode in the country's endless—and ultimately meaningless—political drama."
* * *
The Emperor's New Museum
Jiayang Fan | The New Yorker
"Liu's extravagant hobby is the subject of considerable fascination in China, and is interpreted variously as a financial investment, a publicity stunt, a patriotic bid for the world's attention, and an act of pure ostentation, such as one might expect from a tuhao. Liu told me that he thinks the museum fills a gap in China's cultural life. Until recently, the country had few museums, and most of them were barely worthy of the name. 'The mission of the Long Museum is to educate the Chinese public, and to present quality work that is on a par with other state-of-the-art museums around the world,' he said. He spoke of giving China a cultural prestige commensurate with its wealth: Western museums are full of Chinese art, but China has few Western art works of the calibre of the Modigliani.
Liu's buying spree is one of many developments that are turning Shanghai, China's most Westernized city, into a global center for art. But it is also a demonstration of China's brute purchasing power. 'If a Westerner bought these Western masterpieces, people would think it was very normal," he told me. "But, because they were bought by an Asian, and not just a Japanese but a Chinese person—' He looked up, his eyes full of impish pride. 'After all, isn't that why you are here?'"
* * *
The Story Behind Che's Iconic Photo
Orlando Luis Pardo Lazo | Smithsonian Magazine
"Grandma used to pray to him as 'Saint Che.' She wasn't fond of the revolution, but she did believe in strong spirits that refuse to leave this world. For years I thought that his family name was Sánchez (which Cubans pronounce SAHN-che), and that Che was a diminutive. Then in school I learned that he was Ernesto Guevara de la Serna, and that he'd been given pop culture immortality by a former fashion photographer named Alberto Díaz Gutiérrez, who'd later changed his name to Korda. Everything about the man and the myth was always a little off-kilter.
The photo, so prominent in the shadowy world of my childhood, became one of the most reproduced images ever, rivaling those of the "Mona Lisa" and Marilyn Monroe with her skirts flying. It was Che as deity—and went viral long before the advent of YouTube, Twitter, Snapchat, and Facebook. From Bolivia to the Congo, from Vietnam to South Africa, from the U.S.S.R. to the U.S.A., Korda's Che became the apostle of anticapitalism and the ultimate icon for peaceful social activists everywhere—despite the fact that Che himself had preached hatred as a tool for the 'New Man' to wipe exploitation from the Earth."