The African Rebel Leader Who's Stoked About Trump
Riek Machar thinks the president-elect will side with him in the South Sudan conflict—once he learns about it.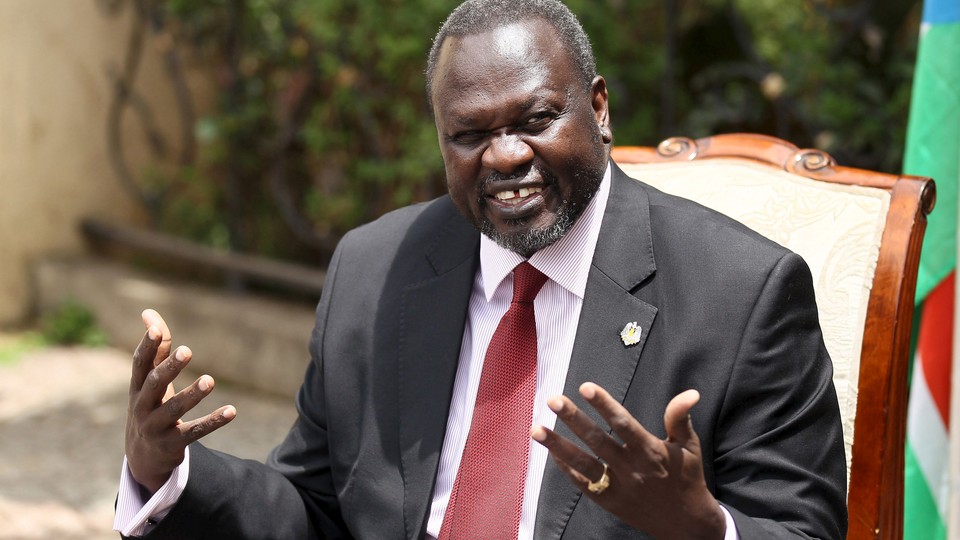 In the early morning hours of November 9, as Americans braced themselves to learn the identity of their next president, South Sudanese rebel leader Riek Machar sat in front of the television in his temporary residence in Pretoria, South Africa, growing increasingly perturbed.
From thousands of miles away, Machar, the former vice president of South Sudan turned rebel leader in exile, had spent more than a year eagerly following the rise of Donald Trump. In Trump, he saw a fellow political outsider and potential ally in his struggle to regain power in South Sudan. Even as he moved from a hiding place in Ethiopia to a makeshift camp in Juba, the capital of South Sudan, then fled his home country for Congo, then Khartoum, and, most recently, South Africa, he claims to have never missed a U.S. presidential debate. But on election day, when CNN was still forecasting a win for Hillary Clinton, the electricity in Machar's home abruptly went out, leaving him unable to watch as the returns came in.
After several futile attempts to revive his television, Machar went to bed, frustrated by the power outage but confident he would wake up to recaps of a Trump victory speech. "I had a very strong feeling that there was a sleeping majority that would vote for Trump," he said when we spoke on the telephone eight days after the election. He had nothing but praise for real-estate mogul. "I was telling people to prepare for President Trump."
Machar claims to have not been the least bit surprised by Trump's win, even as Republican officials and even the candidate's own inner circle expressed doubts he could do it; one of Trump's closest advisers even told CNN on Election Day that it would "take a miracle for him to win." (It is perhaps no coincidence that many of Machar's followers believe that, as the descendant of a famous South Sudanese prophet, he, too, was blessed with the power to predict the outcomes of events.) Now, he joins a growing group of foreign officials toasting to the election's unexpected results. "We think President Trump will listen to us," Machar said.
Like other world leaders who have felt undermined or lectured by the Obama administration, including Philippine President Rodrigo Duterte and Russian President Vladimir Putin, Machar sees the president-elect's anti-establishment attitude as an opportunity for a clean slate in the White House. The Obama administration, Machar said, unfairly lost faith in him after political infighting between forces loyal to him and those of President Salva Kiir spiraled into civil war in December 2013. The conflict immediately divided the country along ethnic lines, starting with the military: Dinka forces loyal to Kiir and Nuers loyal to Machar opened fire on one another in a barracks in Juba. Then, Kiir's troops rounded up Nuer civilians and executed them, prompting tens of thousands of people to seek shelter at UN bases around the country, where many still live today. Others picked up arms and joined one side or the other. Since then, the conflict has killed more than 50,000 people. It has displaced over 2 million people, 1 million of whom have fled South Sudan as refugees. Both sides have carried out horrific atrocities, though human rights groups say the government attacks have been far deadlier and more widespread.
Over the past three years, the war in South Sudan flummoxed Washington: It was with U.S. support that Kiir and Machar helped lead the country to independence from Sudan in 2011, following decades of civil war with their northern neighbor. At first, American diplomats stood by Machar and Kiir as they pledged to work together to bring peace and prosperity to the world's newest nation. But the stability was short-lived, and even a peace deal signed in August 2015 has failed. Although the deal briefly restored Machar to the vice presidency in April, he only lasted in the capital until July, when further infighting sparked another round of violence that left more than 300 dead. Machar then fled on foot to Congo. "They have not supported us in the implementation of the [2015 peace] agreement," the now-exiled rebel leader said of Washington.
Safe in South Africa, Machar is seeking medical treatment for injuries he sustained in his July escape, and is now plotting his return to power, preparing for South Sudan's next presidential election, currently scheduled for 2018. He reportedly tried to leave South Africa this weekend, but didn't make it far: There are reports he was denied entry to both Sudan and Ethiopia, where he stayed through much of the civil war. "I don't know whether he knows where we are now or whether he knows where South Sudan is," Machar said of Trump. "But it is our role to educate him, to tell him—if he will listen, and I think he will listen—to look and see what is wrong in South Sudan ... so that he can share good policies that will bring us out from all these problems that we are living in."
That Machar felt this way is curious. Trump rarely, if ever, mentioned Africa on the campaign trail. In fact, somewhat counterintuitively, it is Trump's "America First" policy, which promises to rid Washington of its commitments to foreign countries and conflicts and restore prosperity to ordinary Americans, that Machar and his inner circle believe will prompt the president-elect to express solidarity with the South Sudanese rebels.
Jennifer Cooke, director of the Africa program at the Center for Strategic and International Studies in Washington, doubted that a conflict like the one in South Sudan would capture the attention of the Trump administration, which she described as having "little knowledge of international affairs or experience in diplomacy." But she also acknowledged that the lack of diplomatic experience in Trump's camp may make it "very malleable to whoever can get in early and make an argument that hits the right bells."
"Machar is probably thinking 'Okay this gang is gone. This new team has none of that baggage, and in fact they might be eager to poke the old Obama team in the eye on this, and kind of reverse course,'" Cooke said. But it doesn't help that Machar, unlike leaders of some authoritarian governments, can't argue his case as "the bailiwick against Islamic extremism." The dictators who may find a sympathetic ear in the Trump administration are those who can reliably promise to root out radical terrorism abroad, an advantage unavailable to leaders in South Sudan.
In a conversation over tea at a busy Nairobi café this week, two of Machar's top aides, both of whom requested anonymity due to the sensitivity of the conversation, gleefully reiterated their boss's optimism that an outsider in Washington could be the force necessary to push Kiir out of power and restore some legitimacy to the opposition. Both men believed that Trump, if properly briefed on South Sudan, will back Machar, and will see supporting him as an opportunity for Washington to save aid money in the long run. "When President Trump looks at the South Sudanese crisis from the angle of the American government spending money in South Sudan, he will actually try to solve the problem itself instead of giving aid that doesn't even feed the people of South Sudan," one aide said. "Once the policy changes in Washington, it will also change in Juba," he said. "Trump doesn't know much about South Sudan, and to us that's a blessing."
In an email, a State Department official wrote that it "does not take sides between the warring parties in this conflict" and that an "inclusive" process that involves voices from both sides of the conflict is the only path forward. A spokesman at State also said by email that "it might be too early for us to speculate on what a Trump administration's policies might be regarding South Sudan." (Recently, the United States suggested in an annex to a draft resolution on an arms embargo in South Sudan that the UN Security Council blacklist Machar, as well as government army chief Paul Malong, for his alleged efforts to kill Machar and extend the conflict. Also included was Information Minister Michael Makuei for allegedly orchestrating an attack that killed three UN guards and 140 civilians in 2014. Russia and China threatened to veto the proposal.)
Former South Sudan policy hands like Zach Vertin, a former adviser to the U.S. envoy to Sudan and South Sudan Donald Booth, doubt that Trump or his team have thought much about South Sudan. If or when they do, Vertin has no reason to believe "their assessment will lead them to simply 'side'" with either Machar or Kiir. "As in many corners of the world, politicians are sending signals they hope will gain them an edge at home and in relations with Washington," he added.
But Machar's colleagues repeatedly called Kiir a dictator, and believe that Trump will cut off leaders like him. And they say that Trump, unlike Obama, will be more willing to crack down if they can convince him that Kiir is the one responsible for the most civilian deaths—and thus responsible for the cost of the conflict. Meanwhile, the South Sudanese government will also likely try to woo Trump: Garang Diing Akuong, Kiir's ambassador to Washington, said by phone that "it is still [too] early to contemplate what he will do in South Sudan" but they expect strong relations with his administration.
Cooke said the South Sudanese rebels may have trouble finding an audience for their complaints if civilian deaths are what they think will make Trump sympathetic. After all: The president-elect has signaled an openness to resetting relations with Russian President Vladimir Putin or Syrian President Bashar al-Assad, whose joint campaign against the Syrian rebels has been condemned by the United Nations, the United States, and a variety of human rights organizations, for its apparently purposeful targeting of civilians. Civilian death tolls do not appear to factor into his calculations. "Human rights, good governance, term extensions—it's very hard to see any of that mattering," Cooke said of a Trump administration.
But the South Sudanese opposition saw no ties between Trump's attitude toward civilian deaths in Syria and their own struggle. They say South Sudan is a different story—one that they hope Trump will get to know, and quickly. "Trump, if his mantra 'America First' is actually really what drives his policy, then he should see that America is losing in South Sudan," the aide said.