Ranked: 'Trumps' 'Round the World
Some politicians were tormenting the establishment well before the Donald made it trendy.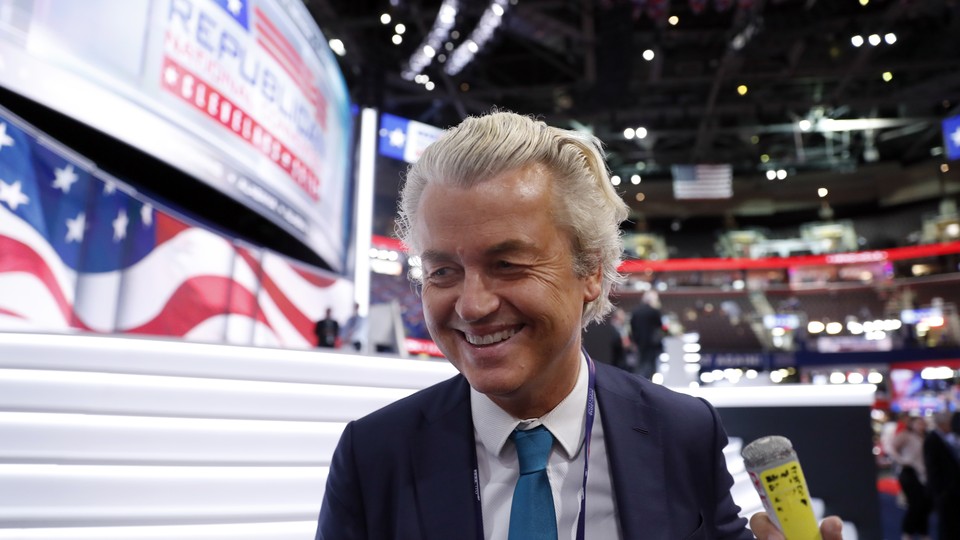 Donald Trump didn't invent populism, but he has become its global standard-bearer. Candidates in elections around the world are already being measured against the American businessman's forceful rhetoric and willingness to play crowds against establishment norms, to such an extent that "the Donald Trump of" whatever country has become a trope of foreign-affairs reporting. Here are five candidates riding the anti-establishment wave—including some who were tormenting status quo politicians before Trump was even a glimmer in Reince Priebus's eye.
5. Pakistan's Imran Khan. Khan would probably hate the claim, made by an editorialist, that he is "Pakistan's Donald Trump." It wasn't meant nicely. Khan, the leader of Pakistan's third-largest political party, wants to bring the welfare state to Pakistan and has denounced Trump's anti-Muslim sentiments as "absurd and ill-informed." But the two share some character traits, in particular, a willingness to wield celebrity-based political power as a cudgel against more-traditional politicians. Khan this week threatened to shut down the capital unless the government investigated corruption allegations against Prime Minister Nawaz Sharif. The threat had to be taken seriously given the months of disruptive protests Khan led in 2014. For now, he is unlikely to effect significant change—he backed off the threat after the Supreme Court moved forward with an investigation—but Pakistan's political future is murky. Sharif is in poor health and has no obvious heir, beyond his daughter, who does not hold elected office. The military is in a moment of tension with civilian authorities. When elections come, by 2018 at the latest, Khan can't be counted out.
4. Greece's Kyriakos Mitsotakis. The Harvard and McKinsey-pedigreed leader of Greece's New Democracy party is not Trump; he is what might come after a Trump presidency. What he shares with the other members of this list is a desire to turn the tables on the current government. In Greece's case, that is the Syriza government of Prime Minister Alexis Tsipras, who took over in 2015 on a revolutionary pledge to fight back against what party members saw as unfair, externally driven austerity in the wake of the European financial crisis and Greece's economic collapse. But for all his populism, Tspiras has failed to overthrow the tyranny of his supposed creditors—the EU and IMF continue to haggle over Greece's debt burden—and recent polls give Mitsotakis's party a significant edge.
3. France's Marine Le Pen. The candidate of France's National Front is to French politics what Trump is to American real estate: a dynast with a fantastic brand name who has generated more light than heat. Like the GOP nominee, her campaign for the French presidency couches anti-Islam sentiment in economic nationalism. And yet she knows how to moderate tactically. She expelled her own father from the party he founded for his overt anti-Semitism. And where Trump may bafflingly call himself "Mr. Brexit," Le Pen has a serious claim to the title "Madame Frexit." A key plank in her presidential campaign, which polls give a serious shot of making it into the second round, is to withdraw France from the EU. But like Trump, her biggest impediment to ultimately taking power is that both sides of the political establishment hate her.
2. Mexico's Andres Manuel Lopez Obrador. AMLO, as he is widely known, is as politically different from Trump as can be. His far-left politics—he wants to roll back a wave of privatizations in key sectors such as energy—put him closer to Venezuela's Nicolas Maduro. Yet he shares with Trump an utter disdain for the political establishment, which led to a series of memes comparing the two last month. Lopez Obrador has twice run for president, and both times refused to admit defeat, citing alleged election rigging. Heading into Mexico's 2018 election, Lopez Obrador is polling well. President Enrique Pena Nieto has left his party politically weakened over his response to the disappearance of a group of students and his handling of (the real Donald) Trump's visit.
1. The Netherlands' Geert Wilders. If anyone is their country's Donald Trump, it may well be Geert Wilders. The two share many character traits, from wild hair and a fierce determination to reduce Muslim immigration, to a love for Brexit. Wilders even came to Cleveland for the Republican National Convention this summer. He also shares Trump's unwillingness to back off aggressive rhetoric. This week he boycotted the start of his own hate-speech trial, having told a crowd he would reduce the number of Moroccans in the country. In the Netherlands' fragmented political scene, his Party for Freedom is a serious rival of Prime Minister Mark Rutte's. For his part, Rutte may have seen the writing on the wall. Unlike most other political leaders in the country, the prime minister won't rule out forming a political alliance with Wilders, as he has once before. Never Trump? Sometimes Wilders.
---
This article has been adapted from Matt Peterson's weekly newsletter for Eurasia Group, Signal.